a conversation with the cos
He's known as 'America's favorite father,' and in recent years as a sharp social commentator, but Bill Cosby's only goal for his two Friday shows is to make you 'laugh, laugh, laugh'

Wednesday - January 13, 2010
By
.(JavaScript must be enabled to view this email address)
E-mail this story | Print this page | Archive | RSS
|

Del.icio.us

What makes Bill Cosby such an endearing and enduring comic? Just about everyone can relate to his stories and characters
Bill Cosby is here to entertain. That seemingly obvious statement is an important piece of information to the legendary comic. Such an announcement would be unnecessary for most visiting funnymen, but Cosby is not your ordinary diseminater of jokes. The actor, author, entertainer, educator, philanthropist and social commentator is a cultural icon who has always had more to offer than an amusing story.
"The reason I am coming is not to give any speeches, but to come and make them laugh, laugh, laugh," says the creative engine behind some of America's most-beloved television programs. "And the important thing about how I work is that people generally say 'How did you get into my house?'And the other thing is they feel they are not alone."
Such a comment is not meant to suggest his I Spy character is alive and well in his real-world life, but to explain his theory on comedy and why, after a five-decade-long career, he remains as influential an entertainer as he always has been.
Long ago he figured out that regardless of age or race, social background or religious affiliation, there are certain universal truths in American society: We are far more similar than we are different. It's why a 20-year-old Samoan male from Utah can relate to a stern father saying, "I brought you into this world and I can take you out," or a 43-year-old white male can remember how Dad's silent gaze was more intimidating than Mom's verbal warnings.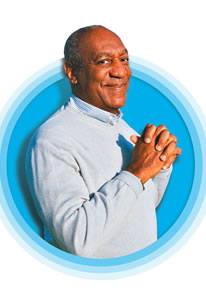 Bill Cosby is the mastermind behind some of America's favorite TV shows
"For me, I've always been a kind of performer who took things, and then people heard it and they said, 'Yeah, that happened to me.'That's where you get that I am not alone."
Cosby's comedic brilliance was finally and officially recognized on Oct. 26, 2009, when the man who was once called America's favorite father was honored with the Kennedy Center's Mark Twain Prize for humor. The award was a long time coming, not because of any ignorance on the part of organizers, but because Cosby had twice turned down the honor. His reason amounted to a one-man protest that comes from the heart of his comedic and life philosophy - that humor doesn't have to be dirty to be effective, and that the award's namesake, and the honorees, deserve the respect of those performing.
Richard Pryor, the award's first recipient, was saluted by a litany of young comics who used their time on stage not just to praise the comic legend, but to do their own adult-themed routines that focused too much attention on themselves. Cosby was furious.
"They allowed that crap," he says. "They (Center officials) could have stepped in, but they were so afraid. Sometimes liberals are so afraid of using common sense, and so they go way away. Go over to Home Box Office and do that crap, but not on PBS!" he says.
"When you watched it, it wasn't about Richard, it was about these guys talking about 'me being me.'"
Cosby's message to the Kennedy Center was that such vulgarity wasn't appropriate for the setting or fair to Twain, and that he wasn't going to play a part. When he finally succumbed to their requests, he made sure the evening fit his style: The jokes were clean and music played a big role - as it has his entire career.
Cosby is an accomplished jazz drummer and has played bass with the likes of Sammy Davis Jr. He enlisted Quincy Jones to be his musical director for The Bill Cosby Show, which ran from 1969 to 1971.
While the 11 previous honorees have made their mark over long careers, none seems as connected to Twain as Cosby. Both are talented social commentators and creators of unique and thoughtful characters. As a child, Cosby's mother would read Twain's books to her child. Not that he remembers much of those times.
"I was 4 years old. What do you want? I wasn't Mozart," he says with the warm and ever-present chuckle that has become a trademark.
Cosby's anger at the free use of vulgarity doesn't end with the inappropriate use of language at black tie affairs. He looks with disdain at any forum that promotes such comedy. Like many men his age, Cosby likes older movies.
Turner Classic Movies is a favorite, HBO isn't.
In fact, he won't even watch the network because of one of its most famous series.
"I am not fan of HBO because of Def Comedy Jam. Once Def Comedy Jam came out, all these comedians came out swearing, talking ugly, talking about derogatory things, and they cut to the audience, and these women are laughing and slamming into the backs of their chairs. All this is supposed to be so funny, yet people laugh with it and at it."
Part of Cosby's disinterest for such support of unoriginal comedy is that he fails to understand how people can laugh at being the target of derogatory jokes, especially when he has been chastised for promoting the idea of personal accountability and the renewal of urban areas through community involvement and the promotion of the family.
"Why is that when I say something, and it's not about me trying to be funny, but it's about these murders have got to stop, the drop-out rate in some of the schools has got to stop, and the belief that we've got to do something about teenage pregnancy, and everything has to do with protecting the children, but the critics don't want to address that? They want to address the racist part and say that's where the blame is. If we strengthen ourselves, we will be able to fight the racism. We will be able to own our own things, be able to see lower-economic housing projects as a place to move in, up and out."
Cosby has received a lot of criticism since his so-called "pound cake" speech at the 2004 NAACP gala celebrating the 50th anniversary of Brown vs. Board of Education. During that short speech, mixing humor with angry commentary, he challenged and chastised the audience to take charge of their communities.
"These are people going around stealing Coca-Cola. People getting shot in the back of the head over a piece of pound cake! Then we all run out and are outraged: 'The cops shouldn't have shot him.' What the hell was he doing with the pound cake in his hand?" he said to a shocked, confused and supporting audience.
His address at Constitution Hall in Washington, D.C., was not his last. He took his mes-
Page 1 of 2 pages for this story 1 2 >
Most Recent Comment(s):