Born To Do Stunts
When Mike Vendrell was born, his mother placed a news clipping about a stunt man in his baby album. Today he's stunt coordinator for the ABC hit 'Lost'
Wednesday - April 07, 2005
By Chad Pata
E-mail this story | Print this page | Archive | RSS
|

Del.icio.us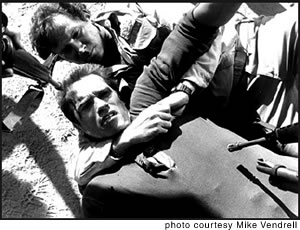 Getting the best of Arnold Schwarzenegger
"My folks lived on Maui for 25 years, but I'd never been to Big Island," says Vendrell, who moved to Big Island five years ago. "But the instant my feet hit the tarmac, I said 'This is home, I gotta live here.'"
Pulling back from the industry he refocused on his martial arts, opening an academy in Kona and practicing his Chinese medicine. But he kept his foot in the door by becoming a member of the Hawaiian Stunt Connection (see accompanying story).
When the producers of Lost began looking for a stunt coordinator, HSC submitted his resume.
"I got a call with a guy asking, 'Are you available to work next week?' and I was like, 'Who is this?" recalls Vendrell of the call out of the blue.
"So they flew me over to view the pilot, and I thought this is unbelievable, this show is going to go on for 10 years."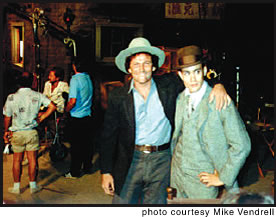 With Brandon Lee
Back in the business full time again, he now puts his focus on increasing the size of our stunt man work force in the Islands, which he estimates to be at about 20 completely qualified stunt people.
"My goal is to hire 100 percent Hawaii for the show," says Vendrell, who in his down time conducts seminars on stunt techniques. "It's important to me that Hawaii benefits from Lost being here. The seminars give me a chance to see who has ability, and gives them a chance to learn something they didn't know how to do."
So he continues his work, always behind the scenes, always the bridesmaid never the bride. Does he ever regret not being the star of the show?
"Personally, I think I have the best job in the world," says Vendrell, who has seen the world over several times in his film career. "I wake up every morning feeling truly blessed."
Page 2 of 2 pages for this story < 1 2
Most Recent Comment(s):