Buffalo Soldiers Ride Again
Every time the Buffalo Soldiers and Troopers Motorcycle Club mounts up, they ride to honor the black soldiers who were first called Buffalo Soldiers after the Civil War

Wednesday - February 21, 2007
By
.(JavaScript must be enabled to view this email address)
E-mail this story | Print this page | Archive | RSS
|

Del.icio.us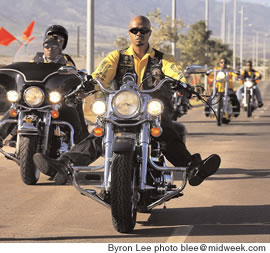 Club president Lawrence Johnson leads the Buffalo
Soldiers on a ride
At first glance they may seem to be like any other motorcycle organization - large machines rolling in tight formations around the island. But upon closer inspection, something unique appears. Old cavalry hats, spurs, the blue and gold color schemes, tanned leather gloves with fringes, and vests sporting a name most associated with a hit record by a Jamaican reggae artist.
And that, in part, is the whole purpose of the Buffalo Soldiers and Troopers Motorcycle Club: to keep alive a portion of U.S. history that has largely been forgotten, while getting together with good friends sharing the road and common backgrounds.
Lawrence Johnson, president of the Oahu chapter, and his members want people to know that there is much more to the name Buffalo Soldiers than simply the title to a Bob Marley song, and that African Americans have had a long proud record of service that goes back to the very beginning of the nation.
"All of the African American military, I believe, are historical descendants of the original Buffalo Soldiers who were freed slaves and were given jobs in the military to do some of the most arduous duties in the West in the campaigns against the Indians," says Johnson, a retired 23-year Army veteran.
"That is something that has never been taught in high schools. Any time kids go to high school they are taught about cowboys and Indians, Gen. Custer's last stand, but there is very little if anything ever mentioned that I recall about the Buffalo Soldiers, who were a very significant part of U.S. history."
The motorcycle group that was founded in 1999 by retired Chicago police officer Ken Thomas in 1999 now boasts 50 chapters in 31 states. The Oahu chapter is one of the newest, getting its start last April.
Though Johnson was a club member prior to moving to Hawaii, it took some time before he thought it worth the effort to kick-start it locally. His reasons were solid. With a large portion of African Americans in Hawaii being members of the military and therefore very transitory, Johnson wasn't sure there would be enough core of members to make it a workable organization. But after a visit by current national club president Tom Costley, Johnson was convinced to give it a go. The club currently has seven members and while they don't actively recruit, the door is always open to anyone with an appreciation and knowledge of African American military history and the Buffalo Soldiers specifically. Other rules include being at least 22 years old, to be a safe and experienced rider, present a professional appearance and to have no felony convictions.
"We find that it's a more mature age," Johnson says of the membership. "We want to present a mature, professional image. That's why we have to dress neat and to have to be uniform in appearance."
Johnson explains that the ban against convicted felons is necessary since many members nationally are police officers and are therefore forbidden to have any association with such individuals.
The original Buffalo Soldiers were formed in 1866 when legislation was approved to create
Page 1 of 3 pages for this story 1 2 3 >
Most Recent Comment(s):