Building A Campus, Dreams
Gene Awakuni, a former juvenile delinquent and the least likely of academics, leads UH-West Oahu onto a new campus at Kapolei with visions of

Wednesday - November 07, 2007
By
.(JavaScript must be enabled to view this email address)
E-mail this story | Print this page | Archive | RSS
|

Del.icio.us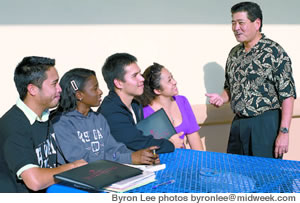 The chancellor meets with students (from left) Peter Leon-Guerrero, Jazmine Williams, Scott Lyman and Mhoana Bello
(Disclaimer: The writer of this piece has taught at the University of Hawaii-West Oahu since the school opened its doors in 1976. The subject of the story is, so far as tenure and union protection will allow, Boylan's boss. So if the reader is looking for a critical perspective on Chancellor Awakuni, they should look elsewhere.)
Gene Awakuni plans to begin pouring cement for the University of Hawaii-West Oahu's permanent campus by the end of 2008. "By September 2009 - or the spring of 2010 at the latest - we'll move 2,000 students onto a 23-acre campus in Kapolei," he says. "The school will have 230,000 gross square feet of space. It will include a library, an administration building, a campus center, and a building for classrooms and faculty offices - and an additional 200 acres for parking, student housing and expansion."
Awakuni describes all this while sitting in his modest office in one of 27 portable buildings that squat on the Leeward Community College campus in Pearl City. The upper-division, two-year West Oahu has claimed squatter rights on LCC property since 1980, having moved from the rented office space in Aiea where the school opened in 1976.
The prodigal son of a Palolo Valley family, Awakuni returned to Hawaii in March 2005 to accept the University of Hawaii-West Oahu chancellorship, becoming the eighth academic to lead the poor stepchild of the UH system.
Two years later, the Legislature passed and Gov. Linda Lingle signed a $35 million appropriation bill to pay for the infrastructure for West Oahu's Kapolei campus. Two months later, Hunt Building Company LTD of El Paso signed an agreement with UH to put up $100 million for campus construction in exchange for development rights to 298 acres of UH-West Oahu's 500-acre site. And this fall, with the board of regents'approval, UH-West Oahu - a school that welcomed only juniors and seniors for its first three decades - admitted freshman and launched a new undergraduate degree program in elementary education.
A lot of people think Awakuni made the difference.
"Gene's done a terrific job," says UH vice president Linda Johnsrud. "He's accomplished in two years what hasn't happened for 30. He's consulted with every one of the constituents. He's overcome every barrier in the road. He's just dogged us all. Gene's met with everyone he needed to meet, talked with everyone he needed to talk to - more than once.
"We couldn't have hired anyone better suited for the job. Gene had exactly the right skill sets. In his previous jobs at Stanford, UC-Santa Barbara, UC-Irvine and CalPoly, he's built buildings. He understands zoning, permitting and environmental impacts. Gene's taken the system into terrain we've never been in before: public-private partnerships. We're going to have to do more of them in order to finance the new construction we need. Gene showed us the way."
This fall, Awakuni was named the university system's manager of the year.
Although he is not a man without ego, Awakuni is the first to credit other people - and the times themselves.
"When the proposed campus site was mauka of H-1, in the foothills of the Waianae Range, the costs were prohibitive - more than $100 million for infrastructure alone," he says. "And the state was in the midst of a protracted recession. Then the site was moved to the makai side, and infrastructure costs went down. But the state still had no money.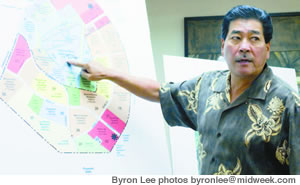 Chancellor Gene Awakuni points out highlights of the new campus, which should open in about a year
"Once the trauma of 9/11 passed, the state's economy improved. We had surpluses again and money for capital improvements. In 2003, the land the state had received from the Campbell Estate went up in value; previously it had been ag land at ag prices. Now it was available for residential housing. A2005 Royal Kunia land auction established a benchmark when 161 acres received a $51 million bid."
But lower infrastructure costs and land prices alone didn't do it. People in important places counted as well.
"From the time I was hired in 2005, President David McClain has been unconditionally supportive of building the Kapolei campus," says Awakuni. "And with changes in the board of regents' membership, we gained a 100 percent commitment to building a campus. During my early meetings with Gov. Lingle, she became a supporter as well."
Still, within the 10-campus UH system, critics can be heard. Awakuni argues that the Kapolei campus threatens no one.
UH-WO will fill a need in critical areas where the university needs to do more. For example, the state needs 1,300 new teachers; the Manoa campus is only producing 400 per year.
"In other areas, like social work and nursing, the university isn't producing enough graduates. We want to be a good, comprehensive university - one that offers a range of disciplines in applied areas where our graduates can enter the work force right after graduation. We may develop a limited number of MAprograms, but no doctorates; we'll never duplicate what Manoa does."
Awakuni also sees West Oahu "serving higher need areas" - Waianae, Nanakuli, Maili, central Oahu, the Ewa plain. While those regions of Oahu don't currently produce many college students, Awakuni is convinced that "if we build a college, they will come. I've had 25 years experience in higher education, and I feel it in my gut. This is the right time, the right thing, the right place.
"For many kids from those areas, Manoa is like a foreign country. (Hawaiian Homes director) Micah Kane and I have talked about getting kids from this region on campus from their infancy and try to make college attendance an expectation from early on.
"I like to cite the example of Gail Awakuni, the principal of Campbell High School. When she took over five or six years ago, 5 percent of Campbell's graduates were going to college. Now it's 75 percent. Change kids'attitudes and you change kids' lives."
Awakuni knows something about changing kids'attitudes; he's experienced it in his own life. He was born in 1947, the son of Robert Jintoku Awakuni and Clara Chinen Awakuni. The elder Awakunis both hailed from the Neighbor Islands, Jin from Anahola on Kauai, Clara from Wailuku, Maui. Family obligations forced both to end their schooling after the eighth grade.
They were a thoroughly working-class couple. Jin became a carpenter at Pearl Harbor. But like all of the Japanese Americans employed at the naval base, on Dec. 7, 1941 he became a security risk in the eyes of the military and was locked out. Jin retrained as a mason and was a member of the Associated Masons for the rest of his working life.
Clara found employment as a domestic for a haole family in
Page 1 of 2 pages for this story 1 2 >
Most Recent Comment(s):