Carving A Reputation At John Dominis
Reviving the lost art of fruit and vegetable carving is just one of the ways that Chef Jean-Pierre Maharibatcha adds flair to the venerable John Dominis restaurant

Wednesday - July 13, 2005
By
.(JavaScript must be enabled to view this email address)
E-mail this story | Print this page | Archive | RSS
|

Del.icio.us

Sometimes it's not so much about flaunting what you know as it is about knowing how to please your customers.
Take a look at Chef Jean-Pierre Maharibatcha's credentials and you'll find he has much to brag about. He's a highly decorated chef with more than 14 years at five-star Ritz-Carlton hotel restaurants all over the United States, a stint at Halekulani Hotel's Orchids restaurant, a one-year tour as an army chef and numerous accolades, including one naming him the best chef in the Lyon, France region.
His reputation for innovation in the kitchen, however, is not what landed him the job as head chef at one of Oahu's premier dining establishments, John Dominis, just three years ago.
"To be honest, Jean-Pierre is here to help us maintain our menu as well as add his creativity to it," says John Dominis general manager Al Yim, who notes the restaurant has gone as far as Seattle to find the best match for a John Dominis head chef. "It's so important for us to be consistent."
So Maharibatcha, 52 — a mix of French and Vietnamese, who was born in Vietnam, raised in France and adopted by his Indian step-father— filled the position of chef de cuisine, which had been vacant for four months. And though he says he originally came to Hawaii hoping to endear his French flavor to local tastebuds, Maharibatcha notes that it's most important to give the customers what they want.
"John Dominis is about seafood, and I cannot make it a French restaurant," Maharibatcha says in his thick French accent. "But I can bring my style and mingle it with local flavor. I think the food in Hawaii is very local … how can I say … very traditional. It's ethnic, and everything is a blend."
Maharibatcha has spent his time in Hawaii (he moved here in 1998) learning local style. This doesn't stop the chef from adding new items to an already brimming John Dominis menu, though he isn't always successful in turning local tastes toward Europe.
"One time I try the escargot wrapped in prosciutto," Maharibatcha laughs. "But people say it's too salty. I think only French people like that. French use a lot of cream sauce, too, and it's very elaborate. I think locals want simple foods."
But don't think that Maharibatcha's cuisine hasn't been a hit with both longtime and new John Dominis customers, more than half of whom are local.
"Chef brings a different flavor to our food with his Asian/Mediterranean background and all his travels," says Yim. "I think that, in any restaurant, a chef who travels and gathers flavors from all over can bring it down to his place and add and mix. He's been able to infuse his experience into our local fish and produce. It's a combination that has won over a lot of new customers.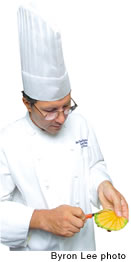 Chef Maharibatcha takes
just two hours to carve
something spectacular
"We can do a fish eight different ways in this restaurant, and I don't think you can have that in very many other restaurants."
Maharibatcha also draws on his "encyclopedia" of cooking knowledge, sometimes whipping up a dish by customer request that isn't on the menu.
MidWeek asks if the chef has a lot in his "encyclopedia."
"Very much!" he says with a smile. "As a chef, when you come here (to a place like Hawaii) you have to adjust. You have to blend and learn. There's a lot of Asian influence here and I was lucky because I already know some Asian cuisine from my family."
Maharibatcha got his start in cooking at the young age of 16 as a dishwasher at a French seafood restaurant. After helping the chef for a year, he became his assistant.
Maharibatcha's mother also owned a Vietnamese restaurant in France for 15 years.
"I learned my Asian style from her," says Maharibatcha. "The best thing I learned to cook from her was the pho soup and spring roll. Her restaurant was booked every night. But my mother never wanted me to be a chef. She wanted me to be a tailor."
Maharibatcha himself wanted to be an architect at one time. "I was good at drawing," he remembers. "But I love to eat. And I help my mother at the restaurant and I find out that food is good for you."
After 12 years working as a chef in France, Maharibatcha came to America. In 1998, a friend he made working at one of the Ritz-Carlton Hotels encouraged Maharibatcha to come to Hawaii.
Besides his culinary skill, one thing that has endeared customers to Maharibatcha is his French accent. Somehow, "Light red wine with rosemary sauce" just sounds so much sweeter when it comes with a side of French accent.

"Garlic" sounds like "garlique" and "lemon" like "lé-mon."
"I think he could read the phone book out loud and he would sound good," says Michael W. Perry of the Perry and Price morning show. The show has broadcast live from the John Dominis dining room every Saturday morning from 8 to 11 for nearly two years, and includes a $24.95 breakfast buffet.
Page 1 of 3 pages for this story 1 2 3 >
Most Recent Comment(s):
Commenting is not available in this weblog entry.