Celebrating The Bounty Of Hawaii
The Made in Hawaii show gets bigger and better each year, and features only local items from around the 50th State.

Wednesday - August 15, 2007
By
.(JavaScript must be enabled to view this email address)
E-mail this story | Print this page | Archive | RSS
|

Del.icio.us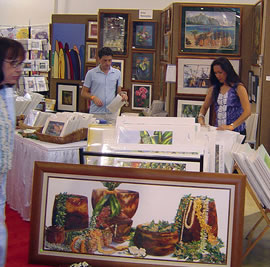 Local artists have a prominent place at the festival
This weekend, you can take an all-islands tour without any travel hassles. We've assembled the best of Hawaii's craftsmen, products, and flavors in an ingenious marketplace. Meet us at Neal S. Blaisdell Exhibition Hall & Arena for the 12th annual Made in Hawaii Festival, Friday through Sunday, Aug. 17-19.
It's a sellabration like no other.
Produced by the Hawaii Food Industry Association Inc. (HFIA) and sponsored by First Hawaiian Bank, the festival attracts more than 35,000 visitors, including buyers from around the world. Bring your appetite, eye for unique artifacts and love of the Islands to Hawaii's premier selling floor.
No imports are allowed. This is strictly homegrown commerce.
Your genial host and tour guide is Dick Botti, HFIA president and one of the founders of the food industry organization more than 35 years ago. He'll be there, greeting old friends and new. So will Hawaii's talented chefs, farmers, artists and 420 other purveyors in paradise. Meet them up close and personal.
Get a program and chart your course to your favorite vendors. Or do as I do, start down one aisle and weave through each row of merchants and their wares. This takes time, of course, but you're assured not to miss a thing.
Yet the distractions are many, according to Botti. You can be easily taken off course by entertainment and cooking demos scheduled at specific times. That takes some planning and maneuvering. Jay Larrin at the Pikake Room at 1 p.m., Derek Kurisu of KTA Superstores cooking at the Arena at 2 p.m., back to Pikake Room by 3 p.m. to catch Raiatea Helm.
Hawking is part of the ambiance.
"Try this homemade sausage," one vendor hails from her stall.
"Our butter cookies are the best in the Islands," heralds another.
"Have you bought a Christmas gift for Mom yet? How about a gecko pillow?" suggests a Big Island merchant.
You'll love all the attention. But most of all, you'll love the hometown pride you feel for the resourceful people who start businesses inspired by Hawaii's natural and manmade assets.
You'll meet merchants from each of the islands, including Niihau.
You'll be awed by their creativity. Hawaiian print foot mops. Tropical hot fudge sauces. Goat cheese truffles. Lauhala design watch bands. Sea asparagus from Kahuku.
Clever gadgets abound as well. You wonder, "Why didn't I think of that?" as you encounter slipper-shaped refrigerator magnets, clocks with sushi for numbers, koa chopstick rests, and cal-abash-shaped salt and pepper shakers.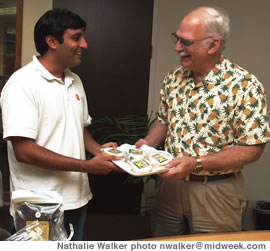 Dick Botti of HFIA (right) with Tushar Dubey of Hokulani Bakery and a tray of his cupcakes
"We started the festival as a means of supporting Hawaii business," says Botti. "The festival has turned into a small business incubator allowing really small vendors to make a product at home and build up an inventory to sell at the festival."
"More than 2,000 invitations go out to buyers from the Mainland and Japan as well as Hawaii," he adds. "Food vendors can sample their products to a large number of consumers in the least expensive venue."
If you like mom-and-pop enterprises, the Made in Hawaii event is cottage industry central.
"I'm working with the third generation of a number of family businesses," says Botti, who's been involved in the festival since its inception.
"The industry has been turned upside down more than once during the past 35 years. When 7-Eleven came in, we thought that would be the end of the neighborhood store. Today, 7-Elevens have become the neighborhood stores, and they are good neighbors.
"Then came the big-box stores," Botti says, giving a big-picture overview. "That really changed how the food industry operates. Everything was based on price, and it created a consolidation like we have never seen. Not only did retailers merge, consolidate, sell or close, but so did the supplier end of the business. It took about 15 years for the total change to what we see today.
"The next change will be the high end coming back stronger. Consumers are now concerned about what they eat to the extent that spending more on food is justified. Thus, organic foods have taken off.
"With Whole Foods entering the Hawaii market, those food retailers in the middle will survive just because they are in the middle on product, variety and price."
Ahh, competition! It keeps us all on our toes and ever alert to good deals. Like the festival itself.
"We purposely maintain a low entrance fee ($3) so visitors can include their family and attend more than one day," Botti says.
He suggests going the first day to scout and buy priority items, then returning another day to discover new offerings and anything you missed.
"You get the best deals on the last day of the show," he says. "Exhibitors want to go home with little or no product, so you might get the best price on what's left."
If you've been to a Made in Hawaii show before, it's worth returning because it's not the same venue each year. New exhibitors and new products maintain the excitement of the festival and its entrepreneurial spirit.
"Marketing is the vital element," says Botti. "Nothing happens until someone sells something."
The market maven explains, "While the exhibitors do sell their products, the real selling job is the vast amount of promotion we do with the guidance of First Hawaiian Bank, its marketing department, along with our own team of volunteers. We spend over $100,000 each year in marketing the festival."
The first Made in Hawaii Festival in 1995 showcased 61
Page 1 of 2 pages for this story 1 2 >
Most Recent Comment(s):