Coffee, Tea And Versatility
If you think there's only one gourmet coffee chain in town, well, you don't know beans. The company that started the fancy coffee trend pours its first cup in Honolulu this week

Wednesday - November 09, 2005
By
.(JavaScript must be enabled to view this email address)
E-mail this story | Print this page | Archive | RSS
|

Del.icio.us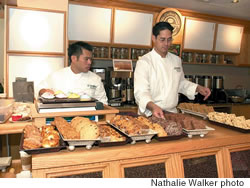 Rick Chang and Keoni Chang prepare platters of
cookies and pastries
From the company that brought you the first McDonald's, Dunkin' Donuts and Hallmark Cards comes another break-through in local retailing. The Sullivan Family of Companies introduces The Coffee Bean & Tea Leaf in Manoa on Thursday, Nov. 10.
Who is this entrepreneurial entity and why is it bringing yet another coffee café to a Starbucks-saturated market? Pour yourself a cup of coffee and stay awhile to be enlightened.
It's business as usual when Jenai Sullivan Wall talks about retail innovation. Her father, Maurice "Sully" Sullivan, opened the first supermarket in Hawaii in 1948 (at Market City) and was the first to introduce in-store delis, credit card acceptance, supermarket banking, a loyalty card and customer-supported community programs.
This legacy of innovation is the driving force behind the company Wall heads as chairman and chief executive officer. The Sullivan Family of Companies is comprised of Foodland, Sack N Save stores, Food Pantry and Kalama Beach Corporation with more than 114 locations in Hawaii and the Mainland.
This week, another breakthrough in brand-building takes place as the company opens Hawaii's first Coffee Bean & Tea Leaf store in Manoa Marketplace. Grand opening festivities will be Nov.18-20 with entertainment, gifts and plenty of fanfare.
Popularly known as "The Bean," the California-based enterprise offers 32 gourmet coffee blends, 30 varieties of tea, Ice Blended drinks, fresh baked goods and light entrees. Want to find exclusive Costa Rica La Cascada Tarrazu coffee or rare Gold Tip black tea from Assam, India? You'll find it at The Bean.
With daring aplomb, Wall opens the first Coffee Bean right next door to a Foodland competitor (Safeway) and a stone's throw from a thriving Starbucks. There goes the neighborhood.
Actually, Wall's retailing savvy tells her that consumers like choices and trying new things. The Coffee Bean is an established brand and has its formula down-pat on how to win market share in the gourmet beverage niche. Consider the stats.
Nearly eight out of 10 Americans drink coffee, with half the population drinking coffee daily. There is significant outof-home consumption, with coffee accounting for more than one-quarter of all food-service dollars, according to a national survey. Among coffee drinkers, the average consumption in the United States is 3.1 cups per day.
Coffee has become a treat as well as a staple, and Americans are enjoying the happy duality.
The Coffee Bean & Tea Leaf is the oldest and largest privately held chain of specialty coffee and tea stores in the U.S.
Founded in 1963, it has more than 315 stores in the U.S., Asia and Australia.
Its trademark ice-blended drinks launched a worldwide coffee craze 10 years ago and spawned dozens of imitators. Coffee Bean serves more than 40,000 of these original drinks daily and more than 12 million annually worldwide. The flavorful drink is made with a secret coffee extract, French Deluxe vanilla, Dutch chocolate or white chocolate, and nonfat milk.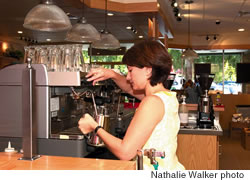 Teppi Waxman, The Coffee Bean and Tea Leaf's
director of operations, prepares a coffee drink
An area development agreement calls for 15 stores throughout Hawaii in the next year, some of which will be inside Foodland or Sack N Save stores and others at free-standing locations. Coffee Bean-Kailua opens in mid-November. Hawaii Kai will have one in December.
"We visited markets on the Mainland a year ago to get ideas on what we could bring to Hawaii," Wall says. "We heard about The Coffee Bean through friends, and we were impressed by the quality of their product. But coffee was a new area of expertise for us."
The Bean, also a family enterprise, was looking for locations. Each company brought something in a perfect blend of assets. Sullivan Companies knows the Hawaii market, has locations, and has a loyal customer base. It also has an established track
Page 1 of 2 pages for this story 1 2 >
Most Recent Comment(s):