Cutting the Big C Down to Size at Queen's
Darlena Chadwick and Dr. Diane Thompson prepare to welcome the first patients to the new Queen's Cancer

Wednesday - October 31, 2007
By
.(JavaScript must be enabled to view this email address)
E-mail this story | Print this page | Archive | RSS
|

Del.icio.us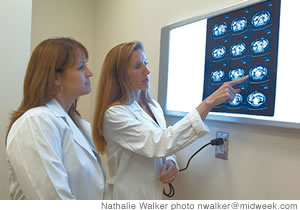 Darlena Chadwick and Dr. Diane Thompson review scans of a patient's cancer cells
Cancer is a word, not a sentence. No one knows that better than Diane Thompson, M.D., a psychiatric oncologist at Queen's Medical Center, and Darlena Chadwick, Queen's vice president for patient care.
On Oct. 30 as the first patient enters the new Queen's Cancer Center, words of what could have been will be silenced forever. On this day, Queen's Medical Center will make a bold statement about advancement in cancer care. It's a historic step for Queen's and a giant leap for health care in Hawaii.
Certainly no one deserves this gratifying moment more than long-suffering cancer patients, who endure a maze of fragmented services. Diagnosis here. Test after test there.
Consultations everywhere. Radiation or chemotherapy in one place. Therapeutic sessions in another place. Some even travel to the Mainland for treatment.
To say it's an arduous process is an understatement.
Queen's' 21,000-square-foot facility breaks down those barriers with high-tech, high-touch services in one convenient location. A cancer patient goes through enough physical, mental and emotional challenges without having to deal with logistical obstacles as well.
Queen's also has a service innovation known as a "patient navigator" to help you steer through the stages of care. More about that later.
For health care professionals, the $6-million center marks a significant achievement in putting Hawaii at the forefront of coping with the nation's second leading cause of death, after heart disease.
Queen's serves about half of the state's cancer patients. It has a research partnership with the University of Hawaii and hopes to accrue more clinical trials through the work of this center.
In Hawaii, about 6,000 of us will be diagnosed with cancer this year, and the number is expected to double over the next 25 years. It's a sobering statistic.
The dichotomy is that the center must exist at all. After years of extensive research, dreaded cancer still plagues us with no universal cure. It's an edifice to enigma. But hope is its foundation.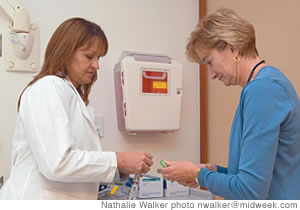 Darlena Chadwick organizes equipment with Alison Matsuo, R.N.
The Queen's Cancer Center is not just a building. It represents a new era of patient care. From the onset, Thompson, director of the Queen's Cancer Center, and Chadwick- fondly referred to as "Queen's queens" - approached their mission in a holistic and patient-centric mode. The center is essentially designed by and for the patients they treat, down to the smallest detail.
For instance, the walls are painted in gender-neutral colors of sage and cinnamon. No pink and blue. Calming music greets guests in the reception area. No disruptive TVs.
There are work stations for attending physicians. No need to be in one's office to record notes or access online data. Need a prescription filled? A pneumatic tube speeds a prescription to the pharmacy just above the center.
The environment of the multidisciplinary center is spa-like - calming, cordial and comforting. It's an important mindset, according to Thompson.
"We define survivorship at the time of diagnosis, not at the time of treatment," she says. "From the onset, the focus must be 'I'm going to survive.' "
The center also houses the most advanced technology in the state for treating cancer. It includes Hawaii's only clinical genetics laboratory; its only TomoTherapy device, the world's most precise radiation treatment system; and its only robotic daVinci system for minimally invasive surgery.
That's the hardware. They're lifelines to survivorship, on which the Queen's queens are steadfastly focused. Here it gets personal. Both know what it's like to have loved ones with cancer.
Thompson's father had a brain tumor. Chadwick's daughter Tabatha was 5 when she was diagnosed with acute lymphocytic leukemia, affecting white blood cells. The college student is now a cancer survivor.
Page 1 of 2 pages for this story 1 2 >
Most Recent Comment(s):