Everything A Cop Should Be
Once chased around an enclosed lot by Tyke the rampaging elephant, HPD officer Zane Hamrick wins a national award for exceptional bravery
Wednesday - June 13, 2007
By Alice Keesing
E-mail this story | Print this page | Archive | RSS
|

Del.icio.us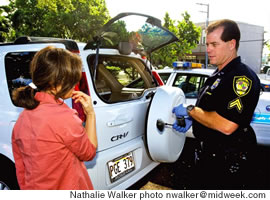 Officer Hamrick talks with a woman after thieves
broke into her car
Officer Zane Hamrick wasn't thinking about life and death Oct. 15 when he jumped into the churning sinkhole near Kailua Beach Park. His one thought was that the woman who had just fallen into the flooded hole in the collapsed road needed his help.
Hamrick went in - full gear and all. He went under the icy water into a moment of complete darkness and silence. His feet didn't touch bottom. The water shooting from the broken water main buffeted at his legs. Hamrick blindly felt around for the woman, and managed to pull her to the surface and safety. The water sucked him under three more times before a fellow officer was able to help him out.
Hamrick doesn't talk about the incident in terms of life or death. He's even reticent to say he saved Shannon Sloan's life. He just says he was doing the kind of thing that his brothers and sisters in blue do every day in the course of their work.
But others have recognized his valor with a slew of awards. Two weeks ago he was named one of the Honolulu Police Department's officers of the year. The weekend before, he was honored in Washington, D.C., as one of the 10 top cops in the country by the National Association of Police Organizations. Earlier this year, he received the HPD's highest award, the gold medal of valor. Enough, already? Actually, he's in the running for two more awards later this year, too.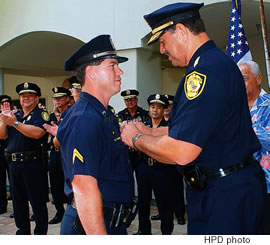 Chief Boisse Correa pins the HPD gold medal of valor
on Officer Zane Hamrick's uniform
"He placed himself at great risk by doing what he did - and with no hesitation," says Lt. Dave Eber, Hamrick's supervisor at the Kailua Police Station, who nominated him for the awards.
"I think it was above and beyond what he is expected to do," Eber adds. "I'm sure other policemen would have done the same thing, and I'm sure there are a lot of policemen who wouldn't have done it."
Hamrick is only the second Honolulu officer to receive NAPO's top cops award. On his trip to Washington, D.C. - which was made possible with donations from the police union and Kaneohe Ranch - Hamrick was honored at a glitzy event that has become known for its celebrity appearances by television stars and presidents.
A 13-year veteran of HPD, Hamrick has a reputation for his good-natured, steady-going manner. He lives and works by the salt-of-the-earth values he learned growing up. With his mom going to school and working, the young Hamrick was raised by Mary and Henry Beckley. What started out as a baby-sitting arrangement turned into a second family as the Beckleys raised him and his half brothers and sisters.
"He was the most gentle Hawaiian man I ever met, and she was a Portuguese lady," Hamrick says. "She had a way about her that she said what she felt. She raised us with the old-time kind of values: to respect your elders, to tell the truth, to be kind to everyone ... and she was loving and full of hugs and kisses."
When Hamrick was 10, he moved with his mom, Pat Yoshiki, to Kailua. He graduated from Kalaheo High School in 1981 and went straight into the Army. After four years in Germany he came back home and spent the mid-'80s painting houses with a buddy and surfing, surfing, surfing.
"I was surfing wherever the waves were, even taking flights to Kauai," Hamrick remembers with a smile. "I was single, I had a golden retriever called Kona - he was my pal and he went everywhere with me."
Then, one day in 1988, Hamrick was pulling out of his driveway at the same time as the girl who grew up across the road from him. In a moment of impulse he asked her out to dinner that night. He and Lisa, the girl next door, got married a little over a year later.
These days the couple lives with their two children, Ashley, 21, and Joshua, 10, in the house where Lisa grew up - his mom still lives right across the road, and his brother lives next door.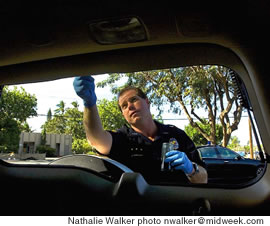 Officer Zane Hamrick dusts for fingerprints
One look in their Kailua carport reveals that Hamrick is still a consummate waterman - there's a sleek outrigger hanging from the rafters, surfboards, Boogie boards and skateboards.
Hamrick loves working in his own stomping grounds, where work is just minutes down the road and he knows the place and the people like the back of his hand. He works Beat 459, covering Kailua Beach and Lanikai.
Eber credits him as a top performer who always gets the job done.
"I wish I had 20 more of him," he says.
Hamrick joined the force after he got married and was looking for a new stability in his life.
"It sounds like a cliché, but it sounded like an opportunity to help others," he says. "I think all officers coming in have those ideas."
The job has also had its share of excitement over the years. Such as on Aug. 20, 1994, when he was driving past the Blaisdell Center and a bunch of men in tights came running onto the road, flagging him down.
Tyke, the 9,000-pound African elephant had just trampled and killed her trainer and escaped onto
Page 1 of 2 pages for this story 1 2 >
Most Recent Comment(s):