Faith in The Power Of The Team
Twenty years after helping the UH Wahine win their first national volleyball title, Mahina Eleneki Hugo takes over as the head of La Pietra school
Wednesday - July 11, 2007
By Alice Keesing
E-mail this story | Print this page | Archive | RSS
|

Del.icio.us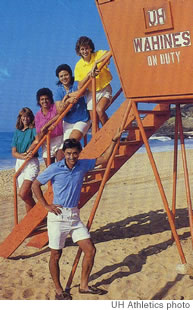 That's Hugo in the yellow shirt from
this 1987 publicity photo
Mahina Eleneki Hugo brings the enthusiasm she showed on the court playing volleyball for UH - as well as her belief in the team - to her new job as head of La Pietra
She's the headmistress who surfs. Mahina Eleneki Hugo also runs, swims and lifts weights - she'll even free-dive for abalone if you give her the chance. As the new head at La Pietra, Hugo is not your run-ofthe-mill administrator. A polished professional, she also has an infectious brand of adventurous fun. Add to that her background as a Hawaii star athlete, and there's plenty for her students to want to emulate.
When La Pietra's board of trustees announced that the 40-year-old Hugo was its pick to head the school, president Alice Guild says members were overwhelmed by the enthusiastic response.
"This was certainly a very popular decision among students
and teachers, faculty and parents," Guild says. "They all know her and love her. She has a wonderful style."
Guild describes that style as "no-nonsense aloha." Hugo is well known for her charm and the ease with which she gets others to follow her lead.
Hugo is the first Island-born head of the 43-year-old all-girls school. And while she stepped into the top job at La Pietra this month, she entered the hearts and minds of people in Hawaii 20 years ago when she was a senior on the 1987 Wahine volleyball team. That was the team, of course, that gutted its way through to become national champions.
As one of the seniors on that underdog team, Hugo played a big role in its success. Wahine volleyball coach Dave Shoji remembers her for her positive, upbeat attitude.
"I would say she was a fan favorite," he says. "People identified with her because she was not the most intimidating person."
At 5 feet 7 inches, it was an achievement for Hugo to even be on the court. An overachiever even then, she made up for her shorter-than-usual stature with her fighting attitude.
"She had an all-round game," Shoji says. "I thought her best skill was attacking and, for such a small person, she was so smart. She could tool the block as good as anyone we've ever had in the program."
It doesn't surprise Shoji that Hugo has gone on to transfer her success into a different arena. Guild agrees that Hugo is one of those people who excel at whatever they put their hand to.
Among her awards, Hugo was named the NCAA's Most Inspirational Player during that championship year, and that typifies the traits that Hugo brings to everything she does, Guild says.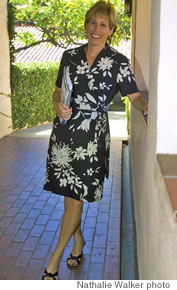 Mahina Eleneki Hugo has been a
popular choice to lead La Pietra
"She's enthusiastic, she has a willingness to listen and yet she has no hesitation about making hard decisions," Guild says. "Someone said to me that even when she's correcting you it's not an unpleasant experience. She does it with such grace."
The dynamo blend of athlete and leader was apparent back when Hugo was a tomboy growing up in Enchanted Lake.
"I was the one in the neighborhood who held the mini volleyball lessons with the neighborhood kids," she says. "They still tease me today and call me the drill sergeant."
Parents Richard and Betty Eleneki taught her the value of hard work.
"I was always taught that we work hard and that nothing comes free," Hugo says.
Part Hawaiian, Hugo also grew up with a deep love of the Hawaiian culture. It's a big part of who she is and explains the aloha that is in everything she does.
Shortly after she graduated from UH with the national volleyball title and a sociology degree under her belt, Hugo joined La Pietra as the PE teacher.
La Pietra grad Kuulei Nakanelua got to know Hugo as the coach of the school's varsity volleyball team in the mid-'90s.
"In a small package, she's one of the biggest people I've ever met in my life," says Nakanelua, who remembers being impressed by the way Hugo led by example, even if it meant doing laps with everyone else at 6 in the morning.
"She very quickly became my mentor," Nakanelua says. "I hold her in very, very, very high regard. She's been a coach, she's been a friend, a teacher, a mentor."
Hugo has filled that role for many of La Pietra's students as she worked variously as the peer leader advisor, health educator, middle school dean and, most recently, the assistant head of the school. During those years, she also returned to UH and earned her master's degree in private school leadership.
It's perhaps indicative of Hugo's character that she never even applied for the top job. She was, rather, one of the members of the search committee that began looking for a new head when Nancy White announced her retirement.
Guild, who was also on the committee, recalls that they were just about to hire an outside firm to widen the search.
"Then it just happened that all the committee members started calling each other and saying, 'Maybe we don't need to be looking so far a field.' We were very impressed with Mahina and before we knew it, we had all agreed - without her knowing - that there was no need to cast our net any further. She was so humble that we had to convince her that this was the time for her."
Hugo says she has always kept her balance by not letting her work overwhelm her home life with husband, Todd Hugo. But it didn't take long for her to accept the position.
"To me, the decision came down to the girls," she says. "To see them develop and become productive citizens ... when you hear from them about their wedding or that they've become top business-women or parents ... that's my reward."
And after 15 years, Hugo still loves coming to work. It's not hard to see why. The 240 girls who attend La Pietra enjoy what must be one of the most beautiful campuses in Hawaii. Located in the old Dillingham estate of La Pietra, tucked between Kapiolani Park and the slopes of Diamond Head, it's a place of courtyards, stairways, statues and cool breezes.
"I think that elegance trickles down to the girls," Hugo says.
Page 1 of 2 pages for this story 1 2 >
Most Recent Comment(s):