First Family of FIRE
Debbi Akiona Eleneki's dad was a firefighter, as are four brothers. But nobody, including herself, thought she'd make captain one day

Wednesday - March 31, 2005
By
.(JavaScript must be enabled to view this email address)
E-mail this story | Print this page | Archive | RSS
|

Del.icio.us

The Akiona family of firefighters: Debbi (Akiona) Eleneki is
surrounded by her four brothers Aaron, Kevin, Peter (Ka'iu)
and Byron Akiona, parents Peter and Deborah Akiona
(center) and brother-in-law Tim Bannan (sitting far right)
Fact or fiction? Women can do anything men can do. You better believe it's a fact. Just ask Debbi (Akiona) Eleneki, who became the Honolulu Fire Department's first-ever female firefighter in 1987.
Come this Thursday, Eleneki, 37, will reach another milestone in her career at the HFD's promotion ceremony at the Charles H. Thurston training center. She'll make history as HFD's first female to reach the rank of captain.
But Eleneki doesn't necessarily see herself as a pioneer for women.
"I might be the first female to be promoted to captain in this department, but there are hundreds of other trend-setting women firefighters and fire department officers nationwide who have preceded me," she says.
The fact remains, however, that out of 1,090 firefighters in the HFD, there are only six female firefighters and one female recruit.
Firefighting is a field that could be daunting for anyone because of the physical demands and dangers that come with performing the job every day. Many who survive the written exam to get into the department find the grueling agility test tough to pass.
Eleneki, a graduate of Kamehameha Schools, is proof positive that if you take things one step at a time, even a 5-foot- 7-inch, 145-pound wahine can perform the job at an exceptional level — a job once reserved for only men.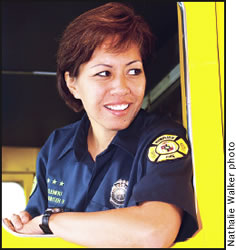 Eleneki is one of just six females at HFD
"It wasn't always my dream to become a fire captain," admits Eleneki, who first took the HFD exam at the prodding of her father Peter Akiona, who retired as a rescue captain in 1976. "In the beginning, I had no real interest in becoming a firefighter. When I was exposed to it, that was when I got hooked. Then my focus was on becoming a good firefighter 1. When I got comfortable with that, my goal was to move up in rank to a firefighter 2 and then a 3."
Eleneki served as an engineer (firefighter 3) for eight years before this latest promotion to captain, and in that time she also acquired 5,000 hours of training as an acting captain.
"At each level, there was a time when I felt comfortable with the job I was doing, where if I moved to the next step I had the right training," she explains. "A captain has to be able to train and motivate his or her crew. How are you going to do that if you're not really familiar with their position?"
Eleneki came into the department as a young woman at 19. She just celebrated her 18-year anniversary with HFD. Not bad for someone who, at one point, wanted to become an accountant.
Eleneki's family has a long history with the fire department. Her father, Peter, four brothers, Byron, Aaron, Kevin and Peter (Ka'iu), and two brothers- in-law, Tim Bannan and Todd Hugo are firefighters. Eleneki is the youngest of the siblings, but also has two sisters Rowen and Adryn, who chose to pursue other professions.
While her father and three brothers have since retired from the job, the whole family, including Eleneki's husband, Alika, and two children, Ka'aha, 7, and Makana, 3, will be there to celebrate her new rank on Thursday morning.
The ceremony also includes 22 other firefighters who will be promoted to captain, one battallion chief, 14 firefighter 2 rankings and three firefighter 3 positions.
It will be standing-room-only, but one person will be sorely missed — Eleneki's mother Deborah Akiona, who passed away just two months ago after losing her battle with breast cancer.
"Back in September, my mother was given six months to live," says Eleneki. "Originally, the promotions were supposed to be figured out a little earlier, but it got pushed back. I remember trying to figure out how far six months would get me. I had dreams about it.
"I would sit with my mother and study for my interview. She wouldn't say much, but she'd smile. I always thought that she would be there if I made it. I always wanted her to be there; I could picture her sitting at the ceremony."
As part of her promotion, Eleneki will receive a new badge and two lapel pins, which will distinguish her as a captain. Eleneki has chosen her father and husband Alika, a Verizon station installer, to have the honor of pinning these items on her during the ceremony.
"It's a proud moment," she admits humbly. "It's an accomplishment. I'm definitely excited. I might get a little emotional."
Eleneki's son Ka'aha feels as though his mother has won a prize. Since being a captain means mom will get her own quarters, Ka'aha's first question after congratulating her was "Does that mean we can come sleep over now?"
While sleepovers will not be an option, it's obvious that Eleneki's son considers his mother a hero. After all, he wrote a paper saying that he wants to be a fireman when he grows up.
Eleneki knows what it's like to be the child of a firefighter. The department becomes more than just a job — it's a way of life. She grew up in Waimanalo and would watch her father, Peter Akiona, traverse the Ko'olau mountainside on rescue missions.
"I remember my mom would say, 'Dad's outside!' and all us kids would run out and wave and yell, 'Dad! Down here!' and watch him rappel down the mountain," she says. "I also remember there were always a lot of firemen at our house. They'd have 'squidding' tournaments and play volleyball."
Page 1 of 3 pages for this story 1 2 3 >
Most Recent Comment(s):