For The Love Of LACE
Between designing and importing lingerie, Lulu Lackey's life is all about lace, frills and colors, and making women look sensual while feeling comfortable and confident
Wednesday - June 30, 2005
By Norise Jastillana
E-mail this story | Print this page | Archive | RSS
|

Del.icio.us

Lulu Lackey loves lingerie. Lots of lace. Ruffles too. Camisoles in every color. Panties in soft pastels. Boy shorts in basic black. Here a bra, there a bra. A flash of ribbon. The sheen of satin trim. Frilly under things fluttering from hangers everywhere.
You name it, she's got it. Racks and racks of lingerie. There's an entire room devoted to her collection. Some secret obsession? A girl gone wild? Hardly. It's both a passion and profession for the Portlock resident who presides over Lulu Lackey Inc., importer of fine European lingerie and a designer to boot.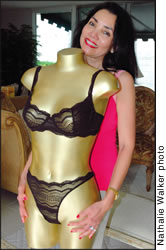 Lulu Lackey has spent much of
her life in the lingerie business
Her extensive inventory— available by appointment and private showing only— includes luxury lines like Cosabella, Chantelle, Aubade, La Mystere and Hanky Panky (whose 4811 panties are the rage of celebrities and fashionistas!). Some of her flirty fashions were showcased this month at a luxury lingerie fashion show at the W Hotel.
"The business is growing because of my selection and because I give 100 percent attention. Providing that personal touch—that's what I like about the business," says Lackey, who's clearly mixing work with pleasure.
Low overhead allows her to sell items 25 percent to 35 percent below suggested retail price. Only a couple of merchants in the islands carry the same brands and for considerably more, she adds.
"I want working women who like fashionable things to be able to afford them. When you wear beautiful things, you feel beautiful."
Lackey is also developing her own designs—like the "shimmy" that she created to dress up jeans. This swath of black lace—embellished with sequins and beads—falls from a denim waistband and fastens with a rhinestone button. Lackey is also designing a line of whimsical bustier-style bags as well as sachets in bustier and dress forms as favors for her house parties.
"You get started on one thing and move into something else," says Lackey, whose creative wheels are always turning.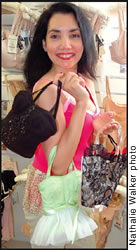 Lulu Lackey with handbags
that look like lingerie
She hopes to one day have a crew of like-minded ladies working with Lulu Lackey Inc., hosting home or office parties, private teas and other events on an ongoing basis.
So what's hot now?
"Camisoles. They have the feel of lingerie but you see young girls—and not so young girls!—wearing them with jeans," says Lackey, explaining that lacy garments can go from home to the grocery store— wherever—with grace. "Just pull on a pair of jeans!"
The buzzword is "sensual," she adds, as opposed to "sexy" or "risqué."
And today's women want comfort with style. "Materials have really changed—it's breathable this and that, molded microfiber this…"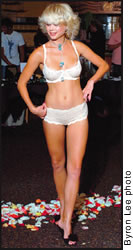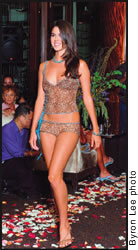 Most important is the right fit, she stresses. "Our contours are all different. Not all styles will fit all women. You have to try things on to find out."
Lackey's interest in intimate apparel began at a tender age. Her parents were owners of a lingerie manufacturing company in the Philippines, where Lackey was born and raised. LeARC opened in the 1960s and went on to supply customers in Europe, Africa, the Middle East and the U.S. One of its customers was the nowworld- famous Victoria's Secret.
"As children, we were not given allowance per se; we were given a salary dependent on how much we worked at the factory," explains Lackey, who says that early work was "entry level—picking up decor, threads."
The eldest of five children, Lackey was a quick study— even sketching her own designs for consideration. "If they were well-received, we'd manufacture them."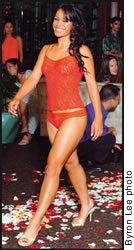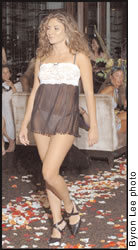 She remembers her parents, who traveled often, deciding to leave her in charge of the business during their absence. She was just 14.
"The bank told them, 'She's too young. She can't even sign papers!'" says Lackey with a laugh.
That confidence in their daughter's abilities continued to inspire Lackey, helping to launch her own business in California in the 1970s. A graduate of St. Paul College of Manila and already married, Lackey was ready to spread her wings when she moved to the U.S.
"I had lived such a cloistered life in the Philippines," she explains. "I wanted to be more independent from my parents and home."
Lackey traveled for a while, intending to settle into a job in the clothing industry eventually.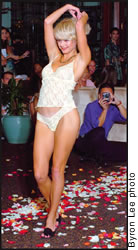 "Then my mom asked, 'Do you want a business?' She felt funny about me working for someone else. And who wouldn't say yes!'"
She started importing women's outer garments—primarily casual sportswear— from Italy, Spain, Greece and France. She also purchased material from Taiwan for manufacture in the Philippines.
"I was starting from scratch, this 20-year-old girl in the U.S.," she recalls. "I was gutsier at that age, plus I had my parents to back me up. But I could tell people were wondering, does this young girl know what she's doing?"
But she did. By the time Lackey sold the Californiabased business, she had nearly 20 sales reps working for her, traveled to Europe on business several times a year, and was supplying merchandise to mail-order catalogs like Hanover House and Serendipity and to such stores as Liberty House. She had also earned a degree from the prestigious Fashion Institute of Design and Merchandising in Los Angeles.
In 1994, she was ready for a change of pace and scenery.
"I liked Hawaii—the people, the warmth. People take their time here. It's not a metropolis, more sleepy."
Now single, Lackey settled in Hawaii Loa Ridge, sharing a house with her mother, who visited often. Her dream of "retirement" was short-lived. She decided to attend Chaminade University, earning her MBA in 1996. In 1999, Sizzler restaurants recruited her for the position of human resources director, which she held into 2000. The offer came out of the blue, but she thought, "I can do that. The pay's OK and it's a new learning experience."
After that job, Lackey decided to take some time off. "I spent my time taking dance lessons at the Honolulu Club, working out every day and dating at night," she remembers. Lackey also embarked on a romance with "the love of my life," Jim Lackey, who she married two years ago. A retired U.S. Army colonel, Jim is now executive director of the Asia-Pacific Center for Security Studies.
"I didn't think I'd ever marry again," she says. "I'd been really very independent—no support from anyone and happy with my life. But what do you do? I fell in love."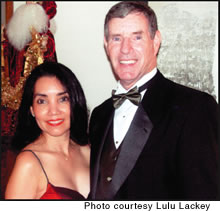 With husband Jim Lackey

Lackey moved to her husband's Portlock home, where she now houses her showroom. About a year into her new marriage, Lackey approached husband Jim about starting her own small business and growing it over time. With Jim's blessings, Lackey launched Lulu Lackey Inc.
She attributes much of her success in life and work to her mother, Asunción Caguioa, who was here for a recent visit.
"I talk a lot about my mom; I love my mom," says Lackey fondly. "My mom is a woman of substance—a shrewd businesswoman but a lady every inch of the way. Just don't underestimate her!"
Her mother, who is Spanish, and father, a blend of Filipino and Chamorro, have been married for 53 years. They sold their business in the mid-'90s, and still live in the Philippines, visiting when they can. Like Lackey, many of her siblings are artists or entrepreneurs, and all live in the U.S., with addresses that dot each coast.
A devout Catholic, Lackey attends Mass at Star of the Sea each Sunday. She and husband Jim, an antique car enthusiast, enjoy spending quiet time together. "We watch movies, pop popcorn, grill hot dogs and cheeseburgers, and just cuddle," she says with a giggle. "Is that OK to say?"
Whether at work or play, Lackey reminds herself of what's most important.
"I really try to make time for people," something her once too-busy life often made difficult. "They have so much to offer."
Page 1 of 1 pages for this story
Most Recent Comment(s):
Commenting is not available in this weblog entry.