Getting A Jump on the 4th!
Claire and Delbert Kim of Xtreme Fun Rentals — from left with daughter-in-law Kylee, son Randell, daughter Jamie — will be jumping on July 4, their busiest day of the year
Wednesday - July 04, 2007
By Lisa Asato
E-mail this story | Print this page | Archive | RSS
|

Del.icio.us
Nobody understands the ups and downs of doing business in Hawaii quite like Claire and Delbert Kim of Xtreme Fun Rentals. With more than 70 huge inflatables, they're the biggest thing in Hawaii 'bounce houses'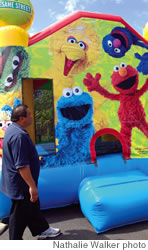 Delbert Kim with the popular
Sesame Street bounce house
The landscape of extreme inflatable jumper parties in Hawaii was forever changed a decade ago when KimChee Da Clown lost a gig to another clown - who had a jumper.
Not one to fret, Da Clown turned that frown upside down. Jumpers were foreign to him. "That's the first time we ever heard of one," says Da Clown, aka Delbert Kim. So he and wife Claire did some research, started off with five jumpers, employed their then-9-year-old daughter Jamie as official "product tester," and the rest, as they say, is history.
"It's been 10 years of extreme fun," declares Delbert, vice president of Xtreme Fun Rentals Inc., a Wahiawa-based party rental and event company that has grown into a 51-person operation with carnival rides, keiki rides, rockwall climbs and 70 to 80 inflatable jumpers, some of which nearly scrape the sky at 33-plus feet.
"We kind of graduated from the jumper business, and we're now handling events," says Delbert, a '76 Leilehua grad who met his wife while they were students at Brigham Young University-Hawaii.
"We still do the private parties, but now we're more larger events, school fairs, community events, corporate-incentive gatherings, festivals - you name it, and we're there. We're all over the place."

Claire and Delbert Kim having some
Xtreme Fun with Jaws
Today as the nation rings in the Fourth of July holiday with food, fun and fireworks, the Kims, who celebrated their 26th anniversary this year, will have their hands full doing exactly what they love - bringing joy to people. "We'll do two major events this year, that's at the Pearl Harbor 4th of July and the Schofield 4th of July," says Delbert, who will oversee a 150-person operation of food vendors, games and jumpers at Pearl Harbor along with the rest of the Kim family.
(See sidebar for event information.)
The work is literally a labor of love involving physical setup work in the Hawaiian heat and sun, but then comes the good part. "The payoff is when all those kids and families start coming in, and then you see all the smiles and the picture-taking - it's pretty satisfying," says Delbert, an entertainer at heart, who used to lead his three children in the performing group Sax to Da Max.
It's the Kims'way to turn every project into a family affair - the
Page 1 of 2 pages for this story 1 2 >
Most Recent Comment(s):