Going Global With HPU
At the helm of HPU for the past 33 years, Chatt Wright has realized his vision of educating for a global citizenship
Wednesday - August 11, 2005
By Norise Jastillana
E-mail this story | Print this page | Archive | RSS
|

Del.icio.us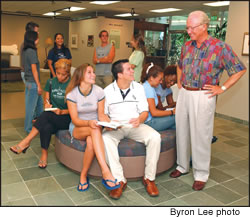 HPU president Wright chats with students
(seated from left) Rachel Nagata, Andrea
Charuk, James Fowler, Jessi Waddle and
Brittany McDuffie. Behind them are students
Liane Yoshiyama, Claudius Maag, Maria Canoy,
Shane Stedman and Peggy Yu
The Father of Hawaii Pacific University — that's the unofficial title bestowed on President Chatt Wright over the course of his nearly 33 years with the institution he built, at least figuratively, from the ground floor up.
When he joined the university, then known simply as Hawaii Pacific, in 1972, it was housed on one floor — the third floor, actually — of the Davies Pacific Center. Now Hawaii Pacific University covers three campuses — downtown Honolulu, Windward Hawaii Loa and Oceanic Institute at Makapuu — as well as satellite facilities on six military bases. Enrollment has grown from a scant 57 to more than 9,000 students from 100 countries. The university, celebrating its 40th anniversary this year, now offers in excess of 50 undergraduate and graduate majors. The annual budget has jumped from a meager $200,000 in 1972 to $95 million today.
As the architect of this success, Wright has played a pivotal role that does, indeed, seem "familial" — more like a relationship than a routine career. And his long association with HPU appears more than mere chance.
"I have a little story," he confides. "It's like serendipity."
He goes on to relate an amazing coincidence of dates: his Sept. 17, 1941 birthday, the Sept. 17, 1965 founding of Hawaii Pacific, his Sept. 17, 1972 start date, his Sept. 17, 1976 promotion to president and his impending Sept. 17, 2009 retirement. "The last one is the only one I can actually control," he laughs.
This peculiar pattern makes some sense when you consider the connection Wright has shared with the university for more than three decades.
"Very few people get the opportunity to do what I've done," says Wright. "I'm very grateful that this was my personal mission, and that weds me to it."
Wright grew up in Bakersfield, Calif., the son of a rancher/farmer and journalist, and attended public schools there until transferring to Robert Louis Stevenson School, a private school in Pebble Beach, Calif. Wright admits to not having "much of a direction" back then and, even in college, cycled through a series of majors, including engineering, enology (the study of winemaking) and, finally, political science before earning a baccalaureate degree from University of California-Davis.
"I did manage to graduate in eight semesters," he acknowledges.
It was then that life took a turn in an entirely new direction. Long fascinated by Africa and the adventures of outdoorsmen like Ernest Hemingway,Wright joined the Peace Corps as a volunteer in 1963. For two years, he served as an agronomist in the West African Republic of Guinea, helping the community maximize its production of cotton and sugar cane.
"I did it almost whimsically," says Wright of signing on. "I wasn't bent on being a do-gooder and saving the world — though I'm all for that — but that wasn't my mission."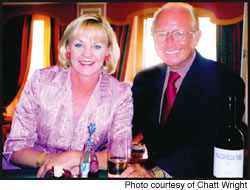 Wright and wife Janice travel regularly
Coming from a relatively small community,Wright found his time in Africa "a very broadening experience." It also offered the impressionable young man his first glimpse — a "vision" almost — of a global society with vast resources and universal potential.
"At the time, I didn't say, 'Oh, I'm having a vision,'" he laughs. But the experience had a profound impact that led to a personal realization, as well.
"I had an ability to relate to people — people of all different backgrounds — and I really enjoyed that," he explains.
Wright's move to Hawaii was also much of a whim. He had several friends who had settled here and thought he'd check it out.
Page 1 of 2 pages for this story 1 2 >
Most Recent Comment(s):