Going Public
After a long and successful career as a news anchor, Leslie Wilcox moves to become the head of public television. The 'first lady' of island TV vows to make it 'the people's channel'

Wednesday - July 18, 2007
By
.(JavaScript must be enabled to view this email address)
E-mail this story | Print this page | Archive | RSS
|

Del.icio.us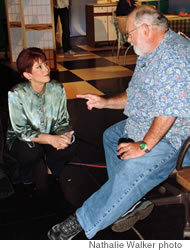 Conferring with Jim Leahey on the Leahey & Leahey set
Leslie Wilcox leaves the anchor desk to run public TV in Hawaii, and vows to make it the people's channel
Leslie Wilcox will never forget her first time being a news reporter for KGMB-TV. She was 23 years old. "I had no training in TV,"she says."I presented my reports very poorly. My hands shook as I held the microphone, and I looked like an idiot."
Worse yet, her then-boss and news anchor Bob Sevey "never denied the idiot part."
Today,Wilcox is Hawaii's first lady of broadcast. She is a poised, experienced and credible voice of news and views.
During her 35-year TV career, she has seen the medium change exponentially. The dramatic changes have bred fear and uncertainty in the broadcast industry as commercial TV struggles with economic realities and its search for relevance in today's society. As Wilcox stares into the unblinking eye of modern television, she sees a promising future. That could be because she's sitting in a different seat now.
She left the newsroom at KHONFOX2 after 15 years. She's now president-CEO of PBS (Public Broadcasting Service) Hawaii. It's been a "whirlwind"indoctrination period the past four months, but she always has time to talk story with media colleagues.
This writer is as nervous as a cub reporter as I meet her at the PBS Hawaii office on Dole Street, across from UH-Manoa. I've admired Wilcox's work a broadcast journalist for many years. As a PR practitioner, I pitched many news stories to Wilcox. It's what's known in the business as a "flack" and "hack" relationship.
Today, I'm asking the probing questions and Wilcox is in the hot seat.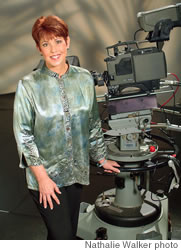 A top-rank journalist, Leslie Wilcox is undeniably the 'first lady' of TV in Hawaii
But Lady Leslie is gracious and cordial as ever. She is instinctive and adept at finding common ground with people. Soon we are just two local gals talking story about her career move and the changing dynamics of broadcast journalism.
She is a busy TV executive, wife, mother of four children and grandmother to two. She commutes three hours from and to her home in Waialua on the North Shore that was designed and built by her builder husband, Jeffrey Brown.
"I decided in the eighth grade that I wanted to be in the news business," she says. "My father was an avid reader, writer and story teller, and it rubbed off on me." Her late father Paul was also a radio man of some note in Honolulu.
Wilcox grew up in the KuliououNiu Valley neighborhood, attending Holy Nativity, Aina Haina Elementary, Niu Valley Intermediate and Kalani High School. She majored in journalism at UHManoa. Her first reporting job was at the Honolulu Star-Bulletin.
KGMB's Sevey recruited her for television reporting duties in 1977, noting that young, enterprising Wilcox was "beating my reporters on news stories."
"Although I had no experience in television, he taught me that what counts are being accurate, fair and a good writer," Wilcox says.
Those journalistic standards followed her to a 15-year career at KGMB and 15 years at KHON-TV, where she was brought on as co-anchor and executive producer of the morning news. Professionalism and polish are hallmarks of her communications style, and her establishment of the Lokahi community service project is legendary.
Sevey introduced Wilcox to a job that she would not have applied for on her own.
"And I never would have applied for this current job on my own," the 53-year-old broadcast executive says."I thought of several people in the media who would be terrific for the job. I never considered myself."
KHON released Wilcox from a contract with two years remaining so she could pursue the PBS opportunity. She left commercial TV to go into a community-supported, noncommercial broadcast system. Was it a prudent move?
"The times favor PBS Hawaii because of what's been happening in commercial TV,"Wilcox says."We see shrinking resources, more automation, and fewer people to take care of more hours of content. The result is fewer diverse voices and discussion shows.
"We see quick stories as if those who make these programs are afraid to bore us. Commercial stations want to keep things snappy and jazzy to keep audiences attentive. The result is that you don't get the
Page 1 of 2 pages for this story 1 2 >
Most Recent Comment(s):