Goodbye Taste, Hello Flavors!
Lots of people were saddened when they heard that Taste of Honolulu was dead. But thanks to Abilities Unlimited, which trains people with disabilities to work and live productive lives, a new and expanded Flavors of Honolulu debuts this weekend

Wednesday - June 27, 2007
By
.(JavaScript must be enabled to view this email address)
E-mail this story | Print this page | Archive | RSS
|

Del.icio.us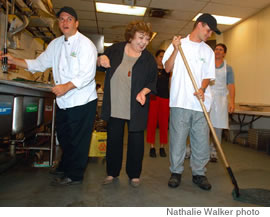 Julie Ahue Murray of Abilities Unlimited works with
clients Edward Antonio, left, and Kip Vanderhoop
Here's a recipe for success if you're staging a major event.
* 50,000 hungry people
* 1,500 friendly volunteers
* 25 restaurants with diverse meals
* 21 hours of fun-filled activity
* 30 major sponsors including the City & County of Honolulu
* 1 deserving charity to benefit from proceeds
The only missing ingredient is you.
But knowing how much you love a good party, we're certain to see you at the Flavors of Honolulu, Friday through Sunday, June 27-July 1, at the Frank Fasi Civic Center (next to Honolulu Hale).
Things are definitely cookin' this weekend.
There's parking at the City Hall lot, on the street, and all over downtown where most meters don't need feeding after 6 p.m. There's valet parking too, as well as convenient drop-off via TheBus. Getting there's half the fun.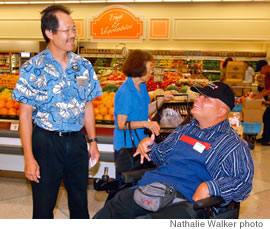 Johnny B on the job at Safeway-Mililani with manager
Gary Young
Once you're at the grounds, pay a $6 per person general admission (free for seniors 65-plus, active duty military, and keiki under 12). Then, head over to a scrip booth and let your inhibitions go wild. The more scrip you have, the more food you can purchase. This year, you can pay for scrip with a credit or debit card, in addition to the usual cash or check. What's in your wallet?
To whet your appetite, here are some of the flavors you'll taste at the event:
SAVORY. Food from Honolulu's popular restaurants is the main attraction, of course.
It's a one-stop dining binge where 25 restaurants are assembled to tease and tempt you with dishes such as:
The Colony: Shellfish Bisque with Tarragon Oil and Pastry Crouton
Da Spot Health Food: Herb Crusted Egyptian Chicken Filet with Saffron Rice
Gordon Biersch: Sausage Sampler with Marzen Beer Mustard
Hilton Hawaiian Village: Curry Shrimp with Fried Haupia
The Mandalay: Top Shell with Cucumber Salad
3-Star Gourmet: Zesty Crab Cake Sandwich with Sweet Chili Aioli Sauce
Check out the posted menus, then plot your safari to the culinary destinations. Bring a mat to spread on the lawn to enjoy dining al fresco during the day or under the stars.
ENRICHED. This year's event has added attractions, such as the Pacific Handcrafters Guild with arts and crafts for sale, Farmers Market for fresh produce and homemade goodies, and cultural displays.
John Henry Felix, chairman of Abilities Unlimited's board, said Flavors of Honolulu is expanding to "everything that represents Hawaii."
Felix said his organization approached the City after Easter Seals Hawaii announced last December that it would no longer produce Taste of Honolulu after a 15-year run. Abilities Unlimited expects to gross $750,000 from this year's event and net $500,000, according to Felix. All of the money earned from Flavors of Honolulu will stay in Hawaii to be used to fund Abilities Unlimited's efforts to help clients gain employment.
Abilities Unlimited is a nonprofit organization founded in 1983 that assists individuals with disabilities. It serves about 400 individuals with employment and community support services and provides related services for more than 4,000 individuals including veterans.
Julie Ahue Murray, president-CEO, says, "People with disabilities are no different than anyone else in the community. They have the same hopes and dreams to succeed in life and contribute meaningfully to the community. We serve people with barriers to employment and other life privileges."
SWEET. Someone who personifies the spirit and mission of Abilities Unlimited is 25-year-old John Buquing ("Johnny B"), who is ambassador for the event. The personable "poster boy" of sorts for the occasion was selected by the event committee to help promote the program. What a delightful choice he turned out to be.
"It's not hard to get along with me," he says, "because I have so much charm. I'm hard to resist."
Johnny B will be at the event, welcoming guests and directing them to the activities and attractions on the grounds. Like the role he plays as a courtesy clerk at Safeway Mililani, he doesn't let being in a wheel-chair confine his mobility and ability to interact with people.
Page 1 of 2 pages for this story 1 2 >
Most Recent Comment(s):