They Call Him Master
Grand Master Hong uses a variety of disciplines as a healer, including with a long list of celebrity clients. The part-time Windward Oahu resident offers a free workshop Jan. 9
Wednesday - January 06, 2010
By
.(JavaScript must be enabled to view this email address)
E-mail this story | Print this page | Archive | RSS
|

Del.icio.us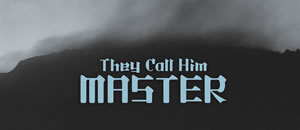 Grand Master Hong Liu takes time from his celebrity clients to offer a free seminar in Honolulu Jan. 9
As we enter this new Year of the Tiger, give your immunity system a boost with the help of Grand Master Hong Liu at his free Winter Immunity Humanitarian Event Jan. 9 sponsored by the Natural Healing Research Foundation.
"We will be employing natural healing techniques that can effectively improve the human body's immunity function, which is especially important nowadays with the H1N1 virus, and also we're in the midst of the flu season," explains Liu through a Chinese-English speaking translator. "In a nutshell, this workshop is for anybody who has either a compromised or weakened immunity that is prone to catching colds, the flu, or for people with respiratory ailments such as asthma or sinus problems.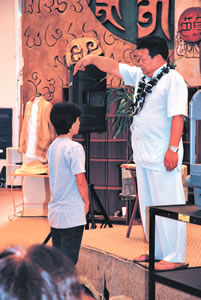 Master Hong performs energy work during a demonstration for students at a workshop in Honolulu
"All the anti-inflammatory or antiviral and antibacterial medications and vaccines have a very good purpose. However, if we can naturally improve or strengthen one's immunity, then this person will not catch a flu as easily and then it will be better for oneself as well as for society."
The event is open to the public and takes place at the Qi Center (1110 University Ave.) from 12:30 to 2 p.m.
People with allergies or lung-related diseases also are encouraged to attend. According to Liu, the winter natural healing method, which follows the rhythms of universal, environmental and personal energy, is simple, effective and has no side effects.
Guests also will receive herbal patches that are placed on specific points of the body to strengthen their immune system.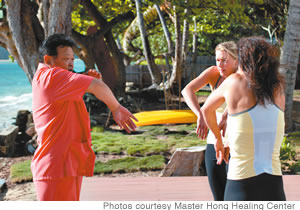 Master Hong teaches medical qi gong exercises to two students in Windward Oahu
Liu, who received his formal medical training as a doctor from the Shanghai Military College and specializes in the treatment of cancer, immigrated to the United States in 1990. His resume lists him as a distinguished professor of Qi Gong at the Emperor's College of Traditional Oriental Medicine in Santa Monica and at Samra University in Los Angeles.
He also serves as an adjunct professor with the University of Hawaii, and resides in both Los Angeles, where he has a healing center in Arcadia, and in Honolulu where he has a home in Windward Oahu.
His Web site (www.qimaster.com) includes pictures of some of his many celebrity clients, including Elton John, Jackie Chan, Jet Li, U.S. Sen. Daniel Akaka, Cameron Diaz, Mel Gibson, Julia Roberts, Goldie Hawn and Courtney Love.
He tells about a time when Hawn visited him, and after her appointment, she called to ask if she had left her wallet there. He looked around and could not find it. She was very concerned and he suggested to her that he use the I Ching or Book of Changesto help locate her wallet.
"I told her don't be anxious," he recalls. "I said go home, from one day to one week your wallet will come back to you. You won't suffer any loss, and you have nothing to worry about."

Hong's celebrity clients include actresses Julia Roberts and Cameron Diaz
Sure enough, that night, he says, someone found her wallet and returned it.
According to Liu, the I Ching is one of the most fundamental tools of Chinese culture and philosophies. It's often used as an oracle to do divination and predictions.
"Traditional Chinese medicine, acupuncture, moxibustion, feng shui, Chinese astrology, it's all derived from the I Ching," he explains. "It's the origin of all this knowledge and wisdom, as well as all the theories from the five-element theory to yin and yang balance.
"The universal energy and how it affects mankind, whether it's health or destiny or faith or luck, all of that is traced back to this Book of Changes. It's one of the most valuable and precious treasures of tradi-
Page 1 of 2 pages for this story 1 2 >
Most Recent Comment(s):