Hawaii's Most Wanted
Hawaii ranks No. 2 in the U.S. in identity theft and forgery, so MidWeek's 10th anniversary Most Wanted issue focuses on the fugitives who perpetrate those crimes

Wednesday - October 05, 2005
By
.(JavaScript must be enabled to view this email address)
E-mail this story | Print this page | Archive | RSS
|

Del.icio.us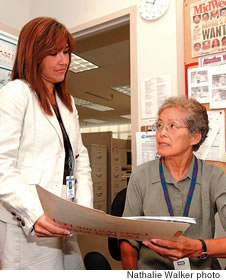 Sgt. Kim Capllonch checks fugitive mug
shots with CrimeStoppers volunteer
Setsuko Bluemke
It's time again for the one issue of the year when nobody wants to be on the cover of MidWeek - our annual CrimeStoppers' Most Wanted issue. In fact, this is the 10th anniversary of our first Most Wanted cover story.
And it's a sign of the times that each of these 10 fugitives has been involved with identity theft and/or forgery. It's become such a problem in Honolulu that MidWeek and new CrimeStoppers coordinator Sgt. Kim Capllonch decided to feature identity theft perpetrators even before she attended a law enforcement seminar last week and learned that, in fact, Hawaii ranks No. 2 in the U.S. in identity theft and forgery (per capita).
So it's an even bigger problem than we'd believed.
Our goal here is first to get these 10 criminals off the street, second to send a message to would-be perps.
That's where MidWeek's roughly half-million readers come in.
Publishing these photos is just the start of the process. The real work is done by readers who make the calls to CrimeStoppers' hotline - 955-8300 - with information that can lead HPD officers to make an arrest. All calls are anonymous, and can lead to a cash award if the tip leads to a conviction.
Sgt. Capllonch emphasizes that you should not approach or try to apprehend any of these individuals - consider them desperate, dangerous and possibly armed.
Providing an address or a license number, however, gives the police the information they need to do their jobs.
And if past form holds, the bad guys and bad gals featured on this year's cover will soon be behind bars. Since we began working with the Honolulu Police Department and CrimeStoppers in 1995 to produce the Most Wanted stories, nearly 90 percent of the criminals we've featured have been captured - most within a few days.
While violent crimes are always more exciting, crimes that involve some form of identity theft -a Social Security number, credit card number or forged check - affects thousands of people and costs them even more thousands of dollars.
The elderly are especially vulnerable, says Sgt. Capllonch - her married name is Spanish and pronounced cappy-on; classmates at Star of the Sea knew her as Kim Buffett. "Roughly 75 percent of Hawaii's wealth is with retirees, so they're big-time targets for scammers," she says. The best protection: Never give a Social Security, credit card or bank account number to anyone who calls asking for it over the phone.
And criminals keep coming up with new tactics. "We're starting to see burglaries where they don't take the TV or computer or jewelry, they look for blank checks and credit card statements," she says. "So you don't even know you've been hit until these charges start showing up.
"Another thing, most women when we come home drop our purse within 10-15 feet of the door. Then you go into the bedroom to change. Five or 10 minutes later you come out and the purse is gone. Or worse, they just take your wallet so you don't realize it's gone until maybe the next day.
"And what usually happens, if they get your credit card number or checks, they might start out with small purchases, $10 or $15, just to see if they can get away with it. That's why people need to check their bank statements carefully every month. You have to look for even small purchases that shouldn't be there."
Sgt. Capllonch adds that the ID theft crimes committed by these individuals are "just the tip of the iceberg." Some have been convicted of stealing cars, abusing family members, reckless endangering, assault and burglary. And in most if not all cases, drugs are involved. "Just look at their faces," Sgt. Capllonch says. "You can pretty much tell who the druggies are."
"Identity theft is a huge problem nationally and locally, and it's still growing," says HPD Chief Boisse Correa. "The number and complexity of the cases are challenging, but our detectives are trained and are committed to tracking down suspects.
"The majority of the individuals who have appeared in MidWeek's Most Wanted issues over the last 10 years have been apprehended after their photos appeared. Featuring them in MidWeek has been a big help for the Honolulu Police Department as well as the community."
No matter where on Oahu you live or work, you could see any of these fugitives. The thumbnail sketches of this year's Most Wanted show that they're known to frequent Downtown, Manoa, Waikiki, Hawaii Kai, Kalihi, Kaneohe, Kailua, Pearl City, Waipahu, Waikele, Waianae, Nanakuli and Central and Windward Oahu. You never know who is in the next car, in line for a plate lunch or buying gas. The point is, keep your eyes open - these characters could be anywhere.

Connie A. Bedingfield AKA: Connie Ann Bedingfield Caucasian Female, 48, 5 ft. 5 in., 150 pounds, gray hair, green eyes.
Bedingfield is wanted for failing to appear for sentencing at Circuit Court on May 17, 2005. She was to be sentenced for forgery, promoting dangerous drugs and drug paraphernalia. Warrant: $6,000.
Page 1 of 2 pages for this story 1 2 >
Most Recent Comment(s):