Here Comes Carissa!
As Hawaii's most accomplished teenager, Carissa Moore has hardly made a blip on our radar screen.
Wednesday - August 29, 2007
By Chad Pata
E-mail this story | Print this page | Archive | RSS
|

Del.icio.us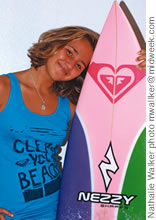 Carissa surfs, she says, 'for fun and a good challenge'
As Hawaii's most accomplished teenager, Carissa Moore has hardly made a blip on our radar screen.
While golfers and Little League teams fill the sports pages, Moore is taking Hawaii's native sport and raising the bar for all those who follow her. And raising it high.
Putting aside the coverage for her win over the boys at the Quiksilver "King of the Groms," few outside of surfing circles have ever heard of Moore - although Sports Illustrated recently featured among top young U.S. athletes to watch.
Yet she is the all-time winningest competitor, male or female, in National Scholastic Surfing Association history with 11 national titles, outstripping former record holder Bobby Martinez by four, and she still has three more amateur years to add to that mark.
Because of her success she has been invited to compete at the Sweet Sixteen event in Mexico in October. Her competition: the 15 top amateur boys in the world.
"She enjoys surfing against the boys," says Katie Moore, Carissa's stepmom. "Not because she wants to beat the boys, but because she feels she can learn so much from them. The boys are very aggressive and fast, and this helps push Carissa to surf at another level."
This is no surprise to surfing insiders, who according to Surfer magazine have been touting Moore as the one to break the gender barrier since she was 11. But for the soon-to-be sophomore at Punahou, she's just enjoying the waves.
"I do it for fun and as a good challenge," says Moore, who surfs before and after school every day. "It's going to be really hard to surf with the guys, not that it isn't now, but I just do it for the experience. Hopefully, I will be able to keep up."
At this point, her father Chris breaks in to decipher the ubiquitous ambiguity in which teenagers speak.
Carissa Moore's smooth moves have been compared to the legendary Kelly Slater
"I think she is being a little evasive and a little modest," says Chris, who works at home to allow him the freedom to facilitate Carissa's schedule. "There are some factors: Obviously if the waves are really big it's going to play more toward an aggressive male. Guys are better in bigger surf because physically they can handle bigger waves and mentally they can handle it.
"Her goal is to keep pace with the guys technically as much as possible. Technically, she is as good or better than any of her peers, including the guys both in the state and internationally. We just have to see if she can keep it going."
Her technique is flawless. Watching her surf makes one realize the comparisons to a young Kelly Slater do not seem to be entirely hyperbole. She strings together moves like words in a sonnet, and attacks the waves with a precise passion as opposed to the open aggression seen on the male circuit.
But even with her rapid ascension, dad Chris makes sure to keep her humble.
"Once you start making claims, it's really hard," says Chris. "It would have been difficult for us six months ago to say, OK, Carissa's going to do a boys'contest against the best males in the state and win.
"Odds are that she is not going to do that, but it happened that time and that's great. It's hard to make claims like that because the guys are good, really good."
Meanwhile on the woman's side, she recently competed in the first pro event of 2007, the Roxy Pro in Australia. Moore took second place, along the way knocking off seven-time world champion Layne Beachley twice.
"She's such a polite girl," said Beachley to reporters after the event. "When we were coming in, she was like, 'Thank you so much for surfing against me,'and I was like, 'Well, thank you so much for smashing me'!"
Besides the Roxy and the King (Queen?) of the Groms competition, Moore has also just returned from the X Games 13 in Puerto Escondido where she served as an alternate on the U.S. team that won gold.
While she did not get a chance to compete, she was involved in a sea turtle release program where they set loose hatchlings into the open ocean.
"I think that it is important to take care of what we have," says Moore, who is very passionate about the environment. "We live in such a beautiful world. I think we need to protect and preserve our planet's spectacular bio-diversity for the enjoyment of ourselves and for those many generations to come."
She became a zealot for the environment after a family camping trip about two years ago to Malaekahana.
Page 1 of 2 pages for this story 1 2 >
Most Recent Comment(s):