Here to Help
As Chad Bloom can attest from firsthand experience, the Narconon rehab program can bring 'ice' addicts back to live a productive, drug-free life

Wednesday - May 23, 2007
By
.(JavaScript must be enabled to view this email address)
E-mail this story | Print this page | Archive | RSS
|

Del.icio.us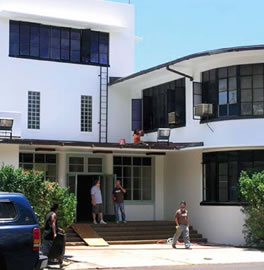 The new teen rehab center is under construction at
Kalaeloa
Lari Zelinsky-Bloom is proud of her recent graduate. No ceremony or lei hail his achievement, but thanks to celebrities Kelly Preston and John Travolta, there will be many others to follow in the footsteps of her son, 21-year-old Chad Bloom.
Chad just graduated from Narconon, a drug rehabilitation center. After a harrowing nightmare suffering the effects of ice addiction (crystal methamphetamine), he arrived at Narconon weighing only 98 pounds and his body covered in sores. He admits he wasn't a pretty sight and "I had screwed up my life."
It was a turning point, and Chad says, "I knew I needed to change my life."
His mother found him on the steps of the house one day. Chad was homeless and desperate. The heartbroken parent could have easily dragged him out of his pain and cradled him with sympathy. Instead, she rebuked him and turned him away.
Chad recalls, "My mom put it to my face that I had a choice: life, prison or death. I was at my lowest point in life, and I made a choice."
Life.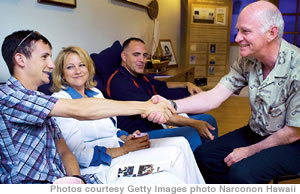 Chad Bloom, with mom Lari and Sgt. Al Palmere, receives
congratulations from Clark Carr of Narconon Hawaii
after successfully completing rehab
It's the choice Narconon supporters Preston and Travolta hope others who need help will make. To show their support, the actors are in town to host a private benefit dinner on Thursday, May 24, at Stage restaurant in the Honolulu Design Center. Proceeds from the $2,500-a-seat benefit will go toward the establishment of the first Narconon Hawaii residential drug rehabilitation center at Kalaeloa, near Barbers Point.
Punahou-grad Preston arrived home ahead of her husband to prepare for the occasion, and to check on progress of the drug education program she helped launch here two years ago. Travolta is on a promotional tour for his new film Hairspray, which opens July 20 in theaters nationwide.
"It started with a wonderful boost because the first two public screenings broke records, and I'm very excited about that," Travolta says.
We catch up with Preston at Narconon Hawaii headquarters at Nimitz Center before racing home to watch Travolta on Oprah. Show biz doesn't get better than this, we sigh. We get to interview a beautiful actress in the afternoon, then watch her talented husband dazzle audiences on my favorite talk show.
"John will pilot his jet to Honolulu," Preston says. "He's bringing our son Jett. Our daughter Ella is already here with me."
You read correctly. Travolta is flying his own aircraft to town. A licensed pilot, he owns a Boeing 707 and operates a multitude of jet aircraft. He says he likes his airplanes big, and in 2002 was given a model 747-400ER Extended Range jet, the first of six to be delivered to Qantas Airlines. The couple has a private airstrip at their home in Florida.
Besides his love of aviation, a lifelong passion, and making films - more than 50 to date - Travolta is involved in a number of human rights and social causes, such as Narconon.
Preston also contributes much time and effort to the international drug prevention and rehabilitation organization, particularly establishing its community outreach in Hawaii. Preston's local involvement started two years ago when watching Edgy Lee's documentary on the ice epidemic in the Islands.

John Travolta and Kelly Preston host Thursday's
fundraiser
"That really woke me up to what was happening," she says. "I wanted to do something."
Preston met with 130 individuals, including Lt. Gov. Duke Aiona and UH coach June Jones. As a result, Preston and non-profit Narconon Hawaii teamed up with drug-prevention groups to produce and distribute free educational kits designed to help parents talk to their children about the dangers of drugs.
To date, 10,000 kits have been distributed with presentations given to more than 23,000 students in 65 schools statewide. Preston says proceeds from this week's fundraiser will help to produce more kits and broaden its distribution.
Clark Carr, president of Narconon, reports, "Analysis of initial responses from those students shows positive results. Our surveys show that 89 percent state they would never start taking drugs, or are now against drugs as a result of the Narconon presentations."
Hawaii Army National Guard recruiter Sgt. 1st Class Al Palmere couldn't be more
Page 1 of 2 pages for this story 1 2 >
Most Recent Comment(s):