Hope For The Hopeless
A drug user who has been through the program says it best about HOPE probation: 'It just ruins my high.'

Wednesday - February 09, 2011
By
.(JavaScript must be enabled to view this email address)
E-mail this story | Print this page | Archive | RSS
|

Del.icio.us
Hawaii's unique HOPE Probation program for felons is getting worldwide attention in the judicial and corrections field. It also gets accolades for its innovation in justice administration and breakthrough strides in drug abuse prevention. Teams of experts come to Hawaii to get a firsthand look at this landmark program that deals with community corrections as an alternative to incarceration.
HOPE (Hawaii's Opportunity Probation with Enforcement), conceived by First Circuit Judge Steven S. Alm, is hailed as a model program for reducing prison overcrowding and criminal recidivism.
But perhaps its highest compliment comes from a reformed drug abuser who declares, "It just ruins my high."
Frustrated by constant random drug tests, a demanding schedule of appointments with his probation officer, swift and certain sanctions by judges, and the generally disruptive nature of the program, the abuser stopped using drugs.
Probation officer Mata Aulava confers with Judge Alm on a probationer's case
Score one for the guys in black robes.
"This is not a miracle," Judge Alm says. "Any probation department in the country can do this with the right leadership, strong management, appropriate resources, technical assistance and rigorous performance tracking."
Frankly, after getting a look at the inner workings of HOPE Probation for this story, it has ruined my high too. That is to say, I was highly uninformed and naive about the court's handling of criminal felons.
Did you know that prisoners on the outside — on probation or parole in the community — outnumber those locked up behind bars? An underappreciated fact of our penitentiary system, according to The Atlantic Monthly, is that of all Americans serving time, only a third are actually behind bars. The rest — some 5 million — are circulating free on conditional supervised release either as parolees or probationers. Check MidWeek's weekly CrimeStoppers feature — most are wanted for breaking probation rules.
Hawaii has 12,000 offenders on felony probation or deferral — about 8,200 of them on Oahu. Of these, 1,200 are in HOPE Probation. The most difficult, high-risk probationers are targeted for HOPE, including sex offenders, those convicted of domestic violence and drug offenders.
When the program started in 2004, there were 34 in the program. Within years, it is projected to grow to 2,000. With prison overcrowding and the possibility of Hawaii's inmates being returned from Mainland prisons, programs like HOPE are a safety net to managing law violators.
HOPE Probation shows how inter-agency collaboration and a willingness to try new methods to solve old problems can increase productivity and save taxpayers money. It has impressive results, based on a recent independent study, and is as transparent as a clear-headed notion.
Check these results: • Positive drug tests reduced by 86 percent. • Missed probation appointments reduced by 80 percent. • Revocations of probation reduced by more than 50 percent. • Arrests for new crimes reduced by more than 50 percent.
Let us take you to First Circuit Court on Punchbowl Street for a dose of reality and a lesson in how a simple solution to repeated probation violations is making a difference in coping with crime. These hearings are what Alm calls "teachable moments" when probation violators address their failure to follow rules.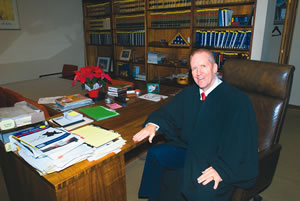 First Circuit Judge Steven S. Alm in his chambers
You miss an appointment with the probation officer, you go to jail. You fail a drug test, you go to jail. The sanctions are swift and sure, like parenting 101. You misbehave, there are immediate consequences.
It's 9 a.m. in Alm's courtroom as those assembled rise to the bailiff's call to order with a bang of the gavel. Facing the judge are convicted felons with probation sentences for assault, robbery, sex offenses and drug possession. Each has been given an alternative to jail in the hope of changing their behavior through rehabilitation and probation counseling.
Some have come directly from cellblocks and are shackled by hand and leg cuffs. It is a pathetic sight to observe fellow citizens who have sacrificed something as precious as personal freedom.
The first case is called. A young man — we'll all him Mr. A — stands solemnly next to the public defender and looks up at the judge with an uncertain gaze, awaiting his fate.
Judge Alm recites the purpose of the hearing for the benefit of the court reporter and judicial records. This morning, it is a "modification of terms of probation" hearing. Most times the violations relate to missed appointments with one's probation officer, or alcohol or drug use that shows up in urine tests.
Judge Alm begins his inquiry: "In the last 48 hours, have you had any drugs, alcohol or medication? You're thinking clearly today? You admit to using and drinking?"
Mr. A answers each question, then begins a dialogue with the judge.
"What happened?" Judge Alm asks, noting that the young man had tested clean for a while and had been told at warning hearings about the consequences of drug use.
"I dunno. I feel guilty. That why I wen'turn myself in," Mr. A answers.
"You understand that every time you test positive or you miss an appointment, you're going to go to jail?" Judge Alm asks. He turns to deputy prosecuting attorney Kathryn Smith for the state's position.
Smith offers, "Because Mr. Aturned himself in, I'm going to be recommending credit for time served. However, he needs to understand that he must stay on track and that even holidays, birthdays, and hurricanes are no excuse."
Mr. A was released to his probation officer and given credit for time served. He also returned to his drug-treatment program.
In another case, a probationer admitted to testing "dirty" that showed cocaine. He claimed he didn't know he had been contaminated and blamed his cousin for meddling with his health supplement tablets.
Judge Alm reacts: "Sometimes the stories are a little hard to believe. Guys tell me somebody put dope in their coffee. Your story is too strange not to be true. I assume you are not going to hang around your cousin anymore?"
Public defender Jeff Ng points out that the defendant's past drug tests were positive for meth, not cocaine.
And so it goes, one case after another. Each case takes about seven minutes, and Judge Alm addresses emergent issues and provides the necessary leadership and collaboration to drive the program.
Alm credits dedicated public servants including police, sheriffs, probation officers and legislators, as well as private service providers, particularly treatment facilities, for making HOPE work.
Alaska, Nevada, Arizona, Oregon and California have modified versions of HOPE. In many states, the majority of prison admissions come not from arrests for new crimes, as one might think, but from probation and parole violations.
As a former career prosecutor and U.S. attorney, Alm, a University High alumnus, has more than a little political clout and is accustomed to getting results.
The idea for HOPE Probation started in 2004 when he was assigned to a felony trial docket in the court's criminal division. He recalls receiving motions to revoke probation often with 10, 20, 30 or more probation violations.
"The probation officer was returning the offender back to court with a nearly universal recommendation that I sentence the probationer to the underlying five, 10, or 20 years in prison," he recounts. "I thought that this system was broken and this was the wrong way to try to change anybody's behavior."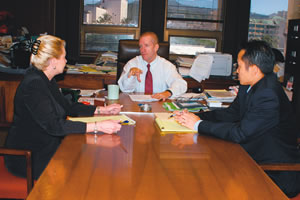 Judge Alm with deputy prosecutor Kathryn Smith and deputy public defender Jeff Ng
Under HOPE, probation officers immediately respond to a violation by completing a check-listed motion for modification, arrest the offender on-site and arrange to have the hearing that day or soon thereafter. The time between violation and court hearing is generally no more than two days, and confinement is brief and immediate.
Probation officer Mata Aulava says Alm's program "has made a big difference. HOPE is the intervention that's often needed to make clients realize that they need help. Otherwise, it's a losing battle to have them comply with the terms and conditions of probation. "Jonathan Townsley, 32, might be considered HOPE's poster boy and reformed role model.
"I was a knucklehead," he says of his days of crime, alcohol and drug abuse. "Alcoholism existed in my family, and my drug of choice was ice at age 15. I was an outstanding athlete — baseball, football, basketball — at Aiea High School. But I passed up many scholarships. I had many thinking errors, didn't like authority figures and became antisocial. During my crime spree I stole from stores and went in and out of prison. In 2006 I was offered a deal to go on HOPE Probation, facing two different charges. I just got tired of life on a treadmill."
Today he is married (by Judge Alm) and employed as house manager at Tradition House in Kaneohe, where he supervises 21 residents in a clean-and-sober dwelling.
Drawing an analogy to the Three Little Pigs fable, Townsley says, "I don't want my house of straw to be blown down anymore. So now I'm doing it the right way, without cutting corners, and building a house of bricks." Alm and the state justice system stakeholders would be the first to applaud him.
Clearly, there's no dope in HOPE.
Page 1 of 1 pages for this story
Most Recent Comment(s):