In The Mood For Romance
Matt Catingub and his 40-piece orchestra prepare for an 11-day, six-venue music festival that he hopes to grow into an annual event that attracts an international crowd
Wednesday - February 07, 2007
By Chad Pata
E-mail this story | Print this page | Archive | RSS
|

Del.icio.us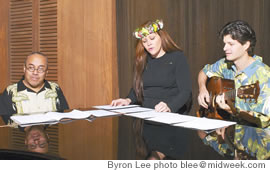 Rehearsing with Amy Gilliom and Jeff Peterson at the
Halekulani
The first time Matt Catingub took the stage at the Waikiki Shell at the tender age of 15, he had no idea what he was getting into. Now 31 years later, he is taking the stage and undertaking perhaps the biggest musical gamble the Islands have ever seen.
Beginning March 1, Catingub is kicking off his orchestra's 11-day, six-venue music festival named "Return to Romance."
"I've had a chance to see what the public loves here," says Catingub, who has spent the last nine years as the conductor of the Honolulu Symphony Pops. "I think we are on the right track here, obviously we won't know until March 12. But I think we have a bead on what people appreciate here."
Having studied some of the world's great jazz festivals, Catingub hopes that his version will boost Honolulu into that pantheon.
"We wanted to pattern this festival after some of the great festivals in the world," says Catingub, who won a Grammy last year for his contribution to the soundtrack of the movie Good Night, and Good Luck.
"Destinations, global destinations like the New Orleans Jazz and Heritage Festival, the JVC Jazz Festival in New York or the Montreux Festival in Switzerland," he says, "people plan their year, their vacation time, around these festivals, and that's what we want to have here."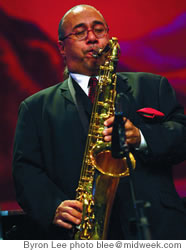 Maestro Catingub also blows a mean
saxophone
The event will kick off with a free concert on the steps of Iolani Palace on March 1 featuring the Matt Catingub Orchestra (MCO) and as yet to be announced guest stars. In keeping with the romance theme there will be a vow renewal ceremony that will be inclusive of all religions and beliefs.
"We thought it was the perfect place to bring up the sometimes easily forgotten subject of romance and tie it in with music," says Catingub, a self-described "Mainland boy," who came to Hawaii for his engagement and his wedding.
From there, the festival can be broken up into five parts, each seeking a different segment of the public to attract.
The first will be "Romantic Jazz," which will be held in the more intimate settings of the Lewers Lounge and the Kahala hotel on that Friday and the following Monday. Catingub will be making the rounds, sitting in with each jazz trio and featuring guest vocalists at each venue.
On Sunday, Catingub will return to the Shell with his orchestra to back jazz masters such as Patti Austin, Wayman Tisdale and Kirk Whalum as they give their renditions of smooth jazz classics.
For those who prefer Broadway there will be three nights of the "Most Romantic Songs Ever Written ... Part 1" at Hawaii Theatre. Catingub is tapping his extensive Mainland connections for these shows bringing in Broadway legend Brian Stokes Mitchell and Lucie Arnaz, daughter of Lucille Ball and Desi Arnaz, to star in the show.
Hosting it will be George Clooney's parents Nick and Nina, and it will feature local artists ranging from Jordan Segundo to Robert Cazimero.
"It is intended to promote not just the musicians of Hawaii, but the artists of Hawaii and not only to Hawaii, but to the rest of the world," says Catingub.
"And we are able to give more work to the musicians, which makes me happy as a musician at heart."
Continuing this theme there will be a local style concert on March 9 as they bring the MCO together with Jimmy Borges, C and K, Amy Hanaiali'i Gilliom, Na Leo and Keali'i Reichel onto one stage to celebrate Catingub's recently released Return to Romance CD.
They will be as you have never heard them before, even the classically Hawaiian Reichel breaks his mold and does the Irving Berlin standard How Deep Is the Ocean?
"When they go into the studio, they lay down basic tracks and put their vocal on it, then somebody else will come in and add strings or horns to it," says Catingub.
"But to be able to sing live with those very strings and brass is a totally unique experience that more than one artist has said to me, 'Wow, what a difference this is to have that kind of inspiration
Page 1 of 2 pages for this story 1 2 >
Most Recent Comment(s):