Into The Night With Andy
Move over Letterman and Leno, funny man Andy Bumatai is taking over the late night talk show scene — Hawaiian style
Wednesday - August 01, 2007
By Chad Pata
E-mail this story | Print this page | Archive | RSS
|

Del.icio.us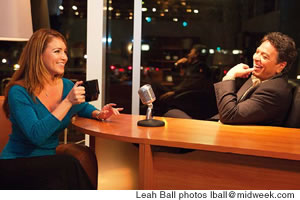 Amber Stone and Andy Bumatai on the set
The Honolulu Design Center set of 'Nighttime With Andy Bumatai' will be open to the public when the new 'Tonight Show For Hawaii' premieres on K5 Monday night
The time has come for Hawaii's first stand-up comic to sit down at a desk and get to work like the rest of us. The difference is, when Andy Bumatai gets behind his desk, the red light comes on.
Positioned on the bottom floor of the Honolulu Design Center, against the Piikoi window of the BoConcept shop, is the set for Nighttime with Andy Bumatai. Pitched as the "Tonight Show for Hawaii," Bumatai and producer Jim Bryan are putting together a program that will feature local talent and Hollywood celebrities alike.
The filming will be open to the public, giving Hawaii a rare chance to see a television show in action, not to mention a chance to meet the celebrities that they know are visiting here but never get to see.
"We've been looking to do a local talk show for a couple of years, so what we did is go back to the basics," says Bryan who has been working in the entertainment industry for the past 35 years.
"It's the model Johnny Carson created 40 years ago, it's the same model that Leno and Letterman use today. No one has ever done it on this scale in Hawaii before, and with Andy Bumatai, who has the same stand-up background as Leno and Letterman have, we just said it's time."
It kicks off Aug. 6 and is slated to run five nights a week on K5 after the 9 o'clock news. Their theory is to bring to Honolulu what LA and NYC boast in spades, a place for celebrities to promote their programs locally.
"Anybody who is anybody coming into this town, whether it's Adam Sandler or Gwen Stefani, there is no medium for them out here," says Bryan, who already has lined up stars Richard Dreyfuss and George Segal to be on the show.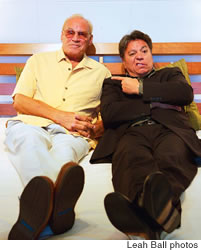 Don Stroud and Andy Bumatai on a dry run of 'Nighttime with Andy Bumatai
"There is nowhere for them to get on and promote their movie, their CD or their cause. These are Hollywood people, they don't get up at 6 in the morning and talk to Kirk Matthews, they don't want to go on Perry and Price, to them Perry and Price means nothing. As big as it is in this market, people from LA don't want to go on some local radio show, it's not what they think of now for promotion.
"We give them that nighttime alternative, we'll send the limo to their hotel, we'll bring them here in the same style they are used to. There is no one in this town that will do that, that's why you don't see these people on any kind of local media. If it means we have to get a jar full of red M&Ms, then we'll do it."
Everything has been thought of, down to providing the guests with makeup artists and hair-stylists. Doing the show big time does give it its best chance to succeed, but it also means a gigantic budget with Bryan and Bumatai footing the bill. Fortunately for them they are receiving enormous media support out of the gate.
K5 has given them a 52-week commitment, so they will have time to work out the bugs and get Bumatai used to the format.
Meanwhile, KHON will rebroadcast the show every night at midnight on its sister station CW on digital channel 93.
This begs the question, with so much money, support and effort at stake, why not look outside for experienced talent?
"We could have done this Mainland style, but if we are going to do this in Hawaii, we wanted to include someone with some Hawaiian background," says Bryan, who worked with Bumatai on the ill-fated sitcom Waikiki! last year.
"We could have very easily brought in a host from the Mainland, but we had Andy Bumatai. He has the chops. This is a man who literally invented stand-up in Hawaii. Everyone said sketch comedy was what worked here, that stand-up would never work. Andy proved them all wrong."
He hopes to keep disproving the doubters, but the adjustment is larger than one would think. Commanding a room as a stand-up comic requires a lot of razzle-dazzle, in-your-face type of action as opposed to the intimacy one has with television.
"People are in their homes, they're in their beds, they have made the choice to tune in, you don't have to go BANG, BANG, BANG, like you do in stand-up," says Bumatai, who believes his style will be similar to Craig Ferguson's.
"In the beginning I will be cannibalizing my act. After that I will be working with Jim and Charles (Memminger) to do it more as funny commentary. I don't want to be doing headlines, 'Britney Spears shaved her head' that every stand-up guy is doing. It will be more like, what's up with spam e-mail or my kid got his
Page 1 of 2 pages for this story 1 2 >
Most Recent Comment(s):