It Keeps Her On Her Toes
With her beauty and dramatic style, Amanda Schull is capturing the admiration of fans outside the usual ballet circles
Wednesday - August 18, 2005
By Alice Keesing
E-mail this story | Print this page | Archive | RSS
|

Del.icio.us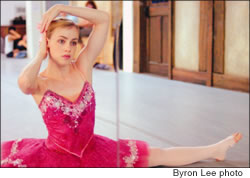 Amanda Schull combines doing the splits with a
little hair work before a recent rehearsal
at Ballet Hawaii
Until recently there was a website where two guys recorded their weekly tennis matches in which they vied for the right to be the (purely imagined) boyfriend of ballerina Amanda Schull.
Odd, yes. But it's an interesting illustration of the effect that the Hawaii-born dancer has on people. Schull, who shot to national fame five years ago when she starred in the Hollywood movie Center Stage
, has an ethereal beauty and star impact that jumps out whether she's on stage or celluloid.
This summer the Punahou grad is back home and bringing it to the stage with Ballet Hawaii's production of Coppelia.
This is an unusual summer treat for Honolulu audiences. Along with the full ballet comes a live orchestra and visiting performers along with Schull and other San Francisco Ballet dancers, including principal Joan Boada, who also happens to be Schull's boyfriend.
"It has all of the best elements," says Ballet Hawaii's artistic director Pam Taylor-Tongg. "It's a very big deal."
Coppelia, the story of Dr. Coppelius and his amazing wind-up dolls that come to life, is considered the jewel of the classical ballet repertoire. And its theatrical nature is perfect for Schull, who is known for her dramatic dance style.
"She's an actress," says John Landovsky, her former teacher at the Hawaii State Ballet. "She has a strong personality on stage and that's attractive. It makes for a performance that is big and exciting."
Another plus for Schull is that she gets to dance with boyfriend Boada. The couple has been together on and off — "you know how these things go," she says — for about five years.
"He's big stuff," she says of Boada, a Cuban native who defected to France 11 years ago when he was 18. "I'm lucky to have him."
The opportunity to dance together doesn't usually come along because Boada is a principal in the San Francisco Ballet and Schull is in the company corps. Schull points out with humor that in a recent production of Romeo and Juliet, Boada was Romeo and she was a harlot.
In Coppelia they dance the lead roles of two spatting lovers.
Aside from thinking that Schull has "one of the best jumps I've seen in a girl," Boada says he enjoys Schull's laid-back spirit.
"We have fun," Schull agrees. "Sometimes too much fun. We get the giggles and have to stop."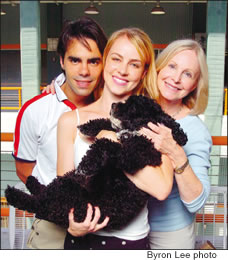 Along with boyfriend Joan, Amanda brought
poodle Rupert home to meet mom Susan
Like the time Schull ran across the floor to Boada for what was supposed to be a dramatic lift — her heels clicked together and they both went down in a heap.
"That ended rehearsal for awhile," she says, laughing.
Self-deprecating descriptions aside, Schull is a source of inspiration for young Hawaii dancers.
As they took time out from rehearsal last week, Jennifer Laws, Sarah-Lee Chun and Iris Garcia all agreed that it's totally "cool" to have Schull in town.
"She's, like, good at everything; she's perfect," says 12-year-old Jennifer. "Yeah, she makes it look like it's really easy," adds Iris.
Page 1 of 2 pages for this story 1 2 >
Most Recent Comment(s):