Nutty for the Nutcracker
Carol Naish is nutty about the Nutcracker. She danced her first Nutcracker when she was 12.
Wednesday - December 12, 2007
By Alice Keesing
E-mail this story | Print this page | Archive | RSS
|

Del.icio.us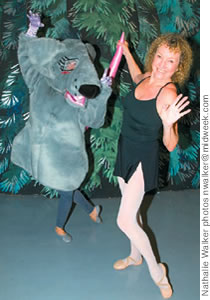 For Nutcracker, Carol Naish will don the rat costume worn here by Pamela Taylor-Tongg
Carol Naish is nutty about the Nutcracker. She danced her first Nutcracker when she was 12. Now, just a few days shy of her 65th birthday, Naish has lost count of how many performances she's been in - but she estimates it's upwards of 50.
The Naish name may be legendary in watersports, but when you visit the family home in Lanikai you quickly see that the Nutcracker is right up there in importance. When MidWeek stopped in to see Naish last week, she had just started decking her home in its Christmas finery, which includes two miniature Nutcracker tableaux. And the seasonal "Nutcracker madness," as Naish calls it, was well under way as she prepared for Ballet Hawaii's annual performance at the Blaisdell next weekend.
Like countless others, Naish never tires of the Nutcracker's enchantment.
"It's such a charming story and the music is just magical," she says. "And it's a great family thing. The Nutcracker itself is such wonderful family entertainment and being in it is like being part of a family."
Ballet Hawaii started its annual Nutcracker tradition nearly 30 years ago. In that time, young ballerinas have grown up before the audience's eyes and a strong cast of regulars have built some great backstage friendships and stories - like the one about Naish missing her entrance because she'd snuck out front to watch the performance. Ballet Hawaii director Pamela Taylor-Tongg still hoots with laughter over that one.
"I think Carol's energy and her love of the Nutcracker is infectious," Taylor-Tongg says. "It spills over. I have a wonderful cast of adults who come every year. I give them their artistic license to some degree, and their personality really shines through."
Naish clearly remembers when she first heard Tchaikovsky's Nutcracker music. She was a 5- year-old, just taking her first steps in ballet class in California, and she watched entranced as one of the grown-up ballerinas trained for her role as the sugarplum fairy.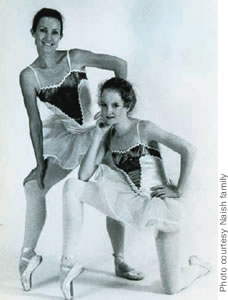 Carol Naish with daughter Christine in 1980 with Windward Ballet
"I remember her feet were just so beautiful in those pink pointe shoes," Naish says. She took classes until she was a teenager and was lucky enough to train under dancers from Sadler's Wells and the Kirov.
"But by the time I was 14, I wasn't motivated to get all the way across L.A. to go to ballet classes when everyone else was going shopping or swimming in someone's pool, or when boys were starting to look interesting," Naish says.
When she was 16, she met Rick Naish, a competitive surfer and board shaper. They got married two years later, started their family and eventually moved to Hawaii.
With three sons and one daughter, the Naish life was all about the beach. When their second son, Robby, won the world championship windsurfing title at age 13 and then won a lot more, watersports became the family's business as well.
But the ballet eventually found its way back into Carol Naish's life. When Naish was 31, her daughter Christine started taking classes with Mavis Tracy in Kailua.
"Our whole life revolved around the beach, but when Christine started with Mavis I realized how much I really loved dancing, so I got back into it," Naish says. "I went back into it just for the exercise. At least, that's what I told myself and my husband - but I still wanted to grow up to be a ballerina."
Naish and her daughter danced in Mavis Tracy productions of the Nutcracker in 1979 and 1980, and when Ballet Hawaii started its annual production in 1980, Naish took to the stage for the company as Clara's mother.
December became a time of Nutcracker madness in the Naish house as she and Christine and visiting ballerinas got busy for the annual performance. Naish laughs that her sons didn't seem to mind having a houseful of lovely ballerinas running around.
"They've been very tolerant - they've seen a lot of Nutcrackers," she says with a smile.
Naish danced in the company's corps de ballet until she was 45, when a knee injury took her off her pointe shoes. But she wasn't about to let dance out of her
Page 1 of 2 pages for this story 1 2 >
Most Recent Comment(s):