Just A Good Ol'Boy… Who Can Coach
The ex-NFL coach who survived a fiery race car crash and hangs out with music stars is teaching a new game at UH

Wednesday - August 31, 2005
By
.(JavaScript must be enabled to view this email address)
E-mail this story | Print this page | Archive | RSS
|

Del.icio.us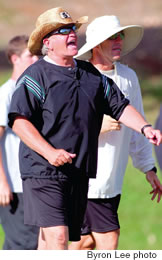 Jerry Glanville brings new enthusiasm
- and aggression -
to the UH defense
If you want to get to know new UH defensive coordinator Jerry Glanville, the real Jerry Glanville, forget about auto racing or even football. Move beyond topics of his time on national television or how, after so many years living in the great state of Georgia, he is still unable to grasp the joys of bass fishing.
"My son loves to fish," Glanville says. "He didn't get it from me. I don't sit. My brother says it was a good thing they didn't know about ADD as a kid or I'd be the poster child for Ritalin."
To get to know the new coach, ask him about music and his trip to Iraq. The first will get you countless tales about friends in the business and the songs that inspire him. Angel from Montgomery performed by Bonnie Raitt and written by John Prine, and Kris Kristofferson's Sunday Mourning Coming Down being particular favorites. The latter invokes thoughtful insight and misty eyes brought on by his experience in Iraq, one he says that will forever have an effect.
"I think it changed every guy who went," he says. "It changed all of us. You take life differently. What changes is you have to be so proud of these 19-year-old kids who are absolutely unbelievable."
Last year Glanville joined members of the NFL Alumni Association on a tour of military bases in Iraq. Along with Glanville were Hall of Famers Bud Grant and Deacon Jones, Pro Bowl line-backer Randy Gradishar, plus Jim Breech, Larry Schreiber, Matt Blair, Mickey Fitzgerlad and Ray Carolin. Their goal was to visit with the troops and to lift their spirits. But in the end, it was the visitors who came away feeling inspired.
"I realized what was inside this generation," says the coach. "The character you see. The character as I talked to these people and they know what they have to do when it's just them and God. They told me 'that with the character in me and with God with me, I know I have to do this.'That's very powerful when you're sitting where we were sitting, knowing every night you ate dinner that some of these guys may not be coming back. I was thinking this must be the greatest generation. I know everyone talks about our dads, but these people are right with our dads."
The trip afforded the former NFL head coach the chance to make up for the missed opportunity. Both Glanville's father and brother served in the Navy, and he was ready to do his part when he got called up during the Cuban Missile Crisis. He failed the physical because of the injuries to his knees. The trip to Iraq, he says, was his chance to give something back.
After the 24-hour plane trip and usual spiraling descent into Baghdad International to ward off any possible incoming missiles, the alumni were attached to the hip of their own bodyguards. One soldier, who the coach swore looked no older than 15, and another, a single mother from Dallas, who when queried about her proficiency with the weapons responded, "Coach, I'm a tower guard. At 300 yards I'll ask if you want a head or groin shot." No doubt a comforting thought for a group that later found itself in a very scary situation.
Moving to a far-off station, one of the vehicles in their convoy got separated and the visitors had to double back to find the missing transport that contained Gradishar and Jones.
"We ran into some moments where we didn't know if we were going to make it or not," says Glanville.
The group came out of the situation a bit shaken, but at least with a tale to tell.
"Deacon tells a great story. He was trying to get their Kurdish driver to change the music on the radio. They were playing Iraqi music. Just as things got real dangerous they hit the floor, and the guy changed the station and it was B.B. King playing Thrill is Gone," says Glanville with a laugh.
The coach, who for so long has been associated with the ways of Southern life - football, auto racing and country music - was born on the East Side of Detroit in 1941. He later moved with his family just across the Michigan/Ohio border to the small town of Perrysburg. Though he has lived in Georgia longer than any other place, he said he does-n't subscribe to the "Yankee by birth, Rebel by choice" mantra.
"I was always proud of where I grew up. It's a great town in Ohio, and I was always proud of Detroit, and I was lucky that they still are willing to claim me after all the things we've done," he says.
And claim him they did. In 2001, Perrysburg High School retired his jersey while July 17 of that year was named Jerry Glanville Day. The honors providing a nice Lynyrd Skynyrd moment for Glanville and his boyhood friend, former Major League manager and World Series winner Jim Leyland.
"We got called into the principal's office. The principal said
Page 1 of 2 pages for this story 1 2 >
Most Recent Comment(s):