Keeping Atlantis Adventures Afloat
As the president and CEO of Atlantis Adventures, Ronald Williams' water world includes subs, cruise ships and Sea Life Park

Wednesday - August 03, 2005
By
.(JavaScript must be enabled to view this email address)
E-mail this story | Print this page | Archive | RSS
|

Del.icio.us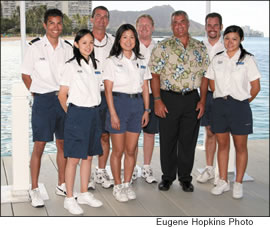 Atlantis Adventures president and CEO Ronald Williams
(third from right) with Atlantis staffers Greg Lee, Dawn
Haitsuka, Rob Moylan, Miho Wiliams, Steve Hall, Keoki
White and Ayano Kitamura
Ronald Williams knows something about the ocean. He knows the feel of his canoe slicing through placid harbor waters at dawn and the unpredictability of Mother Nature as a pod of dolphins appears suddenly to keep him company on his journey.
Williams has always been inspired by the beauty of the ocean's surface as well as the many mysteries that lie below. But more than just a place to spend his weekends, Williams, who is president and CEO of Atlantis Adventures, knows the business side of the ocean as well. He joined Atlantis in 1995 as the general manager of their Maui operation, after working in executive positions for car rental companies for more than 14 years. After being promoted in 1996 to chief operating officer for the entire company, he was again promoted to president and CEO in 2001.
Williams brings to the position both a respect and understanding of the importance of the ocean to Hawaii as well as a strong leadership and business background that has helped fish the ocean adventure company out of some difficult financial times after the 9/11 terrorist attacks.
And even after 10 years with Atlantis and countless submarine and Navatek cruises,Williams, who is also an avid paddler, says he's still in awe of Mother Nature and the sights that appear before him every day.
"At the end of a day on the water, whether I'm paddling for fun or on one of the Atlantis' submarines, you're just so appreciative that you live in Hawaii," says Williams, who is originally from Hilo. "You'd be amazed at all the stuff you see."
Say "Atlantis" and most people think of submarines. It's been the company's core operation since its inception in Hawaii in 1988. Atlantis currently runs three submarines off of Waikiki Beach as well as one on Maui and one in Kona. A few years ago, they also purchased the Navatek I, used for both whale watching and dinner cruises. They also market Sea Life Park's activities.
"What we do at Atlantis is give awesome views and perspectives of things having to do with the ocean," says Williams.
If you think this is just an adventure for tourists, you'd be sorely mistaken. How else can you travel 120 feet under the sea and witness ocean life in its natural habitat through large Plexiglas viewports from the safety of a dry seat?
"Currently, only about 15 percent of our passengers are kama'aina," says Williams of the 680,000 guests Atlantis' attractions entertain annually. "I think kama'aina might think that it's not priced for them, but we have great deals."
For locals, a submarine ride will cost you only $25 per adult; $15 per keiki.
"We'd really like to get the message out to kama'aina to come out and experience it," says Williams. "Sometimes I think we just get so lost because we work hard every day and we forget to take advantage of what Hawaii has to offer."
Williams views the ocean as an endless resource with endless potential. "But we also have to make sure we protect it," he says. "And protection for me is education. That's what Atlantis strives to do is to educate people about the ocean."
This means taking school groups aboard the subs for fun and educational field trips, but also letting adults see firsthand the life they can only imagine from the surface.
For the last 50 years, the natural reefs off Waikiki have been disappearing, says Williams, and ocean life was failing. That's when Atlantis invested in sinking artificial reefs in the submarine's dive area to help nurture coral and marine life in an otherwise depleted basin.
Off Oahu's shore alone, Atlantis has sunk concrete pyramid structures, Japanese-designed artificial reefs, two airplanes and the remains of two shipwrecks, the U.S. Navy tanker ship YO-257 and the Korean fishing boat, San Pedro.
The pyramid structures were designed by the University of Hawaii's Sea Grant Program, creating "new homes" for fish.
"What I've seen of the life that's been brought back in the 10 years I've been with the company is literally huge," says Williams. "If the artificial reefs weren't there, you wouldn't see any of this life."
These steel and concrete structures help coral grow. "And growing the coral is really important because that's the beginning of the cycle," he says. "Sometimes progress might take away some of the opportunities for life to flourish. Putting in these reefs has helped restore it."
The view from the Atlantis submarine is truly amazing. The company runs two 48-passenger and one 64-passenger sub out of Waikiki. The 64-passenger submarine is the world's largest touring sub.
On MidWeek's voyage to the ocean floor, slender silver mackerel dance alongside the submarine's hull, darting back and forth among air bubbles. Perch and parrotfish meander along, popping by the portal briefly to give you the "eye" before they swim on. A barracuda makes an appearance, as hundreds of colorful fish mingle among the artificial reefs in the distance. A moray eel, a "regular" on the tour, pops his head out as the submarine passes, almost as if on cue, and a spotted eagle ray darts under the vessel and out into the deep blue.
The sunken ships are home to giant schools of fish as well as a few giant sea turtles, who nap peacefully on the boat's deck. The submarine's crew also says there are a couple of resident reef sharks who live under the wings of the planes.
Everyone has a watchful eye out, and for good reason on this particular day because suddenly, a shark feeding on a marine carcass comes into view, eliciting excited screams from all the passengers.
If there's one thing Williams has learned in his years with Atlantis it's that the ocean and Mother Nature affect different people in different ways.
"We're very lucky in that Mother Nature changes our dive every day," he says. "So you never know what you're going to see. But it's funny how differently people react to the same thing. Like this one dive I went on we saw giant manta rays as soon as we went under with wing spans about eight feet across.
"This little Chinese boy next to me didn't stop jumping up and down the entire ride, while the older woman on the other side of me just quietly marveled, 'That's nice.'"
Telling people about the ocean is quite different from letting people
Page 1 of 2 pages for this story 1 2 >
Most Recent Comment(s):
Commenting is not available in this weblog entry.