Ken Watanabe: The Ultimate Tough Guy's Other Side
The award-winning actor usually plays samurai or generals, but produces and stars in a touching film about a young Alzheimer's victim and how it affects his family

Wednesday - September 26, 2007
By
.(JavaScript must be enabled to view this email address)
E-mail this story | Print this page | Archive | RSS
|

Del.icio.us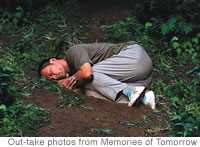 Watanabe moves far from the samurai and generals he usually plays
There is a moment in the movie Memories of Tomorrow when Masayuki Saeki doubles over, wailing in horror and shame. He sees his wife bleed and realizes he has caused it; he is uncontrollable, inconsolable in his grief, his wracking sobs like a keen for the dead. For it is at this moment he realizes that he has, without a doubt and quite literally, lost his mind. His mind, his body and even, perhaps, his soul, are being eaten away by the ravages of Alzheimer's. It is a crystallizing moment in a riveting, haunting film, played to perfection by the man I'm speaking with, actor Ken Watanabe.
"A couple of years ago I read the story during the shooting of Memoirs of a Geisha," Watanabe says in passably good English with the help of a translator.
"After I read the book some kind of warm feeling remained in my heart. As an actor I wanted to convey this same feeling to an audience. I couldn't understand why, but I wanted to make the film no matter what."
Inspired and excited, Watanabe wrote author Hiroshi Ogiwara in the middle of the night, asking for the rights to make the film. That was the easy part. It was more difficult getting the studios to climb on board.
Forgetting his daughter's wedding speech
Watanabe is known for, and has reaped fame and fortune from, playing tough guys. He projects a stoic nobility that translates onscreen as a natural leader of men. His portrayals of generals and samurai have catapulted him to the Alist of actors and have garnered worldwide recognition and honors, including an Oscar nomination. But this was different. Watanabe wanted to play Saeki precisely because of the character's everyman persona. There were no guns, samurai swords or splendid heroics, just an ordinary man facing one of life's extraordinary tests.
"I always think about the character," Watanabe says, "strong, tough, weak heart. He has a really weak and vulnerable side of his character, but at the same time he accepts what he's faced with.
"Before I made the film, studio people were worried about it. How could I play the role? The studios weren't sure if I was right for it and asked if I really wanted to do it."
He did. So much so that he became its executive producer. It was the only way to get the film made the way he wanted it - without bells and whistles, just honest emotion and unflinching truth.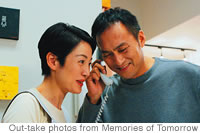 Kanaka Higuchi was hand-picked to play Watanabe's wife
Watanabe was ready to play a man, not an icon. Saeki is his age, just shy of 50, a slave-driving, work-obsessed executive in a top advertising agency in Tokyo. The typical Japanese attitude toward work and home are portrayed realistically. The pressure to succeed, the overarching importance of the workplace, and the relegation of the family to a secondary role define the life of Saeki and his beautiful wife Emiko. He is king of his domain. She quietly and efficiently handles the messes at home.
Saeki starts to forget little things at first. A word, a name, an address. But then he forgets a meeting. He can't remember a conversation. He finds himself in the mortifying position of having to apologize to clients while hiding his more frequent lapses from his staff. He fools them, but not his Emiko, played by a luminescent Kanako Higuchi.
"Of course I oversaw the casting and gave the offer to her myself. The wife's viewpoint was so difficult and important for this movie. Her point of view is like the audience's. I believe that she's an actress who is very pure."
Which is why when she slowly begins to worry that all is not well, we worry with her. We empathize with her confusion and fear. Her pain, and ultimately her love, are what make the movie work for us. She is the heart and soul of the film.
Watanabe understands human mortality, having fought his own battles with a potentially fatal disease. He was treated successfully for leukemia and is healthy and vigorous now.
But the inspiration for the movie, he says, did not come from his experience. It came from his parents.
"I don't have a personal connection to Alzheimer's. But my father had a stroke when he was 43 years old. He was paralyzed. But I didn't realize before this movie what it was like for my mother who cared for him for 30 years. I realized there was a model for this movie so close to me. My
Page 1 of 2 pages for this story 1 2 >
Most Recent Comment(s):