Making A Case For Nature
As native birds and plants continue to become extinct, Suzanne Case and the Nature Conservancy release a DVD to bring nature into homes, offices and schools
Wednesday - May 19, 2005
E-mail this story | Print this page | Archive | RSS
|

Del.icio.us


Left to right: Hawaiian monk seal, iiwi bird, Kipahulu waterfall, Maui
creeper on native sandalwood, Hawaiian tree snail
Nature Conservancy photos
There in the uplands of Alaka'i
The lone 'o'o anxiously searches
Calling out in vain for a mate
Into the sad mists of Kuakahi
"Ke Ho'olono Nei," lyrics by Suzanne Case
It's a story she's told countless times, but Suzanne Case's voice still catches as she recounts the poignant plight of Hawaii's last o'o bird.
"The bird was last seen calling out for a mate … there was no response," explains Case, executive director of the Nature Conservancy of Hawaii. "The o'o went extinct on Kauai in 1986."
Touched by the tale, Case was moved to write the lyrics for Ke Ho'olono Nei, one of 11 songs and chants that celebrate island flora and fauna on Maoli No-Truly Native, a newly released Hawaiian music and educational DVD that entertains as it informs. Maoli No was produced by the Mountain Apple Company for the Nature Conservancy, which plans to distribute 10,000 copies free of charge to the community.
"Sometimes it's hard for people to get up in the forest, or to the ocean or to a stream," says Case. "The DVD brings these places into your living room or to your computer, and you can participate in a personal way that's not easy in everyday life."
Nurturing participation and a sense of connection to Hawaii's native wildlife are at the root of the DVD project, which culminates with distribution of Maoli No to schools, environmental education organizations, hula halau here and on the Mainland, cultural groups and other interested individuals. Teachers, kumu hula and conservationists are currently developing lesson plans to be used as teaching tools along with the DVD.
"In Hawaii, culture and the environment are so closely interwoven and interdependent," states Case, who first joined the Nature Conservancy as its attorney in 1987.
Narrated by Robert Cazimero, Maoli No is a tribute to the native plants and animals of Hawaii and, at the same time, a call to action as more and more of the islands' unique species inch toward extinction.
"By entering into this personal relationship, you're called into doing your part to make the world better," Case asserts.
The lobelia pollen falls like heavy rain
No sweet duet can be heard
Maoli No explores the intimate relationship between Hawaiian culture and the native Hawaiian environment through songs by such artists as Israel Kamakawiwo'ole, Keola Beamer, the Brothers Cazimero, Hapa and Genoa Keawe.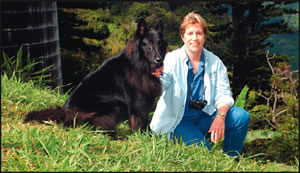 Suzanne Case relaxes at her Tantalus hillside home
with Konane
"The whole point of the project is that music hits you in a different place — it's a heart kind of thing, not cerebral," says Case, who describes the DVD as "almost a music video."
She adds, "There's a personal connection you just don't get from print."
There is an equally engaging visual element. Throughout the DVD, mesmerizing images of Hawaii's natural beauty are interspersed with instructional narrative on Hawaiian culture and ecology.
Waterfalls flutter like silver ribbons down deep green pali. Clouds as light and fine as breath hang suspended in blue skies. Birds of every hue perch and preen and twist toward nectar-rich blossoms. The startling crimson of lehua blossoms and berries emerges from thickets of ferns, shrubs and trees. Waves rise and fall in seamless procession to the shore.
The idea of incorporating these compelling images actually originated with Mountain Apple president Jon De Mello, who subsequently wrote and recorded several of the musical interludes found on the DVD.
O Po'ouli of Hanawi
The 'olapa forest trees are your home
Kaluanui, Kaluaiki, Kala-pawili
Ridges where po'ouli no longer fly
Case's own connection to the project came with the first verse she wrote for Ke Ho'olono Nei, which she penned shortly after joining the Conservancy in 1987. The lone o'o's unanswered call had captivated her.
"I was really touched by the story," she recalls. "Then I learned the po'ouli bird in East Maui was in really bad shape, and I wrote a verse about that. Later I heard about the 'io— the Hawaiian hawk — and added another verse."
Almost half of Hawaii's native birds — once exceeding 140 species — are now extinct. In fact, during production of Maoli No, one of only three remaining po'ouli birds died in East Maui, says Case. "It's a very sad story but a story that needs to be told. Though it's sad, you need hope to do something about it."
Case shared her lyrics with singer-songwriter Leokane Pryor, who together with Case had created a website (www.hoolono.org) that features Hawaiian songs that honor Hawaii's native plants and animals. When Pryor read the verse, Case recalls, "She burst into tears." Pryor set the words to music and performs the piece, along with Puna Keli'iho'omalu, on Maoli No.
The song has now been choreographed for hula, which furthers Case's and the Conservancy's goal of communicating conservation through culture, music and the arts.
"I hope the DVD stimulates others to create songs, chants or hulas," she adds.
Like Ke Ho'olono Nei, "listening" in Hawaiian, other selections on the DVD pay homage to Hawaii's unique natural world. Among the subjects are the native sandalwood flower, the 'i'iwi (Hawaiian honeycreeper), freshwater snails called hihiwai, the forest of Waika, such sea creatures as 'opae (shrimp), puhi (eel) and opihi (limpet) — and several varieties of limu (seaweed).
"When you read the lyrics, it's like, 'Wow, I didn't know the song was about plants,'" says Case, a Hilo native who moved to Honolulu at age 10.
Case's love and appreciation of nature began early. One of six children of Jim and Suzanne Case, Suzanne remembers "exploring all over the Big Island" with friends and siblings, including her brother Ed Case, now a U.S. Congressman from Hawaii. She attended Keaukaha Elementary School, located in the center Hawaiian Homes Land in Hilo, and learned the ukulele from a couple of friends.
"I loved to play Na Ka Pueo and the Green Rose Hula," she remembers. When the family moved to Oahu, the forests surrounding their Tantalus home became her playground. She started scuba diving in high school at Punahou, where she was the first female student body president.
She graduated with honors from Stanford University and earned a law degree from Hastings College of Law, University of California, San Francisco. She worked for a San Francisco law firm for five years before joining the Nature Conservancy in San Francisco as their regional counsel.
Case had always wanted to apply her professional talents to "something good," she says. Working with the Nature Conservancy answered that calling.
Heavy is the upland forest
In the endless downpour
Without the music of young birds
From 1987 to 2001, Case handled legal matters for the Nature Conservancy, including real estate transactions and land management issues. At the same time, she gained national and international experience working for the Conservancy in California, the Western U.S., Asia and the Pacific.
When the opportunity to return to Hawaii full-time presented itself, Case was ready. She assumed the role of acting executive director in 2001 and was named to the position officially the following year. She oversees a staff of 65, offices and preserves on six islands, and an annual operating budget of $5.9 million.
"I'm glad about my time on the Mainland but my heart was in Hawaii," says Case, who began studying Hawaiian language in the 1990s. "Hawaii is really unique. It actually took me a while to get that there are thousands of species found here and nowhere else in the world."
Case is quick to admit that her profession is "a passion." Her mission — and the Conservancy's — is protecting the best of what's left of Hawaii's native environment through three major initiatives: establishing and funding watershed partnerships on all the major islands, halting the influx of alien pests into the state, and working with the state and others to protect Hawaii's coastlines and marine resources. They often do that by partnering with corporations and landholders to buy sensitive areas and turn them into preserves.
"The greatest threat to our environment are non-native animals — goats, cattle, sheep, deer — and weeds like miconia, guava, ginger and Australian tree fern," she explains.
Case is most proud of her role in establishing nine watershed partnerships that include all of Hawaii's islands. Another achievement was the acquisition — the biggest in state history — of 116,000-acre Kahuku Ranch on the Big Island.
"This is a huge chunk of the south part of island that we were able to add to Hawaii Volcanoes National Park," she explains. "The part that's neat is that we created a belt — a whole huge belt — of protected land from South Ka'u to South Kona."
O hawk of the great heights
Of the heavenly skies of Hawai'i
Your vision of hope, your call to us
Here we are, listening
Case's love of the land extends into her personal life as well. She likes to be outdoors, take pictures, hike and go camping, including an annual snow camping trip to the Sierra. She also enjoys gardening at her Tantalus home.
"My house is called Iku'u Morning View, like 'dew.'That's what I wake up to each morning. It's my retreat."
It's also right next door to her parents' home, where she grew up. "It was a total fluke," Case says, explaining the coincidence of her close proximity. "When I moved back to Hawaii, I heard the house was available. It was neat because I was away for so long, but when it was time to reconnect everything fell into place."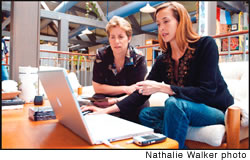 Suzanne Case and Florence Chong work on
plans to distribute the new DVD to schools
She spends time with her "big, close extended family," she says, and describes her parents as "my best advisors." Case also spends time with her "very cute dog," a Belgium sheep dog named Konane, which means "bright moonlight" in Hawaiian. She describes the night rainbow — a mystical reflection of mist and moonlight — she spotted over Tantalus that inspired Konane's name.
Case would like to nurture her own consciousness of the natural world in others. That begins with an understanding and recognition of life in all its various forms.
"You know that question, 'Does a tree falling in the forest make any noise if no one is there to hear it?' The answer is absolutely yes, because it's not alone."
To obtain a copy of Maoli No- Truly Native, visit the Nature Conservancy's website at www.nature.org/hawaii or call the Conservancy office at 537- 4508.
So answer all you people
And heed the message sent
In the blessing of raindrops
Our work is to protect, evermore
Page 1 of 1 pages for this story
Most Recent Comment(s):