Making Hawaii Proud
They're just kids who love playing baseball, but after winning a world title they're learning to live with fame

Wednesday - September 07, 2005
By
.(JavaScript must be enabled to view this email address)
E-mail this story | Print this page | Archive | RSS
|

Del.icio.us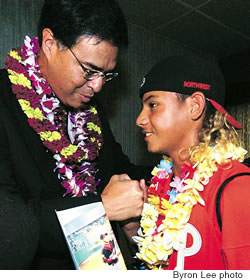 Mayor Hannemann greets star pitcher
Vonn Fe'ao, minus 'the look'
The West Oahu Little League team may need some coaching in how to handle fame. After winning the Little League World Series on Aug. 28, the 12 boys, ages 12 and 13, have become overnight celebrities and local heroes, a role for which they weren't prepared and had not expected.
They didn't even have a chance to pack for what turned out to be a 26-day journey from Hilo to Pennsylvania. And then just one day after the big game, the team returned home only to be greeted by hundreds of screaming fans, including the governor and mayor, and a slew of reporters without a chance to even retrieve their luggage. There were also the Royal Hawaiian Band, and two stretch Hummer limos ready to whisk them away to a party where more fans were eagerly waiting at the Ewa by Gentry Community Center.
"I'm happy because everybody is congratulating me," says Ethan Javier, as he walked through the crowd at the Honolulu airport.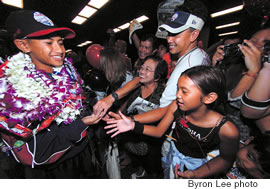 Myron 'Kini' Enos Jr. is greeted by family
and friends at the airport
Other players couldn't find the words to describe how they were feeling. They were simply speechless and in awe.
"I can't believe this is all happening," says Mack Memea, father of Mike Memea, the catcher who hit the winning home run in the world championship game.
"We never thought it would be like this," adds Terry Memea, Michael's mom.
While the team was busy winning games on the Mainland, local folks back home (plenty of non-baseball fans included) found themselves glued to the TV as the team went from state champs to world champs.
But first, let's get it straight. The team's name is West Oahu Little League and it's comprised of players and coaches who live between West Loch Ota Camp and Geiger Road. The league's mailing zip code is Ewa Beach.
"I watched the World Championship game on Ewa Beach Road, and if you walked outside all you could hear is screaming and cheering from every single home," recalls state rep. Kymberly Pine (West Loch Estate to Ewa Beach), who along with her staff helped plan some of the homecoming celebrations including the Hummers. "Being with them in the limo, I could tell they had no idea that they had this kind of an affect on everyone. What they did has changed everything we feel about ourselves. We come from a community where half the people in the district fall in the category of being the poorest people in the state, and these kids have shown that you don't have to come from a family of privileged to be the best in the world, but we have to be willing to work very hard, our families must be committed to us and we must have a lot of heart.
"We are so proud of how they represented Ewa Beach, and just seeing our name Ewa Beach mentioned so many times and with so
Page 1 of 2 pages for this story 1 2 >
Most Recent Comment(s):