Meet The New Maestro
The Andreas Delfs era officially begins for the Honolulu Symphony this weekend, continuing a tradition of great conductors for Hawaii's orchestra
Wednesday - August 22, 2007
By Alice Keesing
E-mail this story | Print this page | Archive | RSS
|

Del.icio.us
The maestro is in town. When Andreas Delfs lifts his conductor's baton to spark the first notes of the Honolulu Symphony's season Saturday night, he will also herald in a bright, new future for the orchestra.
As the symphony's new principal conductor, Delfs brings to Hawaii a talent that is sought out around the world and recognized as one of the best on the nation's podiums. But Delfs plans to do more than just make beautiful music; his goal is to see the symphony grow to new horizons.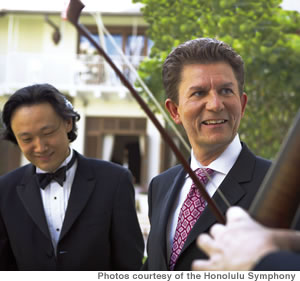 Maestro Delfs meets Honolulu musicians, including concertmaster Iggy Jang (left)
"For us, it's a real coup," says symphony executive director Tom Gulick, describing the anticipation and excitement that has built up around Delfs' arrival.
Delfs is a linchpin in the symphony's emergence from recent years of turmoil and financial insecurity. Gulick started the restoration when he came on the job just over a year ago. The symphony now has a fundraising committee packed with some of Honolulu's power hitters. It has an expanding education mission that will reach throughout the Islands and perhaps into Hawaii's schools. And it has happier musicians whose paychecks have been restored after demoralizing 25 percent cuts.
And now, in Delfs, the symphony has a music leader, which it has lacked for three years. Way back when former music director Samuel Wong stepped down, the symphony started talking about a replacement - and the name Andreas Delfs was at the top of the list.
Gulick wryly notes that that was the "dream" list. "It was immediately dismissed because he probably wouldn't be interested in coming here," he says with a laugh. But when Gulick started on the job, he knew Delfs' agent and had heard that Delfs was looking around - one thing led to another and the Honolulu Symphony got its maestro.
Delfs admits he had something of a surprise when he guest-conducted in Honolulu in October 2006.
"When I first came here I thought it would be a lovely vacation with a bit of conducting on the side," he says. "But it turned out to be a lovely conducting experience. And it's unfair to say that that was a surprise because the symphony's reputation is excellent."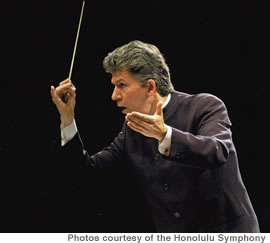 Maestro Delfs is said to completely pour himself into each piece - physically, emotionally, intellectually
Delfs' own career is studded with excellence. His immersion in music began early, starting with the church music that was part of his childhood in Flensburg, Germany. He began studying piano and music theory at age 5. He graduated from the Hamburg Conservatory before earning his master's from Juilliard in 1984.
Delfs has gone on to hold chief artistic posts with distinguished institutions in both America and Europe.
He has been described as a "next generation" music director, with superb orchestra-building skills, an electric presence on the podium and an adventurous way with programming. This is someone who has such a grasp of his craft that he often conducts without a score.
Mark Hanson, CEO of the Milwaukee Symphony Orchestra where Delfs has been working his magic for the last decade, describes him as the "whole package."
"He is a very energetic and exciting conductor to watch," Hanson says. "He is a presence on the podium. You don't need to talk to him after a concert to know that he has thrown his physical being, his emotional being and his intellectual being into the performance."
And then, when Delfs steps off the podium, he becomes an eloquent and passionate cheerleader for his art.
"He's a charmer," Hanson says, laughing. "One-on-one, he's a genuine, humble, caring person. And he has a wonderful ability to converse with people of all experience levels and backgrounds."
Delfs also has an intense intellectual curiosity. He officially touched down in Honolulu this week, but he'd already started delving under the surface of the Islands. He's been reading everything, starting with James Michener's Hawaii. He wants to get to know the people and cultures. And he wants to explore the Islands beyond Waikiki to indulge his love of nature and the environment.
When MidWeek caught up with Delfs for this story, he was staying at his summer house in
Page 1 of 2 pages for this story 1 2 >
Most Recent Comment(s):