Mrs. Dog, The 'Pit Bull'
Their popular TV show bears her husband's name, but Beth Chapman has become a star in her own right, and this is her story

Wednesday - March 14, 2007
By
.(JavaScript must be enabled to view this email address)
E-mail this story | Print this page | Archive | RSS
|

Del.icio.us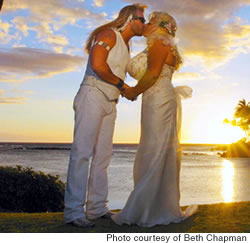 A wedding day kiss with Dog at Waikoloa last May
It's like a scene from Dog the Bounty Hunter. "Today we're going after Beth Smith Chapman," the editor says. "This is a cover story on the woman whom Dog calls his secret weapon. Here are the vitals on her."
Chapman is 39 years old and lives in East Honolulu. She's a loving wife, devoted mother and one of the best-known bail agents in the business today. Feisty and fearless, she is out-spoken about our criminal justice system and wants to rewrite Hawaii's bail laws.
She has worked as a bail bondsman, bounty hunter, gymnast, ice skater, nightclub singer and clerk. At age 21, Chapman became the youngest licensed bail agent in Colorado.
About that time, she spotted the man who would one day become her husband, Duane Chapman. It was at this moment that she found her calling. Duane was the motivation.
"I said oh yes, he will be mine. Let the stalking begin," Chapman says. "It was an instant, kinetic reaction."
She co-stars in Dog the Bounty Hunter on the A&E network, owns Da Kine Bail Bonds in Honolulu and three bonding companies in Colorado. She and her famous husband claim to have captured more than 6,000 bail jumpers and criminals.
Appearing in the fourth season of the A&E network's top-rated show, Beth Chapman is one of the most recognizable faces in town. You can't miss her. She's beautiful, blond, buxom and brilliant.
And what you see on TV is what you get in real life.
"Duane's the Dog," she says. "But I'm the pit bull."
Thus starts a fascinating conversation with the woman behind Hawaii's famed bounty hunter. We interrogate, cross-examine and wrestle little-known facts from Chapman in a two-hour interview where, not surprisingly, she does most of the talking.
But she has a lot to say on a variety of topics.
True to her tita style, she demands and gets the table she wants at the restaurant. She scolds a woman for chasing away the birds ("Don't do that. They live here."). She abruptly makes a business decision on the phone ("I'm not doing anything with you guys. You suck. Goodbye.")
Ah, this is the Beth we adore and can't stop watching on TV. So do 4.5 million other viewers who tune in weekly to watch her family chase fugitives. Dog and his motley crew of bounty hunters look rather disreputable with their mullet haircuts and all that leather. But the charm of the reality series, according to TV critics, is the juxtaposition of this with their determined straight-arrow decency.
"Ours is a true reality show," Chapman says, "Those other shows, like Amazing Race and Survivor, are game and contestant shows. What you see on our show is real.
"Sometimes I'm not proud of that. I'm bitching all of the time. I don't like to see myself on TV bitching to my husband. I don't find any entertainment value in that, but evidently other women do," she says.
"Our show's not about a bounty hunter," she states. "It's about a family that happens to be bounty hunters. It is a success because people are sick of crime. They are sick of being robbed, cheated and having their identity or car stereo stolen.
"Our show lets those victims sit on their couch and yell, 'Yeah, get 'em!' Every person who's been a victim of crime loves to see predators get run down and captured.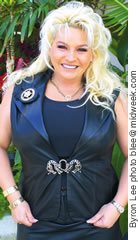 Beth Chapman: 'I don't like
to see myself on TV
bitching at Duane'
"Duane and I feel it's our duty as Hawaii residents to do our part to fight crime," Chapman says. "We think the show is a great deterrent and a fabulous tool for children. They see that if you don't do what your mama says, you're gonna get a visit from the Dog.
"He's the real live Batman," Chapman adds of her hunk husband. "He gets all the bad guys and wins. He's not a fictional character. The Dog is real, with mercy that exceeds anyone's imagination.
"He's such a wonderful person," she continues like a lovesick teen. "He loves with all his heart. That's the reason I'm with him on every bust, because he's soft-hearted. He wants to take the guy out of the handcuffs; he wants to let him go."
But Chapman is the first to tell you she dearly believes in second chances. It's the story of her life, and her husband's.
"Duane is the poster child for rehabilitation," she says, sounding like an evangelist.
"He's a convict gone good. My mission is to prove to society that just because someone's a felon doesn't mean that you throw him away. The life lessons you learn at age 20 and 40 are completely different. When a boy makes the wrong choices at 20 and gets punished for his crime, his life is ruined. He's can't rent an apartment, get a job, vote ... he's done.
"Duane is 53 years old and was jailed at 22 for a crime he didn't commit. He was pardoned after 18 months, but it doesn't show on his record. Whenever there's a record search on someone, they check the arrest record, not their conviction record.
"I've been arrested many times. Have I been convicted? No," she says.
"After being with Duane for six years, I realized how critical his career is. He's possibly the only man in America who went to prison for a murder he didn't commit, and who now chases the most dangerous criminals in the world.
"His mission in life - and mine - is to help other people," she continues. "I've been on welfare. I had a drug problem. I went to jail. I've done all of these things. I've been there, so fugitives can't lie to me. There's no lie they can tell me that I haven't already told myself."
Chapman claims it's not help that fugitives want. "It's humanity: love, acceptance and warmth," she says.
And what is it that Beth Chapman wants these days, we ask. Time seems to be the most precious commodity.
"I'm a mom. I juggle four jobs,
Page 1 of 2 pages for this story 1 2 >
Most Recent Comment(s):
For all comments click here.