No Act: Dreyfuss Does Honolulu
Oscar-winning actor Richard Dreyfuss is a history buff, and couldn't turn down a role Joe Moore offered in his upcoming World War II play 'Prophecy & Honor'
Wednesday - August 08, 2007
By Chad Pata
E-mail this story | Print this page | Archive | RSS
|

Del.icio.us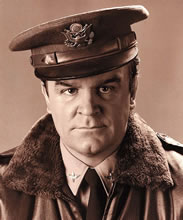 Joe Moore plays Billy Mitchell in the play
Oscar winner Richard Dreyfuss seldom acts these days, but he happily accepts a role as Congressman Frank Reid, Billy Mitchell's attorney, in Joe Moore's play Prophecy and Honor
For Joe Moore to land Richard Dreyfuss for a role in his upcoming play Prophecy and Honor is more than a coup - it's a miracle.
The Academy Award winner has taken little interest in acting lately, preferring to pursue his passions in politics and civics education. He even went so far as to tell reporters in February that there really is only one reason for him to act now.
"I'll still take an acting role, but only for the money," Dreyfuss told the Boston Globe. "I do it to support my family and a certain lifestyle level. I like to travel. I like to buy books. But I drive a Honda, not a Rolls Royce."
So how does Moore attract him to do a small show for little play in the middle of the Pacific?
"I had never met him, but I liked and admired him as an actor," says Moore, whose play runs at the Hawaii Theatre Aug 16-19. "I figured by some of his film choices like Mr. Holland's Opus, Silent Fall, Fail Safe, Prisoner of Honor and The Day Reagan Was Shot
that he would like this play, and if he had the time he would want to do it. The challenge was getting the script to him."
Surprisingly, after contacting Dreyfuss'agent several times, she agreed to read the script and then forwarded it on to him. Afew days later, Moore's phone rang and it was Dreyfuss agreeing to the part.
When asked about why he had been drawn to the part and if it had anything to do with the play's obvious parallels with the current events in this country, Dreyfuss replied glibly.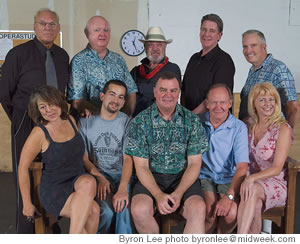 The cast includes, clockwise from top left, Don Stroud, Bill Bigelow, Terence Knapp, George O'Hanlon, Rico Tudor, Teresa Moore, Bob Whiting, Joe Moore, Shane Garcia and Bree Bumatai
"I am not an interview, I am a book," says Dreyfuss from his home in San Diego. "There are answers to those questions that are too complex to be placed within the confines of your article. So I am drawn to history, I am drawn to Billy Mitchell, and let's leave it at that."
Despite Dreyfuss' refusal to answer the question, it is easy to see the attraction of the lifelong activist Dreyfuss to Mitchell.
Mitchell was a well-respected officer in World War I with a fervent belief in the importance of air power. His accomplishments during the war elevated him to brigadier general and he was acknowledged as the top American combat airman of the war.
His belief in the importance of a top air force to protect this country proved to be his downfall. In 1921, he demonstrated the efficacy of an aerial attack by using planes to sink an unsinkable German battleship, but his fledgling air corps was still regarded as little more than a sideshow.
After going public with his criticism, he famously stated that the Army and Navy leaders were guilty of "almost treasonable administration of the national defense" - they court martialed him in 1925.
It was during his trial that he predicted not only the attack on Pearl Harbor by the Japanese, but also the manner in which it would be performed.
So spot-on was his description of events that were still 16 years hence that many historians speculate that perhaps the Japanese used Mitchell's testimony to map out their attack.
The play re-enacts that trial, with Moore playing the role of Billy Mitchell and Dreyfuss as his civilian defense attorney Congressman Frank Reid. Also featured will be film stars George Segal and Don Stroud, and for a flash of humor comedian Frank DeLima will play the flamboyant Congressman Fiorella LaGuardia.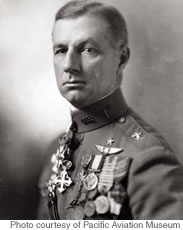 The real, highly decorated Billy Mitchell
This is not the first time this story has been told; probably the most famous version starred Gary Cooper in the 1955 movie aptly named The Court Martial of Billy Mitchell.
It was after watching this film one late night on television in 1989 that Moore became interested in the story.
"It prompted me into a two-year search for information into the real Billy Mitchell's crusade for air power," says Moore.
More than 3,000 pages of microfiche manuscripts later, Moore decided to put together the play. It was originally performed at Diamond Head Theatre in 1993.
Fourteen years later, with the opening of the Pacific Aviation Museum on Ford Island, Moore thought it might be time to look back at the first real catalyst behind air power in America.
"I also realized it was the 60th birthday of the Air Force, and I revisited the script and thought this
Page 1 of 2 pages for this story 1 2 >
Most Recent Comment(s):