OH Baby!
Sikeli Naivalu, 3, won last year's Healthy Baby Contest. With the 55th annual contest approaching, sponsoring Meadow Gold is seeking out past winners of the contest.
Wednesday - July 25, 2007
By Chad Pata
E-mail this story | Print this page | Archive | RSS
|

Del.icio.us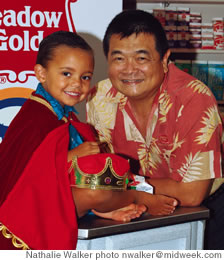 The 2006 champ Sikeli Naivalu last week with Meadow Gold president Glenn Muranaka
As the 54th annual Healthy Baby Contest approaches, sponsoring Meadow Gold is searching for past winners to take part in No. 55
As we approach the annual rite of passage for young local parents known as the Meadow Gold Healthy baby contest, it's startling to think it's been running so long that some of its earliest champions now have grandkids of their own.
"The Meadow Gold Dairies Healthy Baby Contest has been an Island tradition since 1953," says Glenn Muranaka, president of Meadow Gold Dairies Hawaii.
"Now in our 54th year, we've had many generations of family members - uncles and nieces, fathers and sons, grandparents and grandchildren - who have participated over the years."
As the years have rolled past, story lines have emerged.
It's become a contest of legacies: the 2004 winner Emma Baron is the niece of the 1974 runner up Mike Ornellas, and last year's champ Sikeli Naivalu is having his crown defended by his brother Aisea this year.
It portends good things for the future: KITV morning anchor Mahealani Richardson was a runner up in the mid-80s, exactly when can't be revealed for modesty's sake.
With the 55th anniversary coming up next year, Meadow Gold asked MidWeek to help them locate past winners so that at next year's contest they could have all the winners together on stage.
"We want to reach back to past winners," says Carissa Tourtelot, a marketing executive for Meadow Gold.
"In our database, we don't have contact information, and with next year being the 55th we really want to honor our past winners."
The first winners, they had his and her categories back then, were John Michael Boone and Charlene Keola Upchurch.
"We are hoping through this article we'll be able to find them and find out what they are doing now," says Joni Marcello, assistant sales manager for Meadow Gold.
The contest started as a way of promoting good health amongst the youth and has become the summer pageant for toddlers as they are judged on the basis of their appearance, healthiness and personality with each category being judged on a 25 point scale.
Some children will demonstrate a talent. Last year's winner performed a fire knife dance in a grass skirt.
But that's not compulsory, as at that age cute is sometimes enough.
"Some kids have some goofy move they like to do," says Marcello. "But they aren't judged on the move, but on their overall health and personality."
The winner receives a $2,500 savings bond and a variety of toys, but for last year's winner Sikeli, his parents found the real prize is in the impetus for the contest.
"For us it's not about having toys or the fanciest clothes," says Angel Naivalu of Laie, whose son is hapa Fijian/Caucasian. "We know that a healthy baby is a happy baby, that's what we liked about the contest. Also the affirmations the kids get when the crowd is clapping for them on stage."
In fact, the Naivalus were so showered with prizes that they have actually taken to hiding most of the toys away and breaking them out for special occasions like Christmas and birthdays.
While the prizes are a nice perk, Tourtelot agrees with Naivalu that the lessons learned from the contest far outweigh the pay off.
"It's great, they are cute and adorable," says Tourtelot, "but the goal of the healthy baby contest is to establish those healthy habits at a young age and really make it a part of their life and have them grow with it. The younger they develop those habits the more likely they are to carry it through to adulthood and pass it on to their children."
In preparing your child for the contest, Meadow Gold officials suggest getting them used to large groups and even going down to the contest site so they can become familiar with the grounds.
If you decide to register, you will be on stage with your child, but having hundreds of eyes gazing upon them can be daunting for the little ones.
Registration has already begun for the event and will continue through Aug. 15, with the preliminary rounds being held at Pearlridge Center on Sept. 8. Parents can register online at www.lanimoo.com/community/healthy-baby.asp. All toddlers must be born between Dec. 9, 2004 and Jan. 9, 2006.
If you miss the registration deadline, you can still fill out walk-up registration, but you will be placed in later groups. This can be done at the site locations in Pearlridge Center Sept. 8 or Ala Moana on Sept. 15.
Calling All Healthy Baby Contest Winners
1954: John Michael Boone, Charlene Keola Upchurch
1955: Tasi Henry Alo, Maile AnnGriffin
1956: name missing
1957: William K. P. Moe Jr.
1958: name missing
1959: Curtis Nelson Kaumualii Crabbe, Lynell Theresa Gregory
1960: Fabian Elizbeth Kahalepuna
1961: name missing
1962: Vanessa Ann Bell
1963: Clement Gorai
1964: Kathleen Marie Turpel
1965: Cheri Leigh Hard, Michael Wesley Washington, Lori Lilian Fox
1966: Todd Alexander Nalu Friel, Ehtany Clyde (Butch) Brown III
1967: John Raymond II, Kathleen Naomi Deir
1968: Matthew Ichiro Kaulalaau Cocket, Patricia-Ann Pualani
1969: name mising
1970: name mising
1971: Kevin Christian Takada, Traci Rae Noelani Alexander
1972: Kelli Kuulei Elsen Adam Kaalei Clarke
1973: Kirby Darrell Jason Fujimoto
1974: name missing
1975: name missing
1976: Courtney Luana YinLaVoie
1977: name missing
1978: Natalie Carreira
1979: name missing
1980: name missing
1981: name missing
1982: name missing
1983: Chas Michael Bazell
1984: Michelle Witterveen
1985: Shayna Medeiros
1986: Jennifer Frost
1987: name missing
1988: Bryscen Prothero
1989: name missing
1990: name missing
1991: Marc Dacany
1992: name missing
1993: name missing
1994: Ace Morgan
1995: Drew Gong Ming Anderson
1996: Johna-Rae KahooneiLeedy
1997: Hailee Alcaida Nicholas Watanabe
1998: Makalapua Pickard
1999: Noah Kale Jaeger
2000: Pomaikaimaikalani Yamaguchi
2001: Miki Etsuko Kobayashi
2002: Keila Sue Wong
2003: Taylor Wu
2004: Alika Almaraz
2005: Emma Barron
2006: Sikeli Naivalu
2007: ???
Page 1 of 1 pages for this story
Most Recent Comment(s):