Out of the Shadows
After the bright lights of TV, Matt Levi moved into the shadowy world of a private investigator. Now he's combining his skills, partnering with Edgy Lee to produce an in-depth news show that is certain to shock many viewers
Wednesday - November 02, 2005
By Chad Pata
E-mail this story | Print this page | Archive | RSS
|

Del.icio.us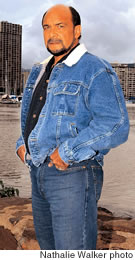 Matt Levi found a link
between Hawaiian artifact
thefts and crystal meth
users
Ice tearing apart the fabric of Hawaii has been a theme in two recent films by Edgy Lee, but in her newest effort she plans to show how it is also stealing native Hawaiian history.
Lee and her collaborator Matt Levi have uncovered the startling fact that methamphetamine users are now using remnants of Hawaiian history to satiate their appetites.
"What has come to light is the desecration of burial sites and caves," says Levi, who has spoken with one of the perpetrators. "People looting, raiding and trying to sell what they have stolen. There is also a link to crystal meth users and dealers getting involved because of the high return that artifacts can bring."
As unsettling as the thought is - grave robbing for drugs - this is just one of the four stories to be told in the pilot episode of The Levi Report Nov. 22 on KHON.
This will mark the end of an 18-year hiatus from the television news business for Levi, a former investigative reporter at KGMB who left the glare of television's lights for the welcoming shadows of a private investigator.
Little is known about Levi in the past two decades, and he is not shedding any light on what he has been doing. What is known is that he's a fierce family man and has a burning desire to see wrongs righted, even if it means he has to come in from the cold.
"He is probably the most discreet person I have ever met in my life," says Lee, who worked with Levi on her two ice specials. "He is very busy and very private in his family life. It took a lot for him to do this."
His discretion, while infuriating to other journalists, is exactly what allows him to keep the sources that elude the mainstream media. That coupled with him being a private citizen without deadlines or new shows to fill every day, permits him to get beneath the veneer of the problems facing these islands.
"We realized there is a lot of effect that could be made with more timely, local productions about subjects that are often not covered," says Lee. "News departments, whether print or television, can't afford to delve into stories. They don't have the time, and that is the reality of it."
So Levi and Lee approached Rick Blangiardi, general manager of KHON, with the idea of an in-depth news show done locally for locals. He jumped at the idea and, despite a sparsity of sponsors, they started shooting.
"Matt and I live here, we are not going anywhere and if we don't tell the stories, who's going to?" asks Lee. "Are we going to wait for the other guys to come into town and tell them for us and get them wrong?"
Despite her conviction, they know there are risks. Running a locally produced news show during the November sweeps versus the likes of Law and Order: SVU and Boston Legal would seem career suicide.
"I am not trying to make a new career move," says Levi. "I mean, I'm rounding third in life. These are stories that need to be told."
A second story to be covered in the pilot is that of Internet child endangerment, or cyber stalking. According to Lee, reported cases of child enticement grew from 4,000 six years ago to more than 110,000 last year. What they discovered was that it is as common as it is loathsome.
"When we went in to film, in an hour and a half, we were hit on six times by male adults who thought we were a 15-year-old girl," says Lee, who did the shoot with the state Attorney General's unit dedicated to stopping these pedophiles. "Most of the stuff that they sent can't even be put on the screen, it is so outrageously, blatantly sexual."
They also taped two arrests where men in their 40s were coming to local eateries to rendezvous with what they believed to be girls age 13 and 15 . These were men without records, not even a parking ticket, and this caught Lee off-guard.
"At first I felt a little bad for these guys," says Lee, before continuing quickly, "but then I realized these men had thousands of photos of children. They spent six months luring these girls to come meet them."
While the lurid stories may draw the audience, what they both hope is that the efforts of police officers will stick with viewers.
"We want to give credit to a lot of Hawaii people who do good work, but they do it quietly without tooting their own horn," says Levi, who himself never mentioned his 2005 Citizenship Award he received from HPD for his decade of work with the kids of Kuhio Park Terrace.
Another group they shadowed was the elite task forces of Operation Falcon, a 30-city sting conducted by the U.S. Marshals Service that brought together local, state and federal officers trying to capture violent criminals.
In the four days the cameras followed their progress, what amazed the film-makers was not the excitement of busts, but how much these officers were just like one of us.
"These are local people you may have never heard of, they are never in the headlines," says Lee, who describes them as looking just like your neighbors and relatives. "They are quiet professionals.
The people in this show really make you proud to say that you are local."
The message goes beyond just the surface moral that if you do drugs, you will get busted. Rather it speaks of better opportunities for local kids beyond the options they see all the time. "What a wonderful image for young local kids," says Lee, "to see these brothers, and two girls, who could so often be seen on the other side of the law, and we see too much of that. It lets them see them on this side."
The final story is a bit more uplifting as it traces the meteoric rise of a symphonic composer from Roosevelt High. Known more for its proximity to a certain private school that produces prodi-
Page 1 of 2 pages for this story 1 2 >
Most Recent Comment(s):