Parker Goes On Tour
Parker McLachlin begins his PGA Tour career this week at the course where he once worked odd jobs so he could afford lessons

Wednesday - January 10, 2007
By
.(JavaScript must be enabled to view this email address)
E-mail this story | Print this page | Archive | RSS
|

Del.icio.us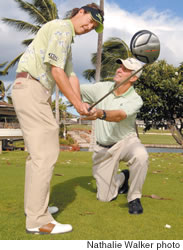 McLachlin gets a pointer from his
first coach, Greg Nichols, at Ko
Olina last week
Athletic success is the norm in the McLachlin family of Honolulu. So it should-n't have come as much of a surprise when Parker, 27, received his PGA Tour card in his second try at Q-school. Dad Chris played volleyball and basketball at Stanford. Mom Beth captained the 1976 U.S. Olympic volleyball team, and younger brother Spencer is a two-sport star in volleyball and basketball and will follow in his parents'footsteps to play volleyball for Stanford.
McLachlin's journey to the PGA began with the normal parental concern for keeping children active and away from trouble. At the age of 8 he and four others hit the links at Waialae Country Club for their first lesson. To his friends, the game held brief interest before moving on to surfing and indoor ball sports. Only McLachlin stayed with it, even though he was the only one of the group whose family was not Waialae members.
"I didn't know anything about the game at the time," he says. "I was at the age where any sport was fun."
So, in order to continue taking lessons at the course, he had to get permission. Then he had to get a job. He washed balls, picked up around the clubhouse, did the odd small jobs no one else wanted to do. When he got old enough, he moved to the cart barn to earn his keep. All the while he worked on his game under club pros Greg Nichols and Scott Head. Head, who is currently the director of golf at Treetops Resort in Gaylord, Mich., is still McLachlin's coach. The practice and all the time spent around top teachers such Nichols and Head paid off, and it wasn't long before McLachlin began to seriously look at golf as a career.
"I think when I was about 12 I had these big dreams that I was going to win the Masters and play on the PGA Tour," he recalls. "By the age of 12 years old I'd developed my skills to the point that I was playing on a national level. It solidified to me that this was the dream that I was going to pursue."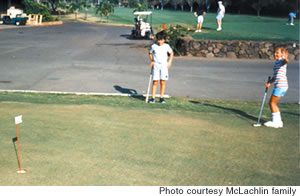 McLachlin, right, sinks a putt during his first golf lesson at
age 8
That being said, volleyball was never far from his mind. He played basketball during his freshman year at Punahou and volleyball through his four years.
"Even throughout high school, I loved playing volleyball," he says. "Just the adrenaline rush of playing volleyball was something that was unmatched in golf. Playing in a gym full of 3,000 people screaming, it was a pretty cool adrenaline rush. But I wasn't tall enough to play competitive volleyball on a worldwide scene or even on a national scale. Almost by default golf became my sport of choice."
That choice led him to an impressive amateur career that included, among other victories, a state high school individual championship and a win at the 1996 Junior America's Cup in Vancouver, British Columbia.
"I think that was the biggest win to that point, and I went on to have a really good summer. I think I won all three major tournaments in Hawaii that summer, but that was my first win on a national level."
In many athletic families it is often the mother who is the most competitive of the bunch, and while that is true in the McLachlin household, Mom still played a gentler role of the parents.
"Dad being the consummate coach that he was, he was more the disciplinarian," McLachlin recalls. "Mom was the one you would run to after getting a lecture from Dad. Dad wanted things in order. Being a coach, and developing those habits, he wanted the t's crossed and the i's dotted. He wanted things in order, and when they weren't in order he would let you know about it.
"My dad has been my biggest influence - someone I had always looked up to and who has provided a wealth of knowledge and just really has been a great influence for me. He's probably been the overall biggest influence and supporter of my career - whichever career I chose, he was always the No. 1 supporter for me."
Several colleges showed interest in him, including the University of Washington. A recruiting trip to North Carolina was followed by a round of golf with UNC alum Michael Jordan at Waialae. Admitting he didn't have the grades to get into Stanford, he settled on UCLA.
"I just fell in love with the place," he says. "I just thought it was the coolest place. The atmosphere was great. The weather was similar to Hawaii. I was close to home and I had extended family in Southern California. It was a nice, easy fit for me."
It worked athletically as well. McLachlin had 14 top-20 finishes and seven top-10s, was Pac-10 honorable mention and, most impressively, it's where he met his wife, Kristy. But for all that went right during his time at UCLA, it was also a time where his career could have come to end, even if he didn't then realize it.
"I think at the time I was a little naive to it," he says of a wrist injury. "I didn't understand the gravity of the situation. Looking back now, I might not have played golf anymore if it had not healed right or whatnot. But at the time you think you just reattach the tendon and you're good to go. I'm pretty thankful it did go right."
McLachlin broke his wrist playing volleyball as a sophomore in high school. Bone chips in the wrist eventually sliced up the tendon, which he unknowingly played through until it became detached.
"Just to get through my final year I took three cortisone shots
Page 1 of 2 pages for this story 1 2 >
Most Recent Comment(s):