Paul Robins: A Star In The Making
Oprah Winfrey gave him a big break. Mariah Carey calls him a 'star in the making.' Randy Jackson says he 'has what it takes.' And Paul Robins of Makaha is only in the sixth grade

Wednesday - March 24, 2005
By
.(JavaScript must be enabled to view this email address)
E-mail this story | Print this page | Archive | RSS
|

Del.icio.us


Paul Robins of Waianae. Remember that name. You'll be wanting his recordings, his autograph and his cooking soon. Paul Robins of Waianae is at the front door of fame.
Opportunity knocked at his sixth-floor apartment at Makaha Valley Towers last month, and life will never be the same. It isn't every day that the producers of the No. 1 talk show in the United States and 111 other countries make their way to the remote Leeward community to surprise a fan. But this isn't just any fan.
This was someone celebrating his 12th birthday, who had written the Oprah Winfrey show about making a dream come true. In a heartbeat — and the pounding of Polynesian drums, accompanied by a fire knife twirler and Tahitian dancers — Paul Robins' destiny was decided.
"Hi, I'm Gail from the Oprah Winfrey Show," the woman announced as she arrived with four vans and a TV camera crew. "I'm here to make your wildest dream come true."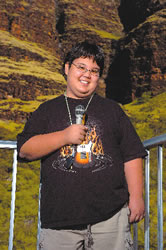 Days later in Chicago, Robins made his national singing debut on the Oprah Winfrey Show to an audience of 30 million viewers. Singer Mariah Carey introduced Robins, saying, "I'm proud to bring you a star in the making." Oprah, the media queen, declared his performance "wonderful" and heralded good news. Verity Records, the largest gospel label in the United States, offered Robins a recording contract and a track to be produced by pop diva Carey.
Thirty seconds of fame on a national TV show can be the catalyst for change in one's life. But Robins is ready for it, because since age 8, this is the moment he's been waiting for. No auditions on American Idol. No having to face the dreaded scowl of Simon Cowell. Singing sensation Paul Robins is on his way. As music producer Randy Jackson put it to Robins: "You've already got what it takes."
But before his journey gets too far along, let's rewind the tape to listen to his parents and others who have influenced Robins' development. It's an interesting account of what can happen to people with star qualities and what lessons can be learned by families with a talented, motivated child.
Robins has been singing since age 2, according to his parents, Roy and Laurie Robins. The longtime Waianae residents always had music at family gatherings, and their five children — Patricia "Momi," Royann, Tehani, Roy Jr. and Paul — sang or danced.
The musical heritage goes back further than that. Roy Sr.'s paternal grandmother, Mary K. Pai Robins, was a prolific songwriter with a legacy of 70 to 80 music compositions. Among her originals are Royal Hawaiian Hotel, Honolulu Harbor and Leahi.
So music is ingrained in the Robins DNA. Roy Sr. sings, plays guitar and knows all the moves and rhythms of heavy construction equipment. He's a retired crane operator.
Wife Laurie, retired office worker from Leihoku Elementary School, has been a professional hula dancer.
"We noticed Paul's natural talent for music at an early age," Laurie says. "But we never pushed him. We told him when you're ready to do this, let us know. "
Meanwhile, Robins started singing at public venues, like community events and at Waianae Protestant Church. He is especially captivated by spiritual songs, which he performs to perfection with a wide vocal range.
At age 8, he let his dad know he was ready and that he wanted to be a professional singer. Training with vocal coach Marylou Doehring ensued. The Waianae music educator has guided many promising singers, including Jordan Segundo.
Doehring says Robins has a "beautiful soprano voice and a natural talent. He also has the personality to go with it, and has no fear performing before audiences. He's got it all."
Doehring says children who sing well at an early age usually retain good vocal quality, even when the voice changes with puberty.
"But don't start them too early and don't force it," she says, "it can damage their vocal cords. Just encourage them to have fun and don't criticize their singing. If they can talk, they can sing."
"Music is my top goal in life," Robins says. "I'd like to inspire people with my voice. I'd like to present God to the world."
Those are big dreams from a youngster who is still giddy about cartoons. But when it comes to singing and music, Robins seems older than his years. His confidence and maturity defy his youthful, cherub appearance.
"When I'm on stage and being interviewed, I become an older person," he says. "But when I'm off-stage, I'm 12."
In a letter to Oprah last November, his parents described their son as "good, well-behaved, loving, caring, friendly and respecting of others."
Page 1 of 2 pages for this story 1 2 >
Most Recent Comment(s):