Pushing the Envelope.
Flying at 700 mph with wingtips just 18 inches apart takes a certain kind of pilot, and six of them put it all on the line

Wednesday - October 10, 2007
By
.(JavaScript must be enabled to view this email address)
E-mail this story | Print this page | Archive | RSS
|

Del.icio.us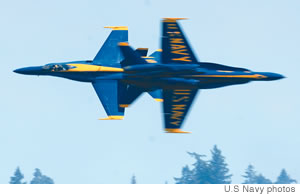 This near-miss was entirely intentional
It has to be the ultimate rush. Practically scraping the ground while cruising along a few hundred mph above the posted speed limit, then suddenly pulling your aircraft into an abrupt 90-degree climb as you join your buddies in a tight inverted pack with wingtips separated by a mere 18 inches, before plummeting back to the ground at breakneck speed - all to the wonder and awe of those on the ground.
To steal a line from the PGA, these guys - and gals - are good. In fact, they are very, very good and they have the coolest job on the planet.
For only the third time in 20 years, but the second in three, the U.S. Navy's Blue Angels will once again fill the skies over Kaneohe as an expected crowd of 105,000 files onto Marine Corps Base Hawaii in Kaneohe to delight in the power, precision and patriotic glory of some of the Navy and Marine Corps' best combat pilots.
The weekend-long event begins Friday with a private show for 2,500 local schoolchildren, charities and military family members, with free shows for the public Saturday and Sunday. While the show includes static displays, world-class civilian stunt pilots and Navy and Army parachute teams, there is no question about who the real stars are in this airborne ballet.
Blue Angel pilots are like prom kings driving Corvettes. Dressed in the hottest styles, they are as popular with their classmates (the public) as they are with the parents (high-ranking military brass). If you didn't admire them so much, you'd hate them.
And if it weren't enough that they are the best pilots the Navy and Marines have to offer, they even have the coolest-looking ride on campus. Clad in the colors of the United States Navy, these F/A-18s look fast just sitting on the tarmac.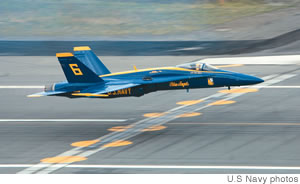 The Blue Angels skim 50 feet above the ground at about 500 mph
They're not bad in the air either. Generated by two General Electric F404-GE-400 low-bypass, turbofan engines, each capable of producing 16,000 pounds of thrust, the Hornets can reach altitudes of 50,000 feet with a top end 70 percent greater than the speed of sound. But don't worry. During the event they keep their aerial hot rods dialed down to a pedestrian 700 mph while topping out at 15,000 feet. Of course, they do blast down the runway just 50 feet off the deck, so hold on to your hat.
"It's very unique because you're taking maneuvers and tactical techniques that you use at 20,000, 30,000 feet and your doing them 200 feet off the ground," said Cmdr. Scott Kartvedt, the aide de camp to the U.S. Pacific Commander Adm. Thomas Keating and a former Blue Angels pilot. "It is very dynamic, very high-paced and it is ever-changing with winds, air density and altitude, so the show they're doing in Kaneohe will be different from the one they did the week before in San Francisco."
While the Blue Angels spend hundreds of hours a year practicing their maneuvers, it is nothing compared to the time required to get them on the schedule and to construct an event that people want to attend. By the time the last piece of paper is picked up, some 800 people will have spent some 100,000 man-hours on this three-day community out-reach program. It's even more impressive, considering nearly every hour spent is done by volunteers.
"We understand that there is a certain cost associated with living in the neighborhood that is sharing an air field. One way we can pay the residents back is to bring all these stellar acts here," says air show director Pete O'Hare. "Sometimes it sounds like such a cliché, but this is without a doubt the best community outreach we can do for the community here in Hawaii - to allow them to see things they would never be able to see. We get to do this for the community and be able to reach out to them and show them how much we appreciate them by giving them this."
Although O'Hare will not reveal the entire lineup - saying he prefers to under-promise and over-deliver - what he does admit to is impressive.
"We've got the top female performers, Jill Long and Patty Wagstaff," says the obviously excited O'Hare. "We've got the Golden Knights and the Navy Leap Frogs - it's like Clark Kent and Superman, you never see them both at the same place at the same time."
The Leap Frogs and the Golden Knights are the Navy's and Army's demonstration parachute teams respectively.
Long and Wagstaff aren't just two of the best female stunt pilots in the world, they are two of the best, period. Wagstaff was the first woman to win the title of U.S. National Aerobatic Champion and is one of the few pilots of either sex to have won the award three times. In 1994, her Goodrich Extra 260 was put on display in the Smithsonian National Air & Space Museum right next to Amelia Earhart's Lockheed Vega. A pretty big honor for someone who had, at the time, been flying for only nine years.
At the age of 6, Long looked into the sky at a small-town air show and told her parents that "someday that'll be me." The Air Force pilot made good on her claim when she turned 16 and has since completed two combat tours in Afghanistan, where she flew more than 50 combat missions. She is currently an instructor pilot at Euro-NATO Joint Jet Pilot training at Shepard Air Force Base in Wichita Falls, Texas, where she teaches NATO fighter pilots how to keep bogies off their tails.
Joining these historic women are Greg Poe, Mike Wiskus and Tim Weber. All three are celebrated pilots in their own right.
Named for a nightclub in New York, the Blue Angels began with an order from Chief of Naval Operations Adm. Chester Nimitz as a way to raise the profile of Naval aviation. Since their first show in June 1946 that featured the famed Grumman F6F Hellcat, the Blue Angels have performed for more than 427 million fans - a turnout that no doubt would have impressed and upset his colleague and adversary for publicity, Army Gen. Douglas MacArthur.
With planning that stretches back to November, the only concern for the public is the two things O'Hare and his legion of volunteers cannot control: weather and the health of the pilots. Of the two, the second is the biggest worry since rain can be waited out, but a pilot with a nasty head cold can be a safety hazard, and the Blue Angels don't carry any spares.
To be an effective member of the team, pilots must be perfectly in sync with each other. That is only going to happen with hundreds of hours of practice time together. And even with all their preparation, things can happen.
"It's a dangerous job. They've had about 220 pilots since 1946 and 26 have perished, so it's
Page 1 of 2 pages for this story 1 2 >
Most Recent Comment(s):