Putting His Stamp On Hawaii
Under Daryl Ishizaki's watch, mail service in Honolulu rates No. 1 in the U.S.

Wednesday - June 06, 2007
By
.(JavaScript must be enabled to view this email address)
E-mail this story | Print this page | Archive | RSS
|

Del.icio.us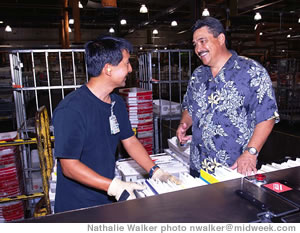 Ishizaki chats with delivery barcode sorter Scott Kong
Who says you can't have "forever"? People are buying it every day at the Post Office, and it costs only 41 cents.
The new first-class "Forever" stamp is a hot item, according to Honolulu Post Office district manager Daryl A. Ishizaki.
Since it was issued April 12, forever stamps account for 20 percent of local postage sales. The stamp is good any time to mail a first-class letter, regardless of rate increases. Postal rates have increased four times, by 24.2 percent, since 2000.
Investors tired of the ups-and-downs of the stock market might wonder if they can make a fortune by hoarding these stamps.
But don't hedge your bets. Forever stamps are said to be a better bet for mailers than investors.
Also, sentimental brides are using them to mail wedding invitations. If postal values don't last forever, perhaps love does.
The forever stamp marks an evolution in the U.S. Postal Service (USPS), which has had to reinvent itself to meet a changing market. The 230-year-old agency has come a long way from the pony express and its first Postmaster General Benjamin Franklin.
Its proud heritage and resilience are not lost on the man who administers the USPS Honolulu District. We call on district manager Ishizaki in his office near the Honolulu Airport Terminal to chat about the first 500 days of his Hawaii assignment and what's new at the USPS.
Ishizaki, 51, is a second-generation postal worker following in the footsteps of his father, who was a mail career for 31 years before retiring. Ishizaki started in 1980 as a mail carrier in his hometown of San Jose, Calif., and worked his way up to various management positions, including Pacific area sales manager for a $7 billion portfolio of major USPS clients.
Ishizaki is a handsome gentleman, part-Japanese and part-German, who "turned out looking Mexican." A star high school athlete, he majored in economics and international business at the University of California at Berkeley and University of Phoenix.
His wife of 21 years, Carrie, works at the San Jose Superior Court. "I met her when I went to pay a traffic ticket," Ishizaki says with a smile. The couple has two daughters: Kirian, 20, and Kaela, 14.
"I'm a commuter-dad," Ishizaki says. "I visit my family once a month, and my honey-do list is long. My family sacrificed and supported my career move so I could serve the people of Hawaii and the Pacific. They're connected in part on this journey."
As a mail carrier in San Jose, Ishizaki says, "I walked the route with my dad and got a sense of how much the mailman is a part of a community. Everyone knew my dad; he was part of their families. You could meet people every day and not know as much as your mail carrier knows about you."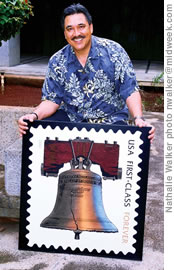 He's right. Who visits your home more often than the mailman? Without fail, rain or shine, you can depend on the mailman's delivery to your home or office. He or she is a stealth force that moves in and out of our daily lives without much notice.
But we certainly would notice if those deliveries stopped coming.
"Mail keeps people connected," Ishizaki says. "It's what the Postal Service is all about."
U.S. Sen. Daniel Akaka put it this way in a 2002 hearing: "All too often we take them for granted. The delivery of mail is critical to our nation's economy. The Postal Service is the linchpin of a $900 billion mailing industry that employs nearly 9 million workers and is 8 percent of gross national product."
"That's not all," Ishizaki says as we listen with renewed interest and respect for the organization. "Americans rate the Postal Service as the most trusted federal agency. The postal worker is seen as someone who is a neighborhood watch agent, someone who protects the community."
Clearly, the Postal Service is the most visible and personal of all federal agencies. In 2005, 400 employees were recognized as heroes, by risking their own lives to save the lives of customers they serve.
"They see things in a neighborhood that others don't see," Ishizaki explains.
USPS is a semi-independent federal agency that's mandated to be revenue neutral. That is, it should break even and is not required to make a profit. Still, USPS averaged a profit of more than $1 billion a year in each of the last five years.
Private and public enterprise, take note. America's Postal Service is said to be a model of business-like efficiency, bureaucracy-busting, and being responsive to customer needs.
In Hawaii, there's another reason to take notice. The postal employees here are rated the best in the country. Based on an independent audit of mail delivery standards, workplace safety, employee satisfaction and financial management, the so-called Honolulu Performance Cluster is No. 1, da bestest among postal districts.
It has always been among the top 10, but ascending to the No. 1 spot last year is a crowning achievement. Midway through this year, the district is still ahead of others and holding its own. This is happening on Ishizaki's watch.
But those who know Ishizaki's leadership style and drive are not surprised. It is reminiscent of his character as a high school and college athlete in football and basketball. In business or in sports, he focuses on three priorities: people, process and pride.
These elements must be aligned to move toward a goal, he says.
Ishizaki has 13 people who report directly to him and a work force of 2,800 employees. Vacancies are hard to come by at the postal service, with so many applicants attracted by excellent wages and benefits, including cost of living allowance. Half of Hawaii's employees have been with the postal service for more than 30 years.
"People change the dynamics," Ishizaki says. "That's never
Page 1 of 2 pages for this story 1 2 >
Most Recent Comment(s):