Queen of the Waterfront
After selling $120 million in real estate last year — including Hawaii's most expensive home — Patricia Choi is close to $90 million in '05
Wednesday - June 02, 2005
By Norise Jastillana
E-mail this story | Print this page | Archive | RSS
|

Del.icio.us
The right place at the right time. That's where Realtor extraordinaire Patricia Choi says she's been more than once in her lifetime.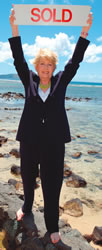 There was her propitious move to Hawaii as a single mother, the Mainland mentor who opened doors for her here, the opportune timing of a job offer, her fortuitous exposure to a field that fascinated her, meeting and then marrying her husband (and future business partner) and, finally, the opportunity to "run her own show."
While fate and good fortune may, indeed, figure into Choi's success in the luxury real estate market, they are only part of the story. This mover-and-shaker isn't one to wait around for destiny to intervene. She makes things happen.
"It takes a lot of help from your friends" she says of success. "It also takes perseverance and hard work. You may be given opportunities but you have to seize them."
And seize them she has. Choi International achieved $120 million in sales last year and, by July 1, will have already closed $90 million in sales for 2005. For the 10th consecutive year, Choi is No. 1 in residential sales in Honolulu. In 2004 she sold Oahu's highest priced residential property since 1991 — a $17.5 million oceanfront estate on Kahala Avenue. As principal broker, she carries 30 or more listings at any given time.
"Most of the time I work seven days a week, especially now with the market so active," she says, estimating her typical workweek at 80-90 hours. "When the market is down you have to work — otherwise you might starve — and when it's up, you have to work too."
Though "starvation" seems a stretch these days, there were some lean times long ago.
The Alabama native was living and working in Nashville, Tenn., when she first traveled to Hawaii for vacation in the early '70s. A second trip convinced the divorced mother of one to take a chance on island life.
"I fell in love with Hawaii and its people," she explains. "People are very friendly here like people in the South."
In July 1975, the then paralegal left her job as manager of the legal department at Aladdin Industries, packed up her belongings, and drove cross country to San Francisco. She shipped her car and boarded a plane to Hawaii accompanied by her son, Richard, then 12.
"Back home, they thought I was nuts," she admits. "But I felt that if you don't try, you don't know."
Her arrival in Honolulu was preceded by a flurry of reference letters from her former Aladdin boss and mentor, attorney Allaire Karzon. One of the first female graduates of Yale Law School, Karzon contacted Yale and Harvard University alumni in Hawaii on behalf of her former employee.
"She was ahead of her time and very supportive of women and their advancement in the business world," recalls Choi, adding that her former employer even held Choi's job for a year — just in case things didn't work out in Hawaii.
But they did.
"When I came to Hawaii, there were no paralegals — the field was just beginning here," says Choi, who considered this yet another good omen. "I knew if there were no paralegals, I'd have a job."
She interviewed with Torkelson Katz Conahan & Loden her first week in town and was hired by tax attorney Elliot Loden, who became another mentor. Despite her excitement, there was a downside.
"When I came to Hawaii the pay scale was so behind the Mainland, and I was shocked at what they wanted to pay me," remembers Choi, who first lived in Salt Lake. "I supported myself by working at Liberty House five nights a week from 5 to 9 p.m. Those were hard years."
Eventually, the firm offered Choi overtime — allowing her to quit her parttime job — and the opportunity to train in their real estate division. They also sent her to real estate school, and she earned her license in 1978.
"Along with my paralegal duties, I was introduced to a high-end real estate clientele," explains Choi, who was now settled in a Kahala town home. "I still represent a lot of them."
That exposure further fueled her passion for the real estate profession, says Choi, who once aspired to be an attorney.
"I had always wanted to be a lawyer, but when you're a Realtor, people like you better," she says with a laugh.
"You're either giving them a key or a check. You're making people happy."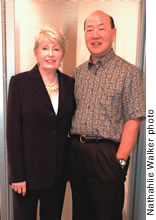 Patricia Choi with husband
Cedric, has millions of reasons
to celebrate
In 1980, Choi married an attorney at the firm, Cedric Choi, a "local boy" who was a graduate of Punahou School, Stanford University and the University of Santa Clara School of Law. Not long after, the newlywed was ready for another life-altering step. "I told my husband, 'I don't want to work here anymore. I want to run my own show.'"
In February 1981, she opened shop on the same floor as her former employer at Grosvenor Center, maintaining close ties with the law firm that continue today. She positioned her business as a "boutique" real estate firm, specializing in luxury real estate and commercial properties. Her niche market became oceanfront properties and large estates of $1 million or more from Diamond Head to Koko Head, later expanding to similar properties in Lanikai, Kailua and the North Shore.
Page 1 of 2 pages for this story 1 2 >
Most Recent Comment(s):
Commenting is not available in this weblog entry.