Carrying on for Emma
150 years after Queen Emma and King Kamehameha IV founded what today is The Queen's Medical Center, president Art Ushijima and a world-class staff continue to give Hawaii residents care that is, well, on the cutting edge

Wednesday - October 14, 2009
By
.(JavaScript must be enabled to view this email address)
E-mail this story | Print this page | Archive | RSS
|

Del.icio.us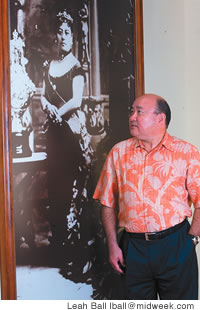 President/CEO Art Ushijima is ever aware that because of Emma, Queen's is a 'Hawaiian organization'
150 years later, The Queen's Medical Center remains true to the wishes of Queen Emma
The Queen's Medical Center has witnessed a lot of change since its establishment in 1859. It watched as Honolulu transformed from acres of farm lands to an industrial cityscape. It stood by as sovereign rule was replaced by a democratic government. It has withstood hurricanes, earthquakes, fires and even a few bad fashion fads.
But two things have remained just as they were 150 years ago: the hospital's location nestled among a garden of trees off of Punchbowl Street and its mission of providing quality healthcare services to improve the well-being of Native Hawaiians and all the people of Hawaii.
"We are a Hawaiian organization, we have a Hawaiian mission, but it's also a mission to serve all the people of Hawaii," says Arthur Ushijima, president of The Queen's Medical Center (QMC) and president/CEO of The Queen's Health Systems. "I estimate that in a year, in terms of patient traffic, there's probably somewhere in the neighborhood of 800,000 patient visits on this campus based upon the cars that come through. That's a pretty sizable number!"
It is hard to imagine that what is today the largest private hospital in the state, not to mention the entire Pacific Basin, was created by two 20-somethings, Alexander Liholiho 'Iolani and Emma Rooke.
Both were studious and accomplished children, adept in reading, writing and worldly knowledge. Alexander would grow up to rule Hawaii as King Kamehameha IV, and Emma would be his queen.
Upon their marriage in 1856, Queen Emma became heavily involved in her husband's work. Her concern was especially great for the state of the Native Hawaiian population, which historians estimate fell from an impressive 350,000 when Captain Cook arrived in 1778 to approximately 70,000 in 1855 - a 80 percent drop in 77 years.
To address the health concerns faced by her people, Queen Emma envisioned a hospital that would be a welcoming place where patients would be treated with kokua, a far cry from the hale make (houses of death) to which Hawaiians were accustomed.
Though the necessary legislation to establish such a hospital was passed, the treasury was empty. Undeterred, Queen Emma and King Kamehameha IV campaigned tirelessly, going door to door to raise the necessary funds. The royal couple was able to raise $13,530 in a little more than a month, and on Aug. 1, 1859, The Queen's Hospital opened its doors for the first time.
Since then, the hospital has grown from a 124-bed facility (the temporary 18-bed facility on Fort Street was replaced in 1860 by a two-story hospital constructed where the Queen's main lobby stands today) to one that is licensed for 505 acute care beds and 28 sub-acute beds. It has also evolved into a multi-corporate organization, The Queen's Health Systems, which is comprised of QMC, Molokai General Hospital, Queen Emma Land Company, Queen's Development Corporation and Queen's Insurance Exchange.
But Ushijima says that despite all the good The Queen's Health Systems and its constituents have accomplished for generations of Hawaii families, a study by Communications Pacific in 2006 revealed that not many people knew the history or purpose of the organization.
"Out of that, one of the things that we said we would do is refocus around our founders, the mission they established and then really being accountable to their mission," Ushijima divulges. "And this is really our focus for the 150th anniversary: to raise the awareness of what we do and being a responsible citizen."
Ushijima has been overseeing the course of the organization for the past 20 years. A local boy born and bred on Maui, Ushijima is, as he says with that "Maui No Ka Oi" bravado, "a product of the public school system and proud of it!"
He graduated from Baldwin High before moving to the Mainland for college. After he obtained his bachelor's of science in biology from Cornell College in Iowa, he spent a year of grad school studying molecular biology at the University of Iowa before deciding to switch career paths.
"I realized I wasn't going to win the Nobel Prize," he says before breaking into a laugh. "I realized working in the lab was really not what I wanted to do with my life, that I needed to have something that would be more meaningful to me."
At the suggestion of a friend's father, Ushijima enrolled in Iowa University's hospital administration program. After two years he obtained his degree and moved on to working as a healthcare administrator with the Air Force. He then served at a Catholic hospital in Kansas City, Mo., for five years, then at a teaching hospital in Akron, Ohio, for another five as the chief operating officer.
"At that point I hadn't thought of coming back to Hawaii - it wasn't in my career path. I thought I'd just stay on the Mainland," Ushijima admits. "In health-care many people move around just because that's how you build a career, because it's hard to get all the experiences you want at one institution."
As fate would have it, Ushijima got a call about a position at Queen's that had opened up. He interviewed for the role of COO and executive vice president for QMC over Memorial Day weekend in 1989.
Needless to say, he got the job and returned to the Islands with wife Ruth (a fellow Maui native who, full disclosure, was a longtime employee of MidWeek until a year ago) and their son in tow. In 1993 he was promoted to president of the medical center, then to CEO of The Queen's Health Systems in 2005.
"It was time for me to come home, and it was time for me to make a difference," Ushijima says. "Hawaii's a challenging place to work, and I look back and all of my life up until that time was gaining a set of experiences that enabled me to serve this role."
And what a role to have. Queen's was and remains a leader in medical advancements, being the first hospital in Hawaii to: perform a blood test (in 1905); establish a diabetic clinic
(1940); perform open heart surgery (1959); acquire supervoltage radiation therapy equipment (1960); house an MRI system (1991); open a Neuro-Intensive Care Unit (1996), which remains the only one in the state; use 3D simulation for radiation therapy cancer treatments (1997); institute D2B (Door to Balloon) to treat heart attack (2007); perform a Single Incision Laparoscopic Surgery (2007); and partner with Emergency Medical Services to provide portable EKG units in City & County ambulances (2008).
In addition, Queen's is the only trauma center in Hawaii verified by the American College of Surgeons.
As if marking 150 years weren't reason enough to celebrate, Queen's achieved a great number of accomplishments this year that include a three-year approval with commendations by the American College of Surgeons Commission on Cancer for the Queen's Cancer Program; receiving the American Stroke Association's Get With The Guidelines-Stroke Gold Performance Achievement Award for its commitment and success in implementing a higher standard of stroke care; a Get With The Guidelines-Coronary Artery Disease Gold Performance Achievement Award from the American Heart Association; and the completion of 1,000 successful surgical procedures with its da Vinci surgical robot.
And, as October is National Breast Cancer Awareness Month, it is only fitting to mention that
Page 1 of 2 pages for this story 1 2 >
Most Recent Comment(s):