Why We Dig Raeceen
Raeceen Woolford, who did a lot of digging of volleyballs as a UH Wahine libero, today wears the crown of Miss Hawaii.

Wednesday - January 20, 2010
By
.(JavaScript must be enabled to view this email address)
E-mail this story | Print this page | Archive | RSS
|

Del.icio.us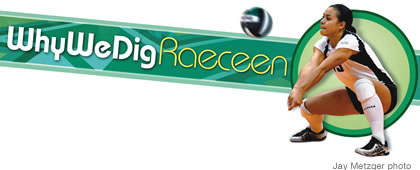 Many of the skills that made her a UH Wahine star could help Raeceen Woolford become Miss America
Raeceen Woolford drives a shiny 2005 metallic grey Volkswagen Beetle because, she says, it reflects her personality. The former UH Wahine volleyball player isn't the first to attach personal characteristics to their vehicle of choice, but the description certainly fits the current Miss Hawaii. If Woolford is anything, she is fun, sporty and different.
The difference comes from her entrance into the Miss America pageant as well as her freakish athletic skills that produced a team-best 36-inch vertical leap while at the University of Hawaii. Achieving such lift is even more surprising considering she wasn't a 6-foot-tall leftside hitter, but a 5-foot-7-inch libero. An impressive vertical won't help her win the Miss America crown, but her other skills just might.
Pageants are about appearance, and not just of the physical type. No matter the pressure, contestants must always appear to be in control. Nerves have no place on stage. Confidence and personality are vital. Fortunately, the Iolani grad has an abundance of both. Woolford just overflows with personality. Her eyes sparkle, and she has a made-for-TV smile that seems anything but forced. She giggles often, especially when laughing at herself, without ever coming across as, well, ditzy. Most important, she's comfortable being herself and it's the reason why, she believes, she took the crown. In 2008, she won Miss Honolulu and finished third runner up in Miss Hawaii.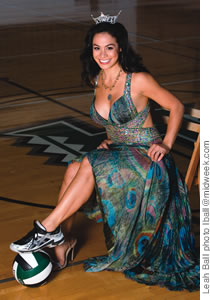 'It's more cool,' says Miss Hawaii Raeceen Woolford, 'to be fit than to be waifish'
"I realized I needed to do things the Raeceen way," she says about the differences between 2008 and 2009. "I ditched all of what I previously conceived how pageant girls should be - walk, talk, act, dress - and I just added the Raeceen flair. I think the woman who knows herself best is the one who is going to win, and I didn't realize that in 2008."
Though anything but cocky, Woolford is an extremely confident young woman. Her belief in herself comes not from parading in front of full-length mirrors in evening gowns and admiring her own reflection, which would be understandable. It comes from years of athletic competition and from regularly beating her elementary school classmates at Our Redeemer Lutheran in races around campus - a feat that the boys eventually accepted and the girls admired.
"My athletic career skyrocketed from there," she says with her characteristic laugh.
Not that the boys should have been surprised. She's always been a speedster. She was walking at 9 months, and at the age of 1 she won a fastest baby crawling contest.
Woolford's extra-curricular activities began at the age of 7, when her grandfather signed her up for hula. From that first push she became a bundle of activity, playing soccer, ice skating, tae kwon do, track and diving before finally settling on volleyball.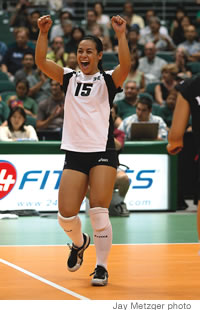 Raeceen has always loved, and excelled at, athletics
"I was always the girl who was the fastest kid in the class, the girl who would always challenge the boys and win in running a race. It always seemed natural for me to get involved in sports. I always saw potential in myself, and it was fun. It was fun to run. It was fun to sweat. It was fun to get dirty. It was fun to succeed, so I just stuck with it," says the glamorous tomboy, whose favorite outfit is a nice pair of skinny denim jeans and a V-neck T-shirt.
Woolford thought basketball could have been her ticket to college, but the focus changed when she began traveling to AAU volleyball tournaments on the Mainland and college coaches started taking notice. She sent tapes to various schools and made official visits to Division 1 Texas State and D-2 Florida Tech, both of which wanted her to play the glamorous outside hitter position. Instead she chose to walk on at UH and compete for the thankless job as a defensive specialist.
"I had gone away on visits (to colleges), and I thought I'd be the only person from Hawaii at these schools, and I was maybe feeling a little lonely. Plus, my brother and sister were growing up and they needed me, I felt," says Woolford, who has never met her father.
Her mother Wendy was a single mom when her twin brother and sister, Cody and Cady, were born. Being nine years their senior, some of the job of raising them fell to Raeceen. It forced her to grow up.
Her on-court maturation began under the tutelage of an inspiring coach.
Ann Kang, her high school coach at Iolani stressed cohesiveness and the importance of relationships outside of volleyball while having her players keep journals and to visualize every dig, pass or hit. It was a concept that took a few years to sink in.
"It requires a certain amount of maturation to understand how successful you can be with the use of visualization. When you are young, you don't have the patience for it. We tried to practice visualization for reps, for passing, for setting, for serving, and she would make us sit and visualize 100 perfect passes, and I could-n't make five or 10," she says with another laugh. "It was harder for me to visualize it than to do it."
Kang was more than a coach to Woolford. She was a mentor for her players, both on the court and off. Recalling the memories produced one of the few times that her ever-present smile showed any sign of sadness.
"She was diagnosed with ALS the day we won state during my junior year, and she passed away a couple of years after that. She definitely left a legacy at Iolani School and for me as well."
While athletics and pageants seems to be perfect opposites,
Page 1 of 2 pages for this story 1 2 >
Most Recent Comment(s):