Ready For The Met
One of international opera's rising young stars, Quinn Kelsey returns home to star in HOT's production of 'Madama Butterfly'
Wednesday - February 28, 2007
By Alice Keesing
E-mail this story | Print this page | Archive | RSS
|

Del.icio.us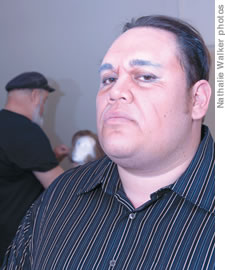 The former high school football lineman is
making a big hit in opera
The adjectives are flowing around local opera singer Quinn Kelsey. Since he hit the national spotlight his voice has been variously described as a ravishing, honey timbered, plush velvet instrument that takes audiences into the passion of the moment. It's also been wall-shaking and booming with the ability to scare the hell out of anyone. Perhaps the descriptor we like the best is bad-ass baritone.
With a career that has been headed in only one direction - up - things are looking good for the 28-year-old Kelsey. So when he landed back in town this month to begin rehearsing for his starring role in Hawaii Opera Theatre's March season-ending production of Madama Butterfly, he set off something of a buzz in Island opera circles.
"It's so wonderful for us to have him back in our community," says HOT executive director Karen Tiller, who is directing Kelsey in Butterfly.
"He's such a sweetheart," Tiller adds. "He's a huge guy who you wouldn't want to run into in an alley, but he's just fabulous. He's a great colleague, he's really easy to work with and is such an enormous talent. It's such a beautiful sound."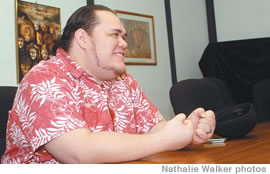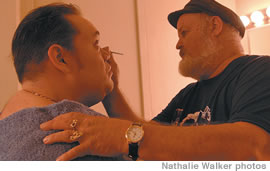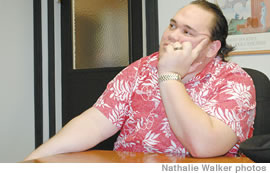 Kelsey, getting his 'Madama Butterfly' makeup from
makeup-wig master Richard Stead, talks about how
he discovered opera, and vice versa
Kelsey is an imposing figure. A lineman is what first comes to mind. And, in fact, he did play football all the way through the University Lab High School. He even intended to walk-on with the University of Hawaii Warriors, but music called him away.
And, really, that was probably his destiny since small-kid time. Opera is a family business in the Kelsey household. It started with the most-romantic sounding meeting of his parents when they were singing a duet at UH. Debbie and Chris Kelsey raised Quinn and his sister, Blythe, in a home where there always was music. The family lives it, breathes it, makes it - there were times when the kids were growing up that all four of them were in HOT productions together.
When Kelsey arrived at the UH music department, voice professor John Mount knew right away that a rare talent had just walked through the door.
"Of all the voices I've worked with in the 30-odd years I've been teaching here, he's really one of the most stellar ones," Mount says.
"One of the things as a voice teacher that you like to pride yourself on is being the great teacher solely responsible for bringing out this great talent," Mount adds with a chuckle. "But a great voice like this, they're there to begin with and you're there to just guide them along its way."
Initially Kelsey wasn't even thinking of majoring in music. With his Hawaiian roots and artistic background, he started tinkering with classes in Hawaiian language and the visual arts. But he soon realized that he needed to go with his lifelong passion.
Through his involvement with HOT, Kelsey made the connections that landed him first at the Merola Opera Program in San Francisco and then at the Lyric Opera of Chicago's training program. For an inkling into the significance of this: You don't pay tuition to attend the program; they pay you to attend. There, the hottest new talents are carefully ushered along the way by the best in the business, plus they're attached to the opera company itself, which is one of the largest in the world.
Kelsey still remembers the moment when he walked onto the Lyric's stage for the first time. He was with some colleagues taking
Page 1 of 2 pages for this story 1 2 >
Most Recent Comment(s):