Redefining Disabled
A wheelchair can't confine Dara Fukuhara. After graduating from the UH journalism program, she wrote for MidWeek and is now a successful public relations account executive. She's also an eloquent advocate for the disabled
Wednesday - January 03, 2007
By Alice Keesing
E-mail this story | Print this page | Archive | RSS
|

Del.icio.us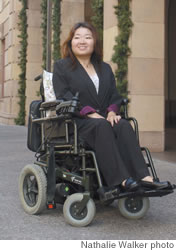 A wheelchair, says Dara, means
getting places faster
Dara Fukuhara cannot walk. She cannot push an elevator button, or turn on her computer or brush her own hair. But don't expect any of that to stop her.
Instead, the 26-year-old Fukuhara has launched herself on a promising career in public relations and is emerging as a powerful advocate for people with disabilities. And later this month, the Muscular Dystrophy Association Hawaii chapter will name Fukuhara as recipient of its 2007 personal achievement award.
"She really represents everything (the award is about), from her high level of achievements to her activity in the community," says MDA health care services coordinator Jennifer Li.
The first sign that Fukuhara's life was taking a different course came at the age of 3 when her mom noticed she was having trouble standing and walking. Doctors soon told the family that their daughter had Charcot-Marie-Tooth disease, a form of muscular dystrophy that weakens the arms and legs.
By the time Fukuhara graduated high school she'd undergone surgery to implant titanium rods in her back and her limbs had weakened so much that she had to use a wheelchair.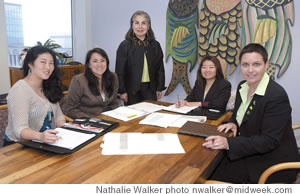 Dara meets with Communications-Pacific colleagues, from
left, Melissa Kamei-Malahoff, Christine Su, Christina
Kemmer and Gae Bergquist-Trommald
That might have sent some high schoolers into a tailspin, but it just revealed Fukuhara's inner grit.
"I kind of knew it was coming," she says. "I knew I was going to be in a wheelchair, but I thought that was just going to help me get to my classes faster. So it didn't depress me much. I just continued living."
By this time Fukuhara had been inspired by reporter Lois Lane on Superman and discovered a love of writing and journalism. She became editor-in-chief of Moanalua High's newspaper, where she was known for her drive to chase stories. When she moved on to the University of Hawaii at Manoa for her journalism degree, Fukuhara also served as managing editor of the campus newspaper, Ka Leo.
If Fukuhara's name seems familiar, that may be because her next stop was at MidWeek - she freelanced for this newspaper for two years, producing stories on everything from bamboo to nail art to exercise equipment for the disabled at UH.
"She was a wonderful writer and reporter," says editor Don Chapman, who gave Fukuhara her break with the paper. "She had a way of getting the good quote, which means people were opening up with her, and she had a very engaging writing style. She was a real professional, hit every deadline, and was energetic and fun to work with."
Then, in 2004, Fukuhara joined the local public relations powerhouse, Communications-Pacific, where she is now a corporate account executive look
Page 1 of 2 pages for this story 1 2 >
Most Recent Comment(s):
For all comments click here.