Resurrecting Catholicism In Hawaii
No wonder island-born Larry Silva turned out to be a priest — his sister recalls him as a boy 'playing Mass.' On Thursday he'll be installed as Hawaii's fifth bishop
Wednesday - July 20, 2005
By Chad Pata
E-mail this story | Print this page | Archive | RSS
|

Del.icio.us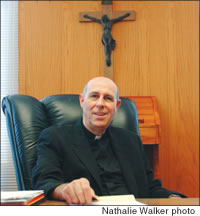 When it comes to his faith, Bishop
Larry Silva avoids labels such as liberal
and conservative. Instead, he wants to
'live the gospel' and 'support the people
in their faith'
It is a troubled yet vibrant church that Father Clarence "Larry" Silva weds himself to this Thursday as he assumes his position as the spiritual leader of Hawaii's Roman Catholic community by becoming its fifth bishop.
"I thought I was simply going on vacation," writes Silva in his introduction letter to his parishioners, speaking about his earlier visits to the Islands. "But the Lord knew that he was really wooing me, putting me into a kind of courtship, that would lead me to fall in love with the people of these beautiful islands. And now the Lord has arranged a marriage between me and the people of Hawaii who make up the 'Holy Church.'"
The ceremony is to be held at the Blaisdell Arena with bishops from five countries participating, including the pope's ambassador Archbishop Gabriel Montalvo, Apostolic Nuncio to the United States.
The installation is open to the public, with a free dinner offered afterwards, and while its grandeur may pale when compared with the papal installation so many watched on television last spring, it will be an awe-inspiring event that has happened only four other times in Hawaii in the past 65 years.
It is a homecoming for Silva, who will be the first Hawaii-born bishop to serve the people of Hawaii. His family heritage in Hawaii dates back to the Portuguese immigration of 1878 that brought so many here to work the sugar cane fields.
Unfortunately, because of financial circumstances, Silva's father was forced to move his wife and five children to California in 1950 to try to make his way as an electrician.
"I never returned until I was 23, my parents couldn't afford to travel with all the kids, but I returned at least once a year ever since," says Silva, who adds that he keeps meeting new relatives here every day.
His path to the status of the holiest man in Hawaii began early on as he recalls being interested in the life from second grade.
"I was pretty typical in those days, Catholic schools did a lot of encouraging of that," says Silva, whose sisters remember him "Playing Mass" as a young man.
His fervor continued to grow and upon completion of the eighth grade he expressed his desire to join the seminary. But his father, a devout Catholic, insisted that he complete regular high school first.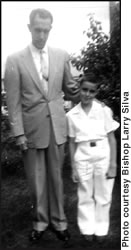 The bishop on his
first communion day
with his father in 1957
Undeterred by four years in the secular world, he entered Saint Joseph College Seminary for his B.A. and Saint Patrick Seminary in Menlo Park for his Master of Divinity.
He settled there in Northern California, spending the next 30 years dedicated to the Diocese of Oakland, serving as a priest in several parish churches, many in low-income, high-crime areas.
Happy to serve, happy to be unrecognized, Silva went about his work with only occasional sabbaticals to Mexico to study Spanish or Rome to study at the Pontifical North American College. So it came as a bit of a shock when his bishop called him to give him the news.
"It was a surprise, though I admit it had been rumored," says Silva about the highly secretive process by which a bishop is chosen, by the pope himself. "It's supposed to be a big secret, but some people can't keep secrets."
While his heritage and 30 years of loyal service would make him a logical choice, Silva has very little administrative experience and will be the first bishop of Hawaii to rise to the level of bishop and receive the job all in the same day.
There are 40 schools, 66 parishes and almost a quarter-million self-proclaimed Catholics now under his leadership. But he has faith that he can do the job and puts the credit at the feet of his former bishop, Allen Vigneron.
"I am very accustomed to being a pastor of a parish, but pastor of a diocese is larger scale and quite a different reality," says Silva.
Page 1 of 2 pages for this story 1 2 >
Most Recent Comment(s):
Commenting is not available in this weblog entry.