Saying Thanks By Sharing
What started as Ko Olina employees helping one family grows into feeding 4,000 disadvantaged Leeward folks Thanksgiving dinner, and expands to the Neighbor Islands
Wednesday - November 21, 2007
By Chad Pata
E-mail this story | Print this page | Archive | RSS
|

Del.icio.us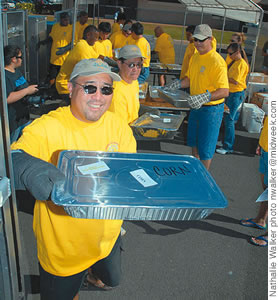 Volunteers deliver a warm Thanksgiving meal to a Leeward church to distribute
Everyone in Hawaii loves to talk story, it's our national pastime. Little comes of this idle chatter but the entertainment of friends and family.
But when Pele To'omata started talking story, it led to a feeding frenzy from here to New Zealand, and we witnessed it locally last Saturday as the ninth annual Ko Olina Thanksgiving Outreach fed more than 4,000 disadvantaged folks on the Leeward Coast.
"The nicest part about this is how it started, it didn't come from some management decision, it came from Natasha and Pele, it came from the right place, it came from their hearts," says Michael Nelson, vice president of Ko Olina Resorts. "They knew people were struggling, and they wanted to help out, and now it has become a major, major event."
In the beginning, it was just about a single mom with too many kids who worked at Ko Olina with To'omata and his partner Natasha Clarin. They wanted to do something nice for her for the holidays.
So they asked fellow employees to bring in donations, canned goods - the kind they would like to eat - to fill this basket of love. The outpouring was overwhelming, with even the mom whom they were trying to bless bringing in donations - and when they gave it to her, she was floored.
"It was just a Thanksgiving basket. We present it to the families, and then they would cook their own," says Clarin. "But then we started thinking there are a lot of homeless, how can we feed the homeless?"
They were obviously going to need more than employee donations to pull off a project this big, and this is where the spark of ingenuity met with the fuel of a needed an image upgrade for the resort in the Leeward community.
"The previous owners of Ko Olina made a lot of promises, but it was a lot of broken promises," says To'omata, who serves on the security team at Ko Olina.
"So when Jeff Stone came in, it was like, let's reach out to the church, where the church is at is where the community is at. We know the church helps out the homeless, so it was like hitting two birds with one stone. People now really see the heart of Jeff Stone, and we help out the community."
So To'omata kept bringing out ideas, just shooting out whatever came to his head, and fortunately Clarin was there to catch the good ones.
"I only like talk, I no like write nothing, it's all from the head, but she's the brain, she write everything down," says To'omata about Clarin, who is now the coordinator for the out-reach project.
So they began bringing people together to pitch in: chefs from the resort, high school culinary students, local pastors and UPS drivers.
UPS drivers? Well, it turns out that what Brown can do for you is transport thousands of pounds of hot food to needy families.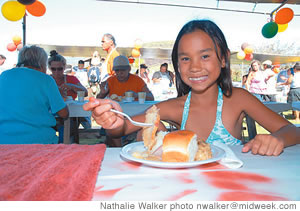 Look who's happy to be eating a hearty Thanksgiving meal
"There is no problem finding drivers, the drivers are always looking to help out their community," says Alan Ozoa, a supervisor with UPS who started out with two drivers and now has eight helping out. "You can see their faces light up when they see us. They know they are going to eat a good meal, it makes you feel good inside. It's only a couple hours' work, but it makes us feel good. It's always good to help out."
The first year they fed 1,000 people, the next year they doubled the total, and the third year doubled it again, which is currently their maximum capacity. The meal, as it is currently configured, rivals even the Christmas feast of the Whos down in Whoville:
1,800 pounds of turkey
580 pounds of ham
600 pounds of rice
100 gallons of gravy
400 pounds of corn
4,000 rolls
4,000 pumpkin desserts
The groups are organized at a dozen or so churches from Pearl City to Waianae, with each church taking the feeding and turning it into their own little hukilau.
"When you go there, you feel like you stay at one luau," says To'omata, who makes it to four locations each year. "They have entertainment, game booths for the kids, it helps the churches build relationships with their community."
While some spend it as a party, others use it to expand their outreach. At St. Jude's in Makakilo, they gather clothes and organize them in bags according to size. Instead of putting out a feast, they have drive-up food distribution, and when the family pulls up for the kau kau, they ask them how many children they have and their sizes, then give them a bag of clothes for each of the kids.
He had experienced such success here on Oahu that To'omata began expanding his outreach to the Neighbor Islands. But without Ko Olina's deep pockets, he had to find other supporters to expand the mission.
"So I find a couple guys talking big about having money, and I say OK, kick in a couple grand and we go outer island," says To'omata, speaking of his fundraising techniques.
Once there, To'omata would find the homeless community, then locate a nearby restaurant. He would tell the homeless to meet at the restaurant the next day for a feast.
He then would proceed to buy out the restaurant of all its plate lunches and sodas for the following day.
"We tell them we going to come by and pick them up around 11:30, but they don't know the people are going to show up," says To'omata with
Page 1 of 2 pages for this story 1 2 >
Most Recent Comment(s):