Sisterhood of Survivors
Breast cancer survivors from age 27 to 89 tell their powerful stories of beating the dreaded disease
Wednesday - October 03, 2007
By Alice Keesing
E-mail this story | Print this page | Archive | RSS
|

Del.icio.us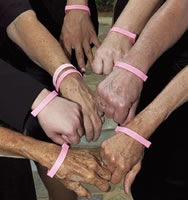 You are about to meet seven amazing women. They are survivors. From age 27 to 89, they have all fought breast cancer - and won. They have lived through the dark moments of doubt, they have endured the agonies of their cure and they have experienced the uplifting moments that come in receiving the helping touch of another.
This year, 820 women in Hawaii will learn that they have breast cancer, which afflicts one in eight. Sadly, the disease will also kill about 100 Island women. But there is hope. Survival rates are on the rise and, as you will discover here, breast cancer can be more about life than it is about death.
There are more than 2 million breast cancer survivors in this country - seven of them are here to talk about their experiences. Their stories will give you chickenskin. They will make you cry. But one thing became very clear when this special sorority got together at the Hilton Hawaiian Village for this story - wow, do these women know how to laugh.
Shafron "Hoku" Gaspar, 27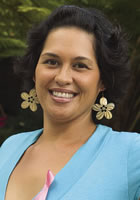 Shafron "Hoku" Gaspar
Shafron "Hoku" Gaspar was just 25 years old when she found a small lump in her left breast. The Waimanalo girl found it hard to believe that it might be cancer; after all, most women aren't diagnosed with breast cancer until after their 50th birthday. When tests confirmed the worst, Gaspar thought her world was going to end. But she's a fighter and she needed to win for her children, 10-year-old Kayin, 8-year old Kaikoa and 5-year-old twins, Karliah and Khiliah.
Gaspar was determined the cancer wouldn't take the life out of her, even during the grueling sessions of chemotherapy and radiation. She finishes her last round of treatment at Castle Medical Center this week - and Hoku is shining as bright as ever.
When I learned I had breast cancer, I ... felt scared and afraid, like it was the end of my world. But I thought of my four children and declared the battle on with the "devil." I conquered it with poison, but I accomplished it with all the strength and power of Jesus and loved ones.
When I needed answers, I turned to ... my family and friends (the Big Girl Crew on Nakini Street). I also got help from the cancer society, and I can't forget my employer, UPS. Thanks for all your support. I always told myself to share what I'm going through and to never leave it bottled up. Sharing my feelings made me stronger.
What got me through my treatments was ... I watched my diet - I ate a lot a fresh greens and fruits and powered up on Smart Water. Chemo was the most horrible feeling - no one should ever have to go through that, but I didn't let the cancer change my life.
If I could share one thing with other women, it would be ... never be scared if you hear the words "breast cancer." Keep your spirits high to the heavens, share your smiles and laughter with everyone and tell yourself that you can beat it, and you will.
The best thing about life as a survivor is ... that I can enjoy every minute, moment and day with my kids. The battle's not over yet, but bring it on. Live life to the extreme and explore all you can. You never know when it's going to hit, but I'll finish the battle and I'm gonna win. Betcha I will.
Roz Makaula, 34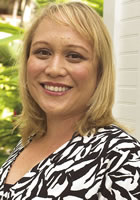 Roz Makaula
At age 30, life was great for Roz Makaula. She was into everything: hiking, hula, surfing, the gym. She'd just started a new job as morning show producer at KHNL and - you may recognize her name - she was free-lance writing for MidWeek, too.
Then one day she noticed that her right breast looked different; there was something not quite right. Makaula went to her doctor, requesting a mammogram. He talked her out of it, telling her she was too young. Six months later, Makaula found a lump, and tests (with a different doctor) revealed she had stage 2B cancer.
During her journey through treatment and recovery, Makaula received information from the American Cancer Society. Later, she started volunteering to help other patients in turn. Then, last year, she stepped into a frontline position when she became executive director of the society's Honolulu office. And life is still great.
When I learned I had breast cancer, I ... stayed calm. Before any tests were taken though, I excused myself to the restroom to gather my thoughts. For some reason, I stared at myself in the mirror and said out loud, "You're a survivor." I took a deep breath and walked back into the testing room. The doctor said, "I'm sorry, it's cancer." For a moment, time literally stopped. Then I looked my doctor in the eye and asked, "OK, what do we have to do?"
When I needed answers, I turned to ... a loving support system of family and many, many friends. Soon after my diagnosis, I got in touch with other breast cancer survivors - they became my network and are now among my dearest friends. I celebrated good times with family and friends so that I had good things to look forward to. One of the books that really helped was I'm Too Young To Have Breast Cancer! by Beth Leibson-Hawkins.
What got me through my treatments was ... visiting with spiritual leaders and healers who worked on my body to promote healing and to prepare it for the onslaught of each bout of chemotherapy and radiation. The one time I didn't do this, the nausea and pain hit me hard. Exercising as much as possible and staying busy throughout the 18 months of treatment also helped. I joined Ho'ola (www.cancerexercisewellness.org), an exercise and wellness program that helps cancer patients recover from treatment. I also remained open to the usefulness of herbal remedies.
If I could share one thing with other women, it would be ... to know your bodies and take care of them. That means do your self breast exams; see your doctor for a clinical breast exam; if you're over 40, get a mammogram. Sometimes women are afraid to hear that there's a problem so they don't practice good breast health. But if you know there's a problem, you have a chance to fix it. And by the way, I'd share a similar message with men because they, too, are diagnosed with breast cancer - the disease does not discriminate.
The best thing about life as a survivor is ... having the empathy to understand a cancer patient and the ability to help that person through their cancer experience.
Page 1 of 3 pages for this story 1 2 3 >
Most Recent Comment(s):