Sisters of St. Francis
What little good we can do ... to help and comfort the suffering, we wish to do it quietly and so far as possible unnoticed and unknown.

Wednesday - October 24, 2007
By
.(JavaScript must be enabled to view this email address)
E-mail this story | Print this page | Archive | RSS
|

Del.icio.us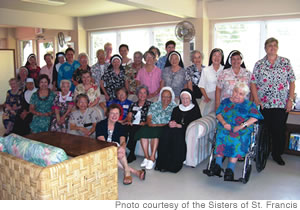 Sisters of St. Francis gather in July for the kickoff of their 125th anniversary celebration
What little good we can do ... to help and comfort the suffering, we wish to do it quietly and so far as possible unnoticed and unknown. - Mother Marianne Cope.
For 125 years, the Sisters of St. Francis have made actions speak louder than words. Vowed to religious obedience and sacrifice, their contributions to our community are veiled in humility. Yet at this historic milestone, it's time to unveil the story of the Sisters of St. Francis, one of the oldest religious orders in Hawaii.
Their mission began in the darkest chapter of Hawaii's history, when the kingdom banished some of its citizens to a life of isolation and alienation to be forgotten. The outcasts were known as "lepers," those afflicted with Hansen's disease or leprosy. The shroud of mystery and painful memories still linger in the shadow of Kalaupapa, Molokai. It took the courage of Catholic missionaries to answer the call for what seemed like mission impossible. The Sisters of St. Francis, coming from many miles away to an unknown dot in the Pacific, brought spirituality and hope to tormented natives.
That is the legacy of the Sisters of St. Francis who have since served Hawaii through health care, education and social ministries. With the recent ownership change of St. Francis Hospital, there is a perception that the work of the nuns is ending.
Nothing could be further from the truth.
"We're looking forward to continuing our mission for many more years to come," says Sister William Marie Eleniki, regional minister of what today is officially known as St. Francis of the Neumann Communities-Hawaii, with 45 sisters statewide, most of whom grew up in Hawaii.
Spurred by the anniversary theme "Women of Vision, Women of Risk - Celebrating 125 Years of Service in Hawaii," they are rededicated to their work of faith, hope and charity.
In fact, mission impossible has never been more plausible. And they have an enviable track record to prove it.
One wonders how different our community would be if in 1883 the sisters had not answered the call for help from King David Kalakaua. Mother Superior Marianne Cope and six sisters of the Order St. Francis from Syracuse, N.Y., responded when 50 other religious communities in the United States did not.
The sisters worked with leprosy patients throughout the Islands for 40 years. In 1927, the sisters founded St. Francis Hospital to "serve the medical needs of people with communicable diseases, including leprosy, and the underprivileged."
They went on to establish Maui's first hospital, Hilo Hospital, as well as Catholic schools and educational programs on all islands. The flagship campus on Oahu is Saint Francis School in Manoa, where 430 students are enrolled in kindergarten to high school. Principal is Saint Francis graduate Sister Joan of Arc Souza, who cites educational and spiritual training as core disciplines of the Order.
The school, originally located in Liliha, taught students academic skills to become teachers, nurses and health caregivers. Today, Saint Francis graduates are in various professions and positions of leadership in the community, having had basic values shaped by the nuns.
For instance, a Saint Francis student must do 100 hours of "volunteer" community service before they graduate. "Otherwise, no diploma," says Sister Souza. "To whom much is given, much is expected.
"We provide students with what's missing in society today," she states. "Our education is based on a strong campus ministry and spiritual life. We are building self-esteem in students so they take the necessary risks to do what God has called them to do."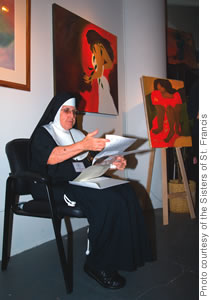 Sister Helen Agnes Ignacio pages through the commemorative Kalaupapa calendar by photographer Kim Taylor Reece
Sister Agnelle Ching, chief executive officer of St. Francis Healthcare System, recalls the humble beginnings of its medical services. In 1924, when the Oahu community needed a hospital to treat the poor, it turned to the Sisters of St. Francis. Three years later, it admitted its first patient.
That hospital, now Hawaii Medical Center East, is known for landmark medical achievements. It introduced services in kidney dialysis, organ transplantation, home care, cancer rehabilitation, hospice care and a bone marrow registry program. In 1990, they opened St. Francis Medical Center-West, now Hawaii Medical Center West, for people living in the leeward and central communities.
The sisters' health care ministry continues through St. Francis Healthcare System and five subsidiaries. They also run an adult day program in Manoa and various nursing homes on Oahu.
"Our mission is part of the Catholic Church's mission and the larger Christian mission," says Sister Ching. "Many people are called. Our obligation is based on the same values and commitment held by Mother Marianne (Cope)."
"The sisters are incorporated as a region and our ministries are independent," she explains. "We get no funding from the Vatican or the Catholic Diocese. We have to make it on our own like any other family, business or non-profit agency."
The order faces other challenges as well. They are concerned with dwindling numbers entering the sisterhood locally and nationally, affecting succession and the organizational structure to carry on their mission.
The number of nuns who retire
Page 1 of 2 pages for this story 1 2 >
Most Recent Comment(s):