Something To Crow About
With a younger, hipper Colonel Sanders trading his jacket for an apron, and with KFC switching to healthier frying oil, the news is all good for the chain's 67 Hawaii restaurants and their customers

Wednesday - March 28, 2007
By
.(JavaScript must be enabled to view this email address)
E-mail this story | Print this page | Archive | RSS
|

Del.icio.us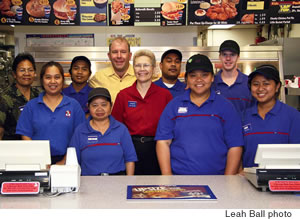 Johnson with staff at the Ala Moana Boulevard restaurant,
from left, Vasa Pousoo, Julie Jandoe, Joseph Asit, Amy
Garingo, Carlyne Owens, Rosen Ham, Cyndy Marcos,
Darrell Wilkerson and Regine DelaCruz
KFC rules the roost when it comes to chicken. It is the largest fast-food chicken chain the world with more than 14,000 outlets in 80 countries. It's also a major player in the Islands, according to Steve Johnson, general manager of Kazi Foods Corp. of Hawaii.
If you're hooked on KFC Southern-style fried chicken with its 11 secret herbs and spices, you've probably crossed the street many times to enjoy its meals. About 60 percent of you drive through to pick up orders - we have that on good authority - and delight the family by bringing home, not the bacon, but a bucket of chicken.
The average customer visits KFC once every 42 days. The true loyalist is there once every 12 days. Then there are people like Johnson, who have a vested interest in the success of the KFC franchise; he's there at least once a week.
Considering Hawaii's diversity of chicken offerings, from katsu to cordon bleu, that kind of brand loyalty is a chickenskin moment for marketers.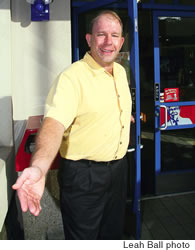 Welcome to The Colonel's place, says
Steve Johnson
Yes, the familiar red-and-white-striped buckets of chicken have been around a long time. Col. Harlan Sanders is iconic among American logos. His three-piece suit, cane and silver goatee epitomize the Southern gentleman. Sanders, who founded Kentucky Fried Chicken more than a century ago, is the only real person inducted into Madison Avenue's Advertising Walk of Fame.
But can an iconic brand, fried chicken served to 12 million customers daily, and home-style Americana sustain this business empire into the future?
Domestically, there were times when KFC thought the sky was falling. With intense competition from burger and other fast-food operators, domestic same-store sales dropped for much of the past three years. Critics have even mocked KFC for being perceived in the U.S. as "old-fashioned and unhealthy," according to the Center for Multi-Unit Restaurant Management at the University of Central Florida.
Internationally, it's a different story. International sales, particularly in Asia, continue to bolster company profits. KFC enjoys many advantages in Asia: its association with the West makes it a status symbol; the restaurants are more hygienic than vendor stalls; and chicken is a familiar taste to Asian palates. An average of one nonU.S. unit is built each day. KFC is the most recognized American brand in China, outscoring even McDonald's and Coke.
(Hawaii's franchise owned by Kazi Foods is administered under the KFC international division. Kazi also owns the Burger King franchise in Hawaii.)
Inspired leadership at KFC's Louisville, Ky., headquarters, led by president Gregg Dedrick, formerly of parent Yum Brands, indicates KFC is still cookin'. There
Page 1 of 2 pages for this story 1 2 >
Most Recent Comment(s):