Sully's Scholars
The scholarship program founded by Maurice 'Sully' Sullivan celebrates its 30th year

Wednesday - April 11, 2007
By
.(JavaScript must be enabled to view this email address)
E-mail this story | Print this page | Archive | RSS
|

Del.icio.us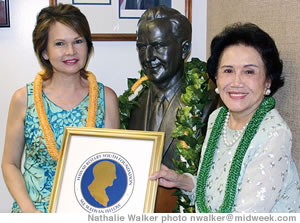 Kitty Sullivan Wo and Joanna Sullivan with a bust of Sully
Editor's note: "Sully" in the following article is the late Maurice J. Sullivan, founder of Foodland and revered humanitarian, who established the Hawaii Rotary Youth Foundation, observing its 30th anniversary this month.
Dear Sully: When you created the Hawaii Rotary Youth Foundation, you would always ask, "Can't we give more?" As founder of this non-profit organization, you generously supported the dreams of high school seniors going to college. Since 1975, the Hawaii Rotary Youth Foundation (HRYF) has awarded 1,125 scholarships totaling $3.5 million.
But it's not about the money. Not at all. And it's not about "scholarships" per se. Absolutely not.
Your legacy is the ability to see the "big picture" in our community. It's a vision that offers a solution to many of the social ills and conflicts in society today. You taught us that scholarships really are a means to an end.
You believed that the American dream or the road to riches is paved by education. That's what it's all about.
On the occasion of its 30th anniversary, HRYF is staging a major fundraiser so more scholarships can be awarded. It's your kind of event - glamorous yet affordable for grassroots contributors, refined yet not too fussy. Oh, yes, and true to your Irish nature, it is fun.
It takes place Sunday, April 15, 6 p.m., at the Hawaii Theatre. Approximately 1,200 tickets at $28 each are being sold to this private screening and premiere of the film Ray of Sunshine, directed by Hollywood filmmaker Norbert Meisel. Guests will meet actress Nancy Kwan in person. She also will appear at a VIP reception at the Plaza Club (which is already sold out).
Movie-goers will be entertained by Nohelani Cypriano and the Beautiful Hawaii Revue of Krista Duncan, Celeste Akeo, Radasha Hoohuli and Jasmine Ornellas.
An A-team is organizing the festive occasion. Your wife Joanna Sullivan and daughter Kitty Wo are honorary chairwomen. A 35-member planning committee is capably led by Sylvia Young, who says, "Working with HRYF has been a highlight of my involvement with Rotary Club. I am fortunate to have a team of Rotarians and friends to bring this project to life."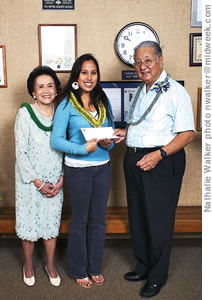 Joanna Sullivan, Sara Maile Tufele and
Stanley Togikawa
Committee chair Young also acknowledges Dr. Lawrence Tseu, who is sponsoring Kwan and Meisel's trip expenses. In addition to the HRYF appearance, the celebrity couple will appear at a Chinese Women's Club fashion show produced by 2 Couture.
You will recall talented and beautiful Kwan for her memorable roles in films The World of Suzie Wong and Flower Drum Song. We can see her now, dancing in front of the mirror and singing I Enjoy Being a Girl.
Kwan plays jazz club owner Miss Lily in Ray of Sunshine, a story of a beautiful young aspiring pianist (Cheyenne
Rushing) who leaves her troubled home and environment in Northern California to search for the footloose musician father who abandoned her as a child. Filmmaker Meisel says the film takes its audience on a journey, from a situation of heartbreak and despair to a place where nothing is what it seems, and where music changes everything.
Among those anticipating this celebrated event is HRYF chairman Stanley Togikawa, who says he is "really excited because there is a lot that we want to continue to do.
"The more we can gain in dollars, the more scholarships we can give. This year, we are increasing the scholarship amount for each awardee."
Sully, that should please your "can't we give more" plea.
The goal is to award 100 HRYF scholarships in 2007. Last year, 96 scholarships totaling $302,500 were given to Hawaii seniors from 48 high schools and, for the first time, to a home-school student.
Currently, there are 987 Maurice J. Sullivan Fellows or Rotarians who have contributed $1,000 to HRYF. There are 30 Sully Life Members, who have donated $5,000.
Although generously supported by Rotarians statewide, their immediate family members are not eligible for HRYF scholarships. As you stipulated, Sully, stipends are for non-Rotarians so the program is a true public service and commitment.
HRYF scholarship grants range from $2,000 to $5,000 for each student recipient, depending on whether they select a Hawaii or Mainland university. One "outstanding student" receives an $8,000 Maurice J. Sullivan Scholar Award.
Hundreds of applications from statewide high schools are screened each year by local Rotary clubs. Rotarians from District 5000 provide hundreds of volunteer hours in interviewing potential scholarship grant applicants and then recommending deserving high school seniors. This year's scholarships will be distributed by respective Rotary Clubs in August.
One of last year's grantees is Sara Maile Tufele,18, a freshman UH-Manoa business major who received her scholarship from the East Honolulu Rotary Club. The Sacred Hearts Academy graduate goes to school full time and works full time at the Ohana Malia hotel as a guest service representative.
Determining how she would pay for college was the first major financial decision of her life. And she admits, there is some drama.
"It's a hard process. I speak for the majority of students who want to go to college," she says, describing the anxiety of planning for life beyond high school.
"That's a lot of pressure on us, you know. You have to fill out the whole application, get pictures, write about yourself, and you want to make sure it's good so it impresses people. There's a lot of competition out there. But Rotary has name recognition. I heard people talking about it, and my high school counselor encouraged me to apply for it. I was in my counselor's office every week and we
Page 1 of 2 pages for this story 1 2 >
Most Recent Comment(s):